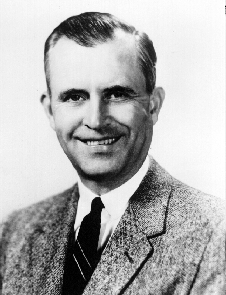 William Wallace Barron
Compiled by the West Virginia State Archives
December 8, 1911 - November 12, 2002
(D) Randolph County
Elected governor in 1960

William Wallace Barron was born in Elkins, Randolph County. He graduated from Washington and Lee University and the West Virginia University law school. During World War II, Barron attained the rank of sergeant in the Army. In 1949, he was elected mayor of Elkins, while at the same time serving as Randolph County deputy land commissioner, commissioner of accounts, and commissioner in chancery. In 1950 and 1952, Barron was elected to the House of Delegates and was appointed assistant floor leader. He chaired the state Liquor Control Commission under Governor William Marland from 1953 to 1957 and served as Attorney General under Governor Cecil Underwood from 1957 to 1961.

In Barron's first year as governor, the legislature created the Public Employees Retirement System, the Department of Natural Resources, the Air Pollution Control Commission, the Human Rights Commission, the Industrial Development Authority, and the Department of Commerce. Barron established a unique work and training program by combining the state's own emergency employment plan with a federal grant program. He addressed economic development by appointing an economic advisory council. A statewide clean-up program was organized through volunteers. He also initiated an expansion of the state parks system.

After his term as governor, Barron established a law practice in Charleston. In 1968, the former governor and several of his top officials were indicted on charges of bribery. All but Barron were found guilty. However, in 1971, he was again indicted on jury tampering charges associated with the 1968 trial. He was sentenced to prison, fined, and stripped of his law license. After serving a four-year sentence, Barron returned to his family who had moved to Pompano Beach, Florida. He died on November 12, 2002 in Charlotte, North Carolina.
---