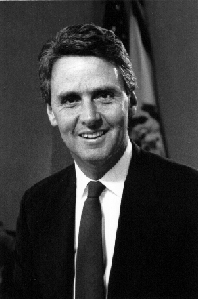 William Gaston Caperton III was born in Charleston, Kanawha County. After attending Episcopal High School in Alexandria, Virginia, and the University of North Carolina, he returned to Charleston to manage a family-owned insurance firm. Caperton was elected governor in his first attempt to seek public office in 1988.
As governor, Caperton reorganized state government to reduce a large debt incurred during the 1980s. To combat this public debt, he secured legislation to raise taxes and supported a constitutional amendment to adopt a state lottery. Caperton advocated placing computers in all schools and creation of the School Building Authority to facilitate funding for modern schools. He chaired the Southern Regional Education Board, the Southern Governors' Association's Corporate Coalition to Improve Maternal and Child Health, the Southern Growth Policies Board, the National Governors' Association Work Force Development Task Force, the Interstate Oil and Gas Compact Commission, and the Democratic Governors' Association.
After leaving office, Caperton taught a public policies seminar for Harvard University's John F. Kennedy's School of Government. In 1999, he became president of the College Board, a position he held until 2012. That year, he was named Policy Leader of the Year by the National Association of State Boards of Education.
Inaugural Address (1989)
Inaugural Address (1993) Audio/Video Clip
(dialup) (broadband)
---