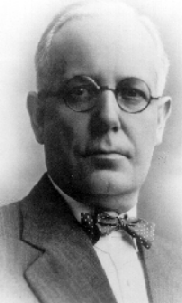 John Jacob Cornwell
Compiled by the West Virginia State Archives
July 11, 1867 - September 8, 1953
(D) Hampshire County
Elected governor in 1916

John Jacob Cornwell was born on a Ritchie County farm near Pennsboro. In 1870, his family moved to Hampshire County. He attended Shepherd College before becoming a public school teacher at age sixteen. In 1890, Cornwell and his brother acquired the Romney Hampshire Review, and he served as editor until becoming governor. He was admitted to the bar in 1894 and served as a state senator from 1899 to 1906. Cornwell was defeated by William Mercer Owens Dawson in the 1904 gubernatorial election. In 1917, he became the only Democrat to serve as governor in a thirty-six-year span between 1897 and 1933.

One month after Cornwell took office, the United States entered World War I. Due in part to the governor's efforts, West Virginia had one of the highest percentages of volunteers of any state. During his term, the state reached an agreement on a public debt owed to Virginia since the time of West Virginia's statehood. Cornwell advocated strengthening the mining code, the creation of a state board of education, and the establishment of a department of public safety and the state police. Two months before the expiration of his term, the state capitol was destroyed by fire.

His term was marked by growing labor unrest in the coal industry. He discouraged an armed miners' march in 1919 by promising to address the miners' grievances. His failure to handle the situation led to increased violence, including a shootout between miners and coal company guards in Matewan, Mingo County.

After leaving office, Cornwell served as a director of and general counsel for the Baltimore and Ohio Railroad Company, before retiring in Romney. He also was president of the Bank of Romney for forty years from 1913 until his death in Cumberland, Maryland, in 1953.
---