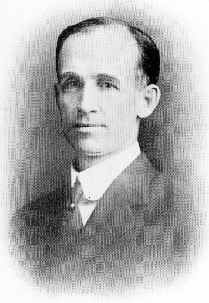 William Ellsworth Glasscock
Compiled by the West Virginia State Archives
December 13, 1862 - April 12, 1925
(R) Monongalia County
Elected governor in 1908

William Ellsworth Glasscock was born in Monongalia County. After graduating from West Virginia University, he served as superintendent of Monongalia County schools, clerk of the circuit court, collector of internal revenue, and as chair of the state Republican committee. Admitted to the bar in 1903, Glasscock rose quickly in the Republican party as an attorney for United States Senator Stephen B. Elkins.

As governor, Glasscock advocated taxing natural gas, funding for education, mine safety laws, creation of a public service commission, anti-lobby legislation, an anti-trust law, and environmental legislation. A dispute with the legislature over the appointment of two United States senators effectively nullified most of Glassock's measures. The last year of his term was marred by a violent coal strike in the Paint Creek-Cabin Creek area of Kanawha County. On three separate occasions, Glasscock declared martial law and sent in troops. He refused to release Mary Harris "Mother" Jones from house arrest although she was at least sixty-seven years old and suffering from pneumonia. She had been arrested for inciting to riot during the last period of martial law.

After leaving office, Glasscock returned to his law practice. He died in Morgantown in 1925.
---