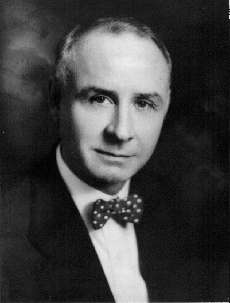 Herman Guy Kump
Compiled by the West Virginia State Archives
October 31, 1877 - February 14, 1962
(D) Randolph County
Elected governor in 1932

Herman Guy Kump was born in Capon Springs, Hampshire County. In 1905, he graduated from the University of Virginia and opened a law practice in Elkins, Randolph County. He served two terms as the county prosecuting attorney and one as mayor of Elkins. Kump was an Army captain during World War I. In 1928, he was elected judge of the Upshur-Randolph judicial court.

Kump became governor at the height of the Great Depression, inheriting a state treasury deficit of $4 million. The legislature spent a record 240 days in session in 1933, developing a new tax program. In 1933, the State Road Commission was reorganized and added 31,000 miles of secondary roads previously maintained by the counties. In 1936, the legislature passed an important unemployment compensation bill. With the assistance of federal New Deal legislation, by 1937, the state was on a comparable financial level with most other states. During Kump's term, all schools were placed under the administration of the counties for more efficient management.

After his term as governor, Kump returned to his law practice in Elkins. He was president of the Citizens National Bank of Elkins, of which he was a founder, from 1924 to 1952. Kump was defeated for the Democratic nomination for United States Senate in 1940 and 1942. His son, Cyrus S. Kump, was also defeated in his attempt for the Democratic nomination for governor in 1952. Governor Kump died in Elkins in 1962.
---