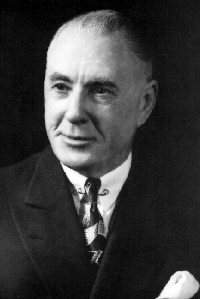 Matthew Mansfield Neely
Compiled by the West Virginia State Archives
November 9, 1874 - January 18, 1958
(D) Marion County
Elected governor in 1940

Matthew Mansfield Neely was born in a log cabin near Grove, Doddridge County. At age eighteen, he began teaching in Mineral County. After studying at Salem College and West Virginia University, he entered the military during the Spanish-American War. In 1907, Neely was elected mayor of Fairmont. He served in the United States House of Representatives from 1913 to 1921 and in the United States Senate from 1923 to 1929 and 1931 to 1940. He resigned his senate seat and the important position of chair of the Senate Judiciary Committee to run for governor.

Neely's candidacy was the result of a split within the Democratic party. With the support of labor, he backed improvements in unemployment compensation and the establishment of a human rights commission. The major accomplishments of Neely's administration included a new law requiring higher appropriations to the State Health Department for cancer treatment, an increase in welfare grants, reforms at state institutions, an increase in the teachers' retirement pension, stricter enforcement of the child labor law, and better mine inspections, which reduced the number of coal mine accidents.

In 1942, in the middle of his term as governor, Neely made the controversial decision to run for his old United States Senate seat. He was defeated. Neely was elected to the House of Representatives at the end of his term in 1944 but was defeated in a 1946 bid for re-election. From 1949 to 1958, he again served in the Senate. For decades, he controlled the state's Democratic "machine" and hand- picked candidates to receive the party's nomination for the state's highest public offices. Neely died in Washington, D.C., in 1958.
---