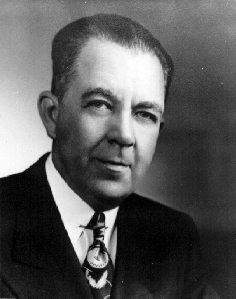 Okey Leonidas Patteson
Compiled by the West Virginia State Archives
September 14, 1898 - July 3, 1989
(D) Fayette County
Elected governor in 1948

Okey Leonidas Patteson was born at Dingess, Mingo County, and raised at Mount Hope, Fayette County. After attending West Virginia Wesleyan College and the Carnegie Institute of Technology, he sold automobiles and real estate in Mount Hope. In 1932, a hunting accident forced the amputation of both Patteson's legs below the knees. He served on the Fayette County Court from 1935 to 1941, as county sheriff from 1941 to 1945, and as state Democratic campaign manager for Clarence Watson Meadows in the 1944 gubernatorial election. In return, Governor Meadows named Patteson as a personal assistant.

As governor, one of Patteson's most important and controversial decisions was to locate the state School of Medicine, Dentistry, and Nursing in Morgantown. During his term, the legislature created the position of state Tax Commissioner and authorized cities to levy sales taxes. In 1952, Patteson organized the state Turnpike Commission to oversee the construction of the West Virginia Turnpike.

After his term, Patteson returned briefly to his Mount Hope real estate business before being named general manager of the West Virginia Turnpike Commission. He later opened a real estate office in Charleston and became president of the Raleigh County Bank. In 1969, Governor Arch Moore, Jr. named Patteson to the newly created Board of Regents. Patteson died in Beckley in 1989.
---