Thomas O'Brien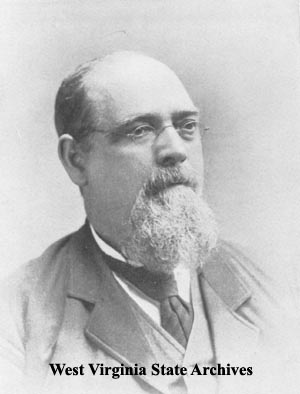 Extracted From
History of Greater Wheeling and Vicinity
by Charles A. Wingerter
(Chicago: The Lewis Publishing Company, 1912)
---
COLONEL THOMAS O'BRIEN. - A strong and noble character was that of the late Colonel Thomas O'Brien, who exerted an emphatic and benignant influence in connection with business and civic affairs in Wheeling during the entire course of a long and significantly successful career. He came from the Emerald Isle to America when a young man and soon after his arrival established his home in Wheeling. The greater part of his life thereafter was passed in this city, and here he gained success through his individual ability and application, the while he ever stood exemplar of that integrity of purpose which figures as the plumb of character and makes for distinct valuation in connection with the varied relations of life. Colonel O'Brien was a financier of marked astuteness and he served as treasurer of the state of West Virginia with great ability and efficiency, besides which he was called to other offices of distinctive public trust. His strength was as the number of his days and he was summoned from the mortal life in the fulness of years and well earned honors, his death having occurred at his home in Wheeling on Sunday afternoon, June 27, 1909. His life was conspicuous for the magnitude and variety of its achievement, but above all the character of the man himself was what made him a tower of strength in the community, a natural leader in thought and action, and a personality that commanded unequivocal popular confidence and esteem. He was much to Wheeling, much to the state of West Virginia, even as they represented the centralization of his interests and affections, and thus it is but a matter of intrinsic consistency that in this publication be incorporated a tribute to the man and his services. In the context recourse is taken to a most appreciative estimate published in the Wheeling Register at the time of the death of Colonel O'Brien, but as definite paraphrase is made at various points it has not been deemed necessary to make the quotations of formal order. The estimate, however, is given by one familiar with the career of the subject, and this, with its localized authority, makes the same doubly worthy of preservation in more enduring form than the files of a newspaper.
Probably no death that has occurred in Wheeling in recent years caused such widespread sorrow as that of Colonel Thomas O'Brien, who passed away on the afternoon of June 27, 19091 and the immediate cause of whose demise was pneumonia. His career furnishes a splendid example of what may be accomplished bv pluck and perseverance when joined with high character. Colonel O'Brien was born in county Cavan, Ireland, in the year 1830, and was thus in his eightieth year at the time of his death. His early educational advantages were limited, but his ambition was broad. In the spring of 1851, about the time of attaining to his legal majority, he decided to come to America, where many of his countrymen have grasped the opportunities for success not offered in their native land. In the autumn of the same year he came to Wheeling, big in physique and mentality and strong in his determination to succeed. He possessed no financial resources, but he had more valuable assets in native wit, willingness to work, and unflinching determination to do the right as he saw it. He was variously employed for two years and then entered the employ of the Baltimore & Ohio Railroad Company. In this connection he was promoted step by step, filling clerkships and other responsible positions, and all the while preparing himself for higher places. While in the service of the railroad company he was stationed at various times at Wheeling, Ravenswood and Parkersburg. It was at Parkersburg, in 1861, that he enlisted for service in defense of the Union, in response to President Lincoln's call for volunteers to protect the national capital. He was instrumental in organizing a company of soldiers and was made second lieutenant of his company, which became a part of the First West Virginia Volunteer Infantry. Upon the expiration of the term for which he enlisted Colonel O'Brien returned to Wheeling and accepted a position as clerk in the postoffice. He retained this incumbency until 1864, when he was discharged, because he voted for General George B. McClellan, the Democratic candidate for president. This incident illustrates one of his most prominent characteristics - his resolute adherence to any cause or principle he believed to be right, regardless of consequences. This quality in some persons might spell ruin; in Colonel O'Brien it was a factor in success, because of his sincerity, which was never questioned, as well as his forcefulness and his ability to defend his views. It may be said of him that, while he made mistakes, he never espoused a cause he did not believe to be right. He was not tactful; he did not believe in compromising with error or injustice. The cause he believed to be just was the one that always found in him a valiant and influential advocate.
When Colonel O'Brien left the postal service he engaged in the real estate business. His strict integrity, indefatigable energy and application to work not only brought him success but also attracted the attention of his fellow citizens, and he became one of the best known and most uniformly respected citizens of Wheeling. He was appointed surveyor of the port of Wheeling in 1865 and filled the office until the close of President Johnson's administration. Governor Jacobs appointed him an aide on his military staff, with the rank of colonel, and he served in this capacity for six years.
Colonel O'Brien was invariably well fortified in his opinions and took a lively and active interest in politics. He believed firmly in the principles and policies of the Democratic party, but did not hesitate to express his disapproval of new party doctrines and policies if he thought the occasion demanded such an expression. In 1880 he was elected state treasurer, and he retained the office four years, giving a most careful and discriminating administration of the fiscal affairs of the state. He was a member of the city council of Wheeling in 1863-4 and again in 1871-2, and was a frequent delegate to the conventions of his party - county, state and national. Soon after the expiration of his term as state treasurer Colonel O'Brien became an executive of the People's State Bank of Wheeling, with which he continued to be actively identified until his death. During nearly half of the period noted he was president of the institution, and his wise counsel and exemplary methods in banking have aided many who were and are now connected with the financial affairs of Wheeling. He was always conservative and safe. He was at different times a director of the Belmont Nail Company, the Natural Gas Company of West Virginia, several building associations, the National Telephone Company, and other business and industrial enterprises.
Throughout his life Colonel O'Brien was a consistent communicant of the Catholic church, and for years he was one of the most active and influential members of the parish of St. Joseph's cathedral. He was a member of the League of the Sacred Heart and of the St. Vincent de Paul Society, and he was one of the promoters of the Carroll Club, in which he maintained a lively interest up to the time of his death. He was a trustee and member of the board of directors of Mount de Chantal Academy, at Wheeling, and a director of the Wheeling Hospital and Orphan Asylum, as well as other Catholic institutions in Wheeling and vicinity. His public spirit was manifested through his active participation in every public movement for the general good. He was always ready with his time, his purse and his influence to aid any worthy movement, and was particularly active in campaigns for the betterment of municipal conditions and for the relief of the deserving poor. In every sense of the word he was a useful citizen, arising through his own efforts to a position of eminence in the community, and his life offers valuable lessons of incentive and inspiration.
Governor White appointed Colonel O'Brien a member of the state board of equalization and appeals, and he was honored by Governor Dawson with appointment as a member of the board of directors of the first state hospital for the insane. He was a member and one of the first vice-presidents of the Wheeling Board of Trade and until the later years of his life he took an active part in the work of that business organization, as had he also in that of its predecessor, the Chamber of Commerce. He was very deeply interested in the movements for conservation of the natural resources of the nation and for the improvement of the Ohio river.
In the year 1853 was solemnized the marriage of Colonel O'Brien to Miss Catherine Gillespie, of Wheeling, and his devoted companion and helpmeet preceded him to the life eternal, as her death occurred on the 16th of March, 1907. Of the fifteen children of this union eight are now living. Margaret Josephine and Catherine are both deceased; Grace is the wife of a Mr. Flynn of Mount de Chantal; Annie and Lawrence are deceased; Mary Agnes is the widow of John J. O'Connor and resides in Wheeling: Thomas resides in Wheeling; Nora is deceased; Margaret Josephine, second of the name, is a member of the Sisters of Charity, in charge of St. Vincent's Academy, at St. Vincent's, Kentucky; John J. P. and Frank A. are engaged in the practice of law at Wheeling and are individually mentioned on other pages of this work.
In conclusion of this memoir is entered the following extract from an editorial appearing in the Wheeling Register on the day following the death of Colonel O'Brien:
Colonel O'Brien was a man of exceptionally strong personality and sterling integrity. Mistakes he made, as we all do, but they were always of the head and not the heart. Probably at no time in his long and busy career did he espouse a cause until he had first satisfied himself that it was just and worthy, and the movement which enlisted him in its support always had a vigorous and influential advocate and defender. He never lacked the courage of his convictions. His interest in public affairs was broad, and he was a militant factor in many campaigns for civic betterment and for the moral improvement of the community.
Colonel O'Brien was called to many positions of responsibility and trust, and he invariably laid them down honorably. He was conscientious and painstaking in his public service; conservative and safe in his financial and business activities. He was devoted to his church and its interests without being narrow and intolerant in his religious views, and during a half century of unusual activity in this community his character was never assailed. His usefulness may not be measured so much by constructive enterprises and business movements in which he was a factor, as by his influence upon the moral and material welfare of the community, and the splendid example to young men which his career affords.
---