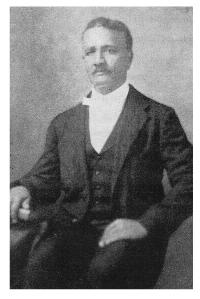 JARED MAURICE ARTER
---
Rev. Jared Maurice Arter, Ph.D., D.D., now (1921) pastor of the Curtis Free Baptist Church of Harper's Ferry was born in Jefferson County, W. Va., on January 27, 1850. So it will be seen that he was a boy eleven years of age at the outbreak of the war and a youth of fifteen at the close of the great struggle.

Residing near Harper's Ferry, he was an eye witness of many of the stirring scenes which constitute one of the most dramatic chapters in American History.

His education stretched over many years and was secured at widely separated points including the graded schools of Newfield and Ithaca, N. Y., private school, Washington, D. C., Store College, Harper's Ferry, Pennsylvania State College (graduated with Ph.D), Hillsdale, Mich., (graduated with B. D.), and Chicago Theological Seminary where he finished in 1894. As he started to school soon after the war, it will be seen that he continued to study for nearly thirty years. In fact, he is one of those rare men whose minds seem to remain young and receptive despite the years.

When it is recalled that our subject lost his father when only seven years of age and that he was a slave till thirteen and that he was "bound out" from fifteen till he was twenty-one in order that he might get some schooling and learn a trade, his struggles will be appreciated. Another fine trait of his character is brought out by the fact that, at a time when he was most anxious to proceed with his education, he remained out of school for two years in order that he might assist his brother in providing their mother a home. With humble gratitude he acknowledges her influence as one of the potent factors in shaping his life. He also mentions an older brother and several teachers, but first and most of all the Divine leadership.

Dr. Arter was converted in 1873, while at Shorter College and soon after felt called to preach the Gospel. It was some years later, however, before he finally surrendered himself to the Divine call and was licensed to preach. He was ordained to the full work of the ministry by the Curtis Free Baptist Church in 1887.

He has made for himself a splendid record as both pastor and educator. In 1875, he began teaching at Luray, Va. The following year he taught at Beaver Creek, Md. The school year of 1877-78 was spent at Ripon, W. Va., he was there again 1881-82, and still again from 1885-87. From 1887 to 1891, he taught four subjects in Storer College and pastored the College church. From 1895-99 he taught physics, mathematics and one class in theology in Virginia Seminary and College at Lynchburg. Beginning in 1900, he conducted at Cairo, Ill., a Bible training school for ministers and S. S. workers for eight years. From 1908-15 he was President of West Virginia Seminary and College and Principal Hill Top High School in cooperative work. The year following that he was Principal of Fayetteville Graded School. In 1816 he was called to his old home church and to his alma mater. He is now (1921) pastor of the Curtis Free Baptist church at Harper's Ferry and instructor in the Bible at Storer College. So it will be seen that like the apostle he has been "in works abundant."

In politics Dr. Arter is a Republican and at different times has done considerable campaigning. Among the secret orders, he belongs to the Masons and the Pythians.

Dr. Arter has been married twice. His first marriage was on July 10, 1890, to Miss Emily Carter, daughter of Armistead and Amanda Carter. Of the five children born to them only one, the oldest, Charles O. Arter survives. Of the others, two girls died in infancy, a boy at seven and a married daughter at nineteen. Mrs. Arter passed to her reward in 1907.

On December 29, 1910, Dr. Arter married Miss Maggie Wall, daughter of Milton and Adeline Wall.

In his reading Dr. Arter takes a wide range, After the Bible, he would perhaps put history next. He is also fond of science, biology, and the literature of modern missions and Negro advancement. When asked for his views as to the progress of the race, he said, "Urge above all things else regenerated lives and loyalty to God, patriotism, true home building, economy, education, race consciousness and unceasing efforts to deserve and to secure all rights."

Dr. Arter is the author of book of reminiscences entitled "Echoes From a Pioneer Life," which gives not only a most readable account of his own work but is a valuable side light on the history of his times.
---
History of the American Negro Index