"Your Gateway
to the
History of the Mountain State,
1939-2006"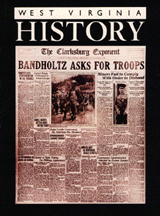 Volume 50 (1991)
COVER PHOTO: On September 2, 1921, the Clarksburg Exponent ran what it claimed to be the first photograph from the "Logan battlefront." By 4 p.m. on September 3, a cease-fire went into effect ending the "Battle of Blair Mountain." [West Virginia State Archives, Charleston, WV]
"The United States Army and the Return to Normalcy in Labor Dispute Interventions: The Case of the West Virginia Coal Mine Wars, 1920-1921"
By Clayton D. Laurie
"A Temptation to Lawlessness: Peonage in West Virginia, 1903-1908"
By Kenneth R. Bailey
"Benign Betrayal: Capitalist Intervention in Pocahontas County, West Virginia, 1890-1910"
By John Hennen
"John Jay Jackson, Jr.: Business, Legal and Political Activities, 1847-1859"
By Jacob C. Baas, Jr.
"Lewis Wetzel: Warfare Tactics on the Frontier"
By George Carroll
"`Appalachia's' Civil War Genesis: Southwest Virginia as Depicted by Northern and European Writers, 1825-1865"
By Kenneth Noe
"Loyalties in Conflict: Union and Confederate Sentiment in Barbour County"
By John W. Shaffer
"The Rudulph Collection of Civil War Letters"
Edited by Dan R. Brook
---