"Your Gateway
to the
History of the Mountain State,
1939-2006"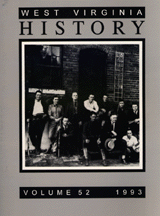 Volume 52 (1993)
COVER PHOTO: Olin R. Ruth (with straw boater) and a contingent of armed guards are pictured at a Farmington mine, ca. 1920. Privately hired guards figured prominently in West Virginia labor's efforts to organize. In many ways, these guards represent the clash of established authority with new social and political ideas. [Olin R. Ruth Collection, West Virginia State Archives, Charleston, WV]
"Eugene V. Debs in West Virginia, 1913: A Reappraisal"
By Roger Fagge
"`Committee Condemns W. Va. Mine Owners': Debs, Germer and Berger Report"
"Debs's Visit Challenged in Historical Interpretation"
By David A. Corbin and Roger Fagge
"The Death of Constable Riggs: Ethnic Conflict in Marion County in the World War I Era"
By Charles H. McCormick
"When the Socialists Ran Star City"
By Stephen Cresswell
"Conflict at Coal River Collieries: The UMWA vs. the Brotherhood of Locomotive Engineers"
By Thomas J. Robertson and Ronald L. Lewis
"`The Nearly Perfect State': Governor Homer Adams Holt, the WPA Writers' Project and the Making of West Virginia: A Guide to the Mountain State"
By Jerry B. Thomas
"Labor-Management Conflict in the Eastern Panhandle: Perfection Garment Company Battles the ILGWU"
By Jerra Jenrette
"A Struggle for Recognition: Marshall University Students for a Democratic Society and the Red Scare in Huntington, 1965-1969"
By John Hennen
---