(A copyrighted publication of West Virginia Archives and History)
| | |
| --- | --- |
| | Book Reviews, Book Notes, & Periodical Literature |
WEST VIRGINIA: A HISTORY. Second edition, by Otis K. Rice and Stephen W. Brown (Lexington: Univ. Press of Kentucky, 1993. Pp. x, 344. $32.00.)
No history book has a greater influence upon the public's knowledge of state development than a survey text adopted by the state's colleges and universities. The Mountain State has been fortunate in its survey writing by having the long-running and out-of-print work by Charles Ambler and Festus Summers and now the present Otis Rice. Since the last edition of Ambler and Summers's West Virginia: The Mountain State in 1958, a substantial amount of time and writing on previously unexplored topics waited synthesis. Rice's first edition appeared in 1985 with the laudable goal of presenting a narrative history with essential and accurate information, while deemphasizing the interpretive and analytical, to "informed West Virginians and others interested" in state history.
This new version has not undergone any extreme or significant change. The main alterations include, presumably for purposes of succession, the addition of a co-author, Rice's capable colleague at West Virginia Institute of Technology, and a new fifteen-page chapter which covers Governor Arch Moore's ill-fated third term and Gaston Caperton's first administration. The configurations of the original chapters and the pictures remain the same. Rice and Brown have removed most glitches, revised the preface, added a footnote, eliminated one paragraph from each of two chapters, and somewhat updated the bibliography.
Because of the dominance of Ambler and Summers and this survey in the study of state history, a brief comparison is necessary. Having greater length for a shorter historical period, the older book is vastly more encyclopedic. The Rice/Brown effort is a fine narrative history written in a readable style that more than fulfills the requirement of historiographic timeliness. Without hint of parochialism, there is greater emphasis on social and cultural matters within the confines of deterministic geography, frontier land legislation, and resultant land tenure. The newer work could profit from the editorial allotment of more pages so that more details of the story could be presented, and some interpretative effort could stimulate the narrative.
In a generally chronological approach, fourteen of the twenty-five chapters of the book cover the Virginia origins of West Virginia from the prehistoric to the statehood era. The placement of early exploration and frontier settlement with their imperial and colonial aspects in international and national perspective reflects the breadth of approach in the entire volume. The authors confront the main issues of western Virginian development and several falsehoods that mountaineers have fabricated about themselves. They view the land speculators' role before the French and Indian War as constructive, and they correctly emphasize the determinism of the Virginia laws of 1779 in alienating the land for subsequent generations. The first settler claim, the Betty Zane legend, and the false assertion that the Battle of Point Pleasant in Dunmore's War was the first battle of the American Revolution are temperately considered. Their dissection of social, cultural, and educational life stresses its diversity and progress within a difficult environment. The vivid portrayal of hardships and deprivation should dispel any modern romantic notions of pastoral Appalachian life before industrialization. Economic change intensified the velocity and degree of hardship in the mountains. The analysis of antebellum economic growth, the issues of sectional conflict in Virginia, and the influence of slavery on politics incorporates the latest scholarship in the field.
Perhaps the most controversial topic in West Virginia history is the interpretation of the statehood movement and partisan alignments during the Civil War. Little new scholarship has propelled the analysis beyond that of Richard Or Curry and George Ellis Moore. Unionist and secessionist viewpoints emerge while the more extravagant claims made on behalf of statehood opponents are qualified. Without new sources, John S. Carlile's motivations for moving from statehood firebrand to opponent must remain somewhat obscure. Civil War military campaigns are appropriately cast within the strategic requirements of new state politics and national necessity.
Relevant chapters on agriculture, industrial growth, labor, and education intersperse those that trace state political complexities through gubernatorial administrations to the present. The rendition is comprehensive and adequate. Whatever is lacking in the text's account is exactly what current historiographic research and writing cannot support. Only a minimum of research has concentrated on West Virginias Progressive Era (if it had one), the 1920s, the New Deal, and post-World War II. Hardly any investigation exists on West Virginia's legislature or its influential elected judiciary.
In political matters, the authors and other historians should be wary about taking at face value the politicians' labeling of themselves, their legislation, and the advocations of their allies and opponents. Because historians often starve for a good story to spice their writing, they sometimes swallow camels. Corroboration is required before accepting the account about Henry D. Hatfield's alleged physical examination of Mother Jones at Pratt.
Because of its recent nature, historical emphasis in the new chapter on the third Moore administration and the Caperton tenure is tentative, but the authors more than catalog current events. The tantalizing historical perennials of unemployment, population loss, corruption, official ineptitude, tough environmental fights, the teachers' strike and changes in public education, higher education governance, and Senator Robert C. Byrd's funneling of federal largesse bloom into full flower. No doubt exists that old themes in state history resprout, but the historical jury of appraisal must remain out, deferring to the passage of time.
Recent historical work could have amplified and sharpened several topics. Richard K. McMaster's study of the early Virginia cattle trade provides an opportunity to discuss national implications of an important economic activity in the Eastern Panhandle. Richard Lowe's work on Francis H. Pierpont and Virginia Reconstruction could elaborate the interstate connections of West Virginia's genesis. Ronald L. Lewis's and Joe W. Trotter's publications about African Americans in the coal districts illuminate several important features of society.
Because of his dedicated and continual research in West Virginia subjects and because he is the author of the standard essay on the writing of West Virginia history, no one could have been more mindful of the difficulties of writing surveys and more likely to overcome them than Rice. This work is a substantial professional achievement. The new co-author has a significant legacy to maintain. West Virginians and others must be indebted to both for their graceful accomplishment.
John E. Stealey, III
Shepherd College
WEST VIRGINIA: CRITICAL ESSAYS ON THE LITERATURE. Edited by Ronald L. Lewis and John C. Hennen, Jr. (Dubuque, IA: Kendall/Hunt Publishing, 1993. Pp. xix, 247. $29.95.)
The West Virginia Humanities Council deserves applause for its support of the development and production of this collection of essays. This much needed historiographical treatment of some state history themes is must reading for all those who have an interest in the states past and future. It also provides an understanding of the present which, in the minds of many state citizens, is at best ambivalent or negative. It affects the image by which West Virginia is perceived. West Virginia has been characterized as the "saddest of all American states," a "province" with seemingly "overwhelming" liabilities, and as being more like Afghanistan than Switzerland. In fact, some describe it as a state of "misery among riches," a "colony" controlled by absentee landlords, suffering from "population drain," "debased politics," and an endemic "deprssion of the spirit." However, most agree that West Virginia has been blessed with pristine natural beauty, and many will agree with Theodore H. White that West Virginians are "the best mannered and most courteous in the nation." In a variety of ways this work deals with the problem of historical image.
Ronald L. Lewis and John C. Hennen, Jr. have done a first-rate job as editors of this project. This kind of work would, by its very nature, lend itself to editorial problems. Yet the editing has resulted in a work with virtually no problems. The editors' goal is to "provide scholars with a readily available assessment of the state-of-the-literature in West Virginia studies, and to suggest directions for productive new research to fill the existing voids, or to correct misinterpretations." All of these clearly written essays are rather thorough literature surveys. They deal with most of the major historical problems in their topical areas and, as might be expected, sometimes overlap. All make significant contributions and raise important questions.
John E. Stealey's comprehensive essay on West Virginia politics is a thoughtful analysis of the state's political issues, historical trends, and the historians who have attempted to craft the story. He reveals that a significant "scholarly vacuum" exists and little has been accomplished in the realm of broad historical interpretation and analysis. He has successfully perused the major works on West Virginia politics and provides an excellent overview of the subject. He finds research on antebellum West Virginia is "undeveloped" and no modern riverain study exists. The impact of progressivism in the state has not been studied, post-World War I political history is a "vast desert," and little has been written on the New Deal in the state. Studies of West Virginia congressmen are "rare" and studies of legislative politics and legislators "are generally lacking." Studies of the judicial branch are "needed to comprehend political change," political corruption remains "unexplored," and the careers of Matthew M. Neely, Jennings Randolph, and Walter Hallahan await their biographers. In sum, the field of modern political history is wide open.
Otis K. Rice thoroughly surveys the historiography of all levels of education in West Virginia. He points out that "much remains to be done, including a synthesis of western Virginia education prior to 1863." He calls for an updating of Charles Ambler's History of Education and more examinations of county and regional educational trends. In higher education, Rice sees a need for a system-wide historical approach, as well as biographies of outstanding educators. He challenges professional historians to "lift the educational historiography to a plane where it can address the fundamental truths and values that have informed our history from the time of the ancient Greeks to the present day."
Paul Salstrom examines the economic history of the state and raises questions about the dichotomy between its rich natural resources and its historically weak economic position. His survey of the literature reveals that little "analysis or interpretation" exists, and agriculture and finance have received scant attention from historians. A major gap requiring attention is mid-nineteenth century empire building, causing the state to import more goods than it exported due to lack of manufacturing. Another issue is the role of the federal government in the development of the chemical and manufacturing enterprises in the Charleston, Huntington, and Parkersburg areas.
Edward M. Steel analyzes the historiography of the state's labor history and concludes "only a beginning has been made." Pointing out that labor history has only been recognized as an area of study since the 1960s, Steel reveals gaps in the early history of the region, including pottery, barrel making, and whiskey. Likewise, he concludes that iron, steel, and other metal workers have been neglected. Although historians have written about the railroads, they have failed to focus much attention on the railway worker. Moreover, historians have not documented the state's oil and gas workers. Finally, he calls for more research on union leadership.
Frederick A. Barkey reviews th literature on immigration and ethnicity in the state. His well-reasoned analysis treats the recruitment of immigrant laborers, their diversity, and assimilation. He calls for an examination of the middle-class immigrant's role in assimilation, as well as an analysis of migration patterns. Finally, he feels the ethnic "sense of community" must be explored and that historians should employ demographic methodology.
Barbara J. Howe does an outstanding job of providing a historical framework for the history of women in the state. She places women's history in context and discusses the importance of oral sources in documenting women's history. The role of women on the frontier, during the Civil War, in the operation of family coal mines, in religious life, and in World Wars I and II should be explored. Likewise, work needs to be done on the women's academies, women as independent agents, women's organizations, and the women's movement. There is also a need for a biography of Anna Jarvis, who stimulated interest in the establishment of Mothers Day. She argues that the "field of West Virginia women's history . . . is one that is open to anyone who wishes to contribute" and it "begs further inquiry."
West Virginia's black history is an area which, according to Joe W. Trotter, is "replete with blindspots." His excellent critique of the literature and sources of black history is very useful. In fact, there exists a large number of primary sources available to scholars interested in black history. These include federal and state demographic sources, manuscript and archival collections found in depositories inside and outside the state, periodicals, and oral histories. He calls for more studies of the "lives of black women, life in mountain cities, and changes since the Great Depression and World War II."
Finally, Dianne Bady and Richard Bady attempt to break new ground by focusing on environmental issues in a historical and public policy framework. They point out the basic problem of being a "resource colony" to outside interests who have generally controlled politicians of both parties. These interests blocked the 1903 attempt to raise corporate taxes and the enactment of a severance tax. Although they attempt to place the environmental issue in historical context, they fail to place it in the historical context of the national conservation movement of the Progressive Era and the impact of the New Deal. However, they synthesize in excellent fashion the recent trends of the environmental question. They deal with strip mining and conclude that attempts to regulate or block it have been mixed. They address the evils of acid mine drainage and the failure of the Division of Energy to perform adequately its regulatory functions. They examine the difficulty of regulating the timber industry and the problems of air pollution. Likewise, they review recent debates on out-of-state waste and groundwater. They conclude that the successes on environmental issues resulted from various citizen groups forged as a powerful political force. Finally, they point out that West Virginians, as the operatives of outside corporate interests, aided their exploitation, and this has been especially true of the "politicians who have done the corporate bidding throughout the states history."
Lewis and Hennen "hope to direct the attention of scholars toward the abundant opportunities for producing a fresh crop of historical studies from new unbroken fields." These essays succeed in pointing the way. Yet if scholarship is to succeed, it must have an outlet beyond West Virginia History. In order to bridge the void in state history, there is dire need of a first-rate university press. The scholars in this collection of essays have issued the call for new research, but the stimulus of an appropriate publishing outlet for research unique to West Virginia is still needed.
Robert F. Maddox
Marshall University
WEST VIRGINIA: A HISTORY FOR BEGINNERS. By John Alexander Williams (Charleston: Appalachian Editions, 1993. Pp. ix, 278. $22.95.)
"As a citizen of the state, you will be called upon to make judgements and choices for the future, no doubt involving others who live here. A knowledge of West Virginia's resources -- including its institutions and cultural values -- will help you make more intelligent decisions about our future. Simply put, you should be better able to decide where your state should go if you know where it's been." John Alexander Williams challenges the young reader to face the future in West Virginia: A History for Beginners, a thoughtful examination of the Mountain State's rich and proud heritage.
As stated in the preface, the author believes that the diversity of the people who settled this land is what makes our state's history exciting. Throughout the book, individuals and their interactions with others are presented as reasons why certain events or changes occurred. With a narrative style and use of interesting sidebar information, the text is well written and very readable. Moreover, it piques the reader's curiosity for further study.
The book is divided into four major sections covering what the author refers to as the frontier, statehood, industrial, and bureaucratic periods, and a fifth section on living in the state. The frontier section discusses exploration and cultural exchange between Native Americans and Europeans. Statehood examines the issues of sectional conflict between eastern and western Virginia. The industrial section defines the economic and industrial development of the state and the bureaucratic segment details the social impact of government, business, and labor on West Virginians in the twentieth century. The last section covers food, clothing, shelter, and includes biographies of famous and "not-so-famous" West Virginia residents. Missing is any mention of Chuck Yeager, Harmon Blennerhassett, Anna Jarvis, and other notables. Also included in the back of the book are a glossary of ninety terms and an index.
The information is presented in a style that is easy to comprehend. Many excellent explanations are given for such complex subjects as the French and Indian War and statehood. The text gives in-depth coverage of Native American influence in the state. The layout is to be commended for a nice balance of text, graphics, occasional sidebars, and wide margins. Notably absent is standard information of the state's geography and geographic regions. The text has liberal illustrations, including many maps, charts, photographs, and drawings. When the text mentions an event or area in the state, an outline map with the particular county shaded is usually found in the margin. In addition, important terms are in bold print.
As a textbook designed to hold the attention of today's student, the readability is excellent. On average, four study questions requiring more than recall are at the end of each chapter. Students are encouraged to interpret the information they examine. However, the book's stark black-and-white format will deter student interest, and its paperback binding is not durable enough for the classroom.
A teacher's guide is available which attempts to fill the text's geography gap left "for instructors who prefer to present geographic information in more traditional formats." Primary source documents are included for each chapter as well as suggested background readings. While it does not have reproducible blackline masters, it includes activities for different learning styles, with many suggestions for assignments requiring students to do further research.
Although there is still not a definitive textbook for younger readers on this topic, Williams makes an admirable contribution to educating students on the state's history. All West Virginians, and those who wish to learn more about the state, will find this book to be very enjoyable and one they will refer to time and time again.
Barbara Christo
Nitro High School
THE ANTEBELLUM KANAWHA SALT BUSINESS AND WESTERN MARKETS. By John E. Stealey, III (Lexington: Univ. Press of Kentucky, 1993. Pp. 256. $36.00.)
The neglect of economic historians to relate properly the contributions of midwestern and western enterprises to the economic development of the nation prior to the Civil War is partially remedied by this volume. The Antebellum Kaawha Salt Business and Western Markets is a piece of meticulous scholarship and an outstanding reconstruction, mostly from primary sources, of one of the first major manufacturing industries to develop in what is now southern West Virginia. This volume traces the development of the salt industry in the Kanawha Valley.
The book is the accumulation of thirty years of intensive research by the author, a task made difficult by the general absence of corporate records and correspondence. Nevertheless, using legal documents such as court and property records, reports of legislative committees, and minutes of corporate meetings, the author has reconstructed the period in which the industry grew and ultimately declined. The thoroughness of the author's research by itself would recommend the book, but there is also much more.
A dominant theme is the continuing attempt of salt manufacturers to control the market in which they sold their product. While there were a few short-term successes, most of these efforts failed. It was only when market conditions created desperate situations that the fiercely individualistic owners considered a joint operation to limit supply to the market, insuring prices sufficient to cover production costs. The efforts of the Kanawha entrepreneurs, for even the most casual reader, will lead to comparisons with those of oil sheiks to limit production and control price through the Organization of Petroleum Exporting Countries (OPEC). Competition from outside producers, inability to prevent cheating, and a market that absorbed only a portion of production doomed both to failure.
These attempts at combination, cooperation, and collusion predate the more widely publicized corporate trusts, joint stock companies, and pools of the post-Civil War period. The author notes that this post-Civil War collusive activity was an extension and refinement of earlier legal organizations. The business organizations attempted in the saline bottoms of the Kanawha Valley were the direct forerunners of the business concentrations of the latter nineteenth century. Unable to rationalize production on their own, the salt manufacturers sought an ally in state government, petitioning for corporate charters, internal improvements, and reduced taxes with only limited success.
At the national level, attempts to retain the tariff against imported salt were not completely successful, resulting in limited insulation against foreign competition. The desire to be protected from competition from foreign producers, neighboring states, and among themselves dominates the industry's history. Like their counterparts of today, the salt producers favored free trade in principle. But they also saw it as a potential source of personal ruin and relentlessly pursued its limitation.
Feeling they possessed a superior product, the Kanawha businessmen saw government regulation as a way of keeping an adulterated and improperly weighed product off the market. They also favored state banking over a federal system and sought either branches of existing banks or charters for their own financial institutions from the state.
The inclusion of salt in the tariff debates of the antebellum period demonstrates its importance. Led by Missouri Senator Thomas Hart Benton, critics charged that consumers of pork were gouged by unnecessarily high prices caused by the artificially maintained price of salt. The arguments used by the salt producers, including stability of supply, local employment, and product quality, were essentially the same as those advanced recently by the opponents of the North American Free Trade Agreement (NAFTA).
More than just a recitation of the internal and external legal environments, this book also shows how technological advances created an industry which was dynamic, despite the uncertainties of the market, and controlled costs through improved efficiency. Many of these techniques involving drilling, extraction, refining, and marketing were later adapted by the oil and gas industry. Contrary to the widely held view, the author finds no support for the argument that slave labor retarded technological innovation. Faced with a chronic shortage of labor and comparatively high wages, slaves were imorted. The author concludes that slaves were well treated, and students of the institution will benefit greatly from his insights.
While one is tempted to say that this book is the last word on the early Kanawha salt industry, areas remain for further study. Economic historians might ask for more on the tariff's impact on the price of pork; the demise of the industry either from competition or from changes in the production and delivery of meat to the consumer; the necessity of slavery; the role of salt in the overall growth and development of the region; and the extent to which credit limitations and an unstable banking system contributed to the economic problems faced by the salt manufacturers. The political historian might ask if the Richmond government's unresponsiveness fanned separationist feeling and why this system was not more supportive of the salt producers, considering the industry's importance and the prominent positions of many company founders.
One could amply illustrate an entire principles of economics class by the story of the Kanawha salt manufacturers. The highly competitive market is demonstrated by the dilemma of producers caught with production exceeding demand, keeping prices chronically low. Just as Adam Smith predicted, competition forced the introduction of new technologies to lower costs. This book is an important contribution to regional history, an understanding of American business development, and the entrepreneurial initiative underlying it. This is a well-told story of entrepreneurship, revealing how innovators in a frontier industry both anticipated and adapted to change by introducing new technologies and forms of business organization, benefiting their region as they sought to benefit themselves.
Calvin A. Kent
Marshall University
THE AMBASSADORIAL DIARY OF JOHN W. DAVIS: THE COURT OF ST. JAMES'S 1918-1921. Edited by Julia Adams Davis and Dolores A. Fleming (Morgantown: West Virginia Univ. Press, 1993. Pp. 479. $40.00.)
"It is the end of a great adventure"(415), wrote John W. Davis, former West Virginia congressman and Solicitor General under Woodrow Wilson, as he ended his tour as U. S. ambassador to Great Britain. When the Clarksburg native and his wife Ellen arrived in London in December 1918, high expectations existed for Anglo-American cooperation. Especially on the part of the British, there was talk of an Anglo-American partnership to maintain the future peace and stability of the world.
Davis's predecessor at the Court of St. James's, Walter Hines Page, had been so pro-British that Wilson eventually stopped reading his cables. Although he delivered many obligatory speeches extolling Anglo-American ties, Davis assumed a more responsible diplomatic posture than Page. Nonetheless, his relations with the president were not good. On November 25, 1920, he wrote in his diary: "I do not and never have enjoyed his confidence, notwithstanding the fact that I am not ashamed of the service which I have rendered to his administration. . . . I confess that his patent pettiness of souls fills me with the same disgust which has infected all those who have been near him, save the sycophants and time servers, and is responsible for the cold hatred which denies him sympathy even in his illness."(362) Davis actually had a much higher opinion of British Prime Minister David Lloyd George than did Wilson. The president thought Lloyd George a "2nd rate politician"(21, fn36), but Davis viewed him as the equal of Benjamin Disraeli. After his first meeting with the Welshman, he noted, "I have never seen a man who seemed to radiate more vitality than he."(9)
The shared culture and many common political and strategic interests created the myth of a "special relationship" between the United States and Great Britain. Even during the blackest days of World War I, when cooperation between the two great English-speaking nations was absolutely essential to thwart German expansionism and avoid defeat, there was a serious underlying tension. The end of the common Grman threat tended to exacerbate the differences between the two dominant postwar powers. Trade rivalry, control of oil, and the dramatic fall in the value of the pound sterling against the dollar were economic issues dividing Washington and London. The failure to ratify the Treaty of Versailles, the apparent desire to match or surpass British naval strength, and economic nationalism as expressed by Washington's position in international finance tended to undermine British confidence in the U. S. as a global partner. Mutual suspicions were also fed by the ubiquitous Irish problem and the thinly disguised British efforts to harness American power to sustain the British Empire. Davis's diary serves as a mirror which reflects this tension during a period "unusually filled with stirring incidents."(208) The Paris Peace Conference, foreign intervention and civil war in Russia, and the Russo-Polish War are just some of the subjects Davis writes about.
This reviewer cannot suppress the regret that Davis devoted the bulk of his diary to the obligatory social life rather than extensive commentary on these momentous events and the British leaders with whom he mingled. There is hardly a day that Davis is not at a luncheon, a dinner party, or the speaker at a public ceremony or club and organization meeting. He seems to have met every British personality of any political or social importance and visited most of the great country houses and gentlemen's clubs. A tennis player himself, he was a spectator at Wimbledon, observing Suzanne Lenglen and William T. Tilden. He deemed the latter "incomparably the best player I have ever seen."(314) When Davis comments on these great men and women he is at times penetrating, but, alas, he is more frequently tactful and pedestrian. One finds little of the gossip, inside information, and wicked commentary that is typical of another diarist of this period who traveled in the same social circle, the famous British journalist Charles Court Repington. "Trashy stuff in the main"(363), incidentally, was Davis's verdict when Repington's diary was published in 1920 under the title The First World War 1914-1918. "Trashy" it may be, but Repington's diary remains an essential source for this period.
Though tedious at times, Davis's meticulous accounting of daily social activities serves the useful purpose of portraying the life of an American diplomat in Britain in the early years of this century. Certainly the monetary concerns of U. S. ambassadors who were not men of considerable means are reflected. Davis received an annual salary of $17,500 and a meager entertainment allowance. He had to find his own living quarters and pay most of his entertainment expenses. He once lamented: "I have lived simply, avoiding extravagance or ostentation, either of which would have been not only beyond my means but most unsuited to the times. Nevertheless my unavoidable expenditures are considerably more than twice the compensation of my office and out of all proportion to my private income."(243)
Davis's daughter Julia Davis and Dolores A. Fleming, with the editorial assistance of David W. Fleming, have done a model job of editing the typed and holograph entries in Davis's diary, which is located at the Sterling Memorial Library, Yale University. Approximately 95 percent of the ambassadorial diary is published. The co-editors do not paraphrase and most of the deleted material consists of the names of individuals who were present at various social functions but whose inclusion would add nothing to the value of the work. Nicely illustrated, this volume has appendices and an unusually valuable and thorough index. Explanatory footnotes, located at the end of each chapter, strike just the right balance, not overpowering the text but providing the reader with helpful and necessary information. Davis and Fleming deserve very high praise indeed for their exemplary editing. Their efforts obviously represent a labor of love.
David R. Woodward
Marshall University
TIME STEALS SOFTLY. By Virginia Jones Harper (Pittsburgh: Dorrance Publishing Co., 1992. Pp. 21. $16.95.)
Certain people in West Virginia history deserve, indeed call out for, biographical treatment. Lydia Boggs Shepherd Cruger surely is one of these. A totally unique woman of her times, she lived to 101 years of age and embodied the scope of Virginia/West Virginia life from frontier days through the tragedy of the Civil War. The title Time Steals Softly, adapted from Shakespeare's "the noiseless foot of time steals softly by," was carved on a sundial in Cruger's garden.
Yet Cruger, unlike time, did not tread softly through anything. Born in 1766 to a pioneer family of Frederick County, Virginia, her family moved west to Virginias Ohio River country in 1775, where her father Captain John Boggs tomahawked his claim several miles below the new Wheeling settlement. Early on, Cruger showed an independence, original mindedness, and sharp-tongued self-interest that were her great strengths and most provoking irritants.
Cruger was always hard to ignore. The nineteen-chapter book describes her life from the frontier terror of being captured by Indians and bitten by a rattler to "La Grande Dame" glittering at Washington parties and the "Ole Miss" of her solitary life in later days. She was there at the 1782 battle of Wheeling's Fort Henry when Betty Zane ran for the powder. Unfortunately, at age eighty and with all other participants deceased, Cruger exercised a little revisionist history, stating Molly Scott actually saved the day. Sour grapes, perhaps, since in 1782, Betty Zane and Moses Shepherd, a very eligible and soon-to-be wealthy young plantation owner, were headed toward marriage. But Cruger, the talk of the town in a wedding dress of black silk, married Shepherd herself. With this came land, wealth, a respected husband, and in 1798, the most imposing house in the area, Shepherd Hall.
By 1818, the Cumberland Road arrived literally right at the Shepherds' front door, thanks to his role as the local bridge engineer and the friendship of Henry Clay. Shepherd Hall became a stopping place for the most important travelers, from Andrew Jackson to Thomas Hart Benton. The Shepherds spent many months in Washington City, meeting every president from Washington to Fillmore, and cementing their friendship with Henry Clay. They even built a monument to him in their front yard.
In 1832, Moses Shepherd died of cholera, and in 1833, the widow, adrift and lonely, married General Daniel Cruger of New York, fourteen years her junior. While not an easy marriage, it lasted until his death in 1843. Cruger spent her remaining years becoming more isolated and feeble. The few visitors who stopped found her well informed on local and national issues, sometimes sparking a flash of her fiery temperament. They often commented on the upstairs ballroom she had filled with the fine old dresses of her glory days. Cruger died September 29, 1867, and was buried beside her two husbands on a hill overlooking her beloved mansion.
Virginia Jones Harper succeeds in capturing the spirit of a local West Virginia woman and her times for the general reader. The book is, in fact, a revised edition of a 1974 version. Harper, a descendant of the Boggs family, has her heart in the right place, but her literary style is sometimes irritating. Words such as "sanguinary," "redolent," "cynosure," and "sibilant" are overdone, and one is left wondering where history stops and literary license takes over. Did she have an affair with Henry Clay? Some of the fabricated dialogue can only be described as stilted, and the description of the slaves and their dialect a la Gone With the Wind might leave the reader uneasy.
However, the book is a best seller in the Wheeling area because it ". . . brings to life a woman worth meeting and a time worth remembering."
Margaret Brennan
Wheeling
WORKING FOR THE CHESSIE SYSTEM: OLDE KING COAL'S PRIME CARRIER. By Fred R. Toothman (Huntington: Vandalia Book Co., 1993. Pp. 280. $16.95.
The coal industry has played a huge role in the economic growth of West Virginia, and the state has been known as one of the largest coal-producing states in the world. In conjunction with the development of coal came another industry, railroads. The Chesapeake and Ohio Railway Company (C&O) was a leader in the construction of a rail network in West Virginia to transport coal to the marketplace. In addition to construction, many railroads looked for ways to develop coal lands along their rights-of-way. The C&O established its Coal Development Office in Huntington where author Fred Rees Toothman embarked on a career beginning in 1946, after graduating with a master's degree in mining engineering from West Virginia University in 1945.
The reader is introduced to a brief history of the C&O with biographical sketches of the men who led the railroad, such as Collis P. Huntington, M. E. Ingalls, George Stevens, Robert Y. Young, and Walter J. Yuohy. These are just a few of the men who expanded the C&O to one of the largest coal-hauling lines in the nation. When Toothman went to work for the C&O in the post-World War II era, the railroad was prosperous. The 1946 annual report discloses that it controlled stock in the New York, Chicago and St. Louis Railroad Company, better known as the Nickel Plate. The C&O also owned over 387,000 shares of stock in the New York Central Railroad.
Each year of Toothman's employment until 1980 is discussed in separate chapters. Highlights of each year's annual reports are given first, followed by his personal remembrances of the year with stories of his co-workers and job assignments. The annual reports show the reader the financial condition of the railroad, where improvements were made, when losses occurred, and long-range plans. We follow the merger of the Pere Marquette with the C&O in 1947, the replacement of steam locomotives by diesels in 1955, the merger with the Baltimore and Ohio Railroad in 1963, and the proposed merger with the Norfolk and Western in 1965 to offset the creation of the Penn Central System, a result of the merger of the New York Central and Pennsylvania railroads.
The book provides information and insights about the C&O between 1946 and 1980 that were not previously available in a single source. The personal remembrances introduce the joys and disappointments of Toothman's employment and personal life. For anyone who would like to know about the C&O, this book is a valuable source, particularly through information gained from the annual reports. Toothman's personal remembrances, while worthwhile, fail to provide sufficient detail, leading to confusion. The book is geared to the reader who is interested in coal mining and railroads.
Bill Sparkmon
Chesapeake and Ohio Historical Society
FIGHTING BACK IN APPALACHIA: TRADITIONS OF RESISTANCE AND CHANGE. Edited by Stephen L. Fisher (Philadelphia: Temple Univ. Press, 1992. Pp. x, 384. $19.95.)
Stephen L. Fisher deserves praise not only for editing this fine work but also for his useful introduction. In the latter he notes that regional stereotypes tend to dismiss the possibility that Appalachians are capable of purposeful activism. Fisher contends there exists within the region a long and diverse history of resistance. Apart, however, from works dealing with coal miners, there is "little systematic study of dissent in Appalachia."
In response to that lack, the articles gathered in this collection fall under at least one of two purposes. They either serve partially to chronicle the history of grassroots struggle in the region since the early 1960s or to explore the theoretical implications of that history. The goal, according to Fisher, is not to develop an exclusively Appalachian theory of resistance. The focus on a particular region does not entail isolationism, but keeps an eye on the question of social movements, an issue for modern society well beyond the geographical confines of the southern mountains.
This book is successful if for no other reason than the essays included demolish any image of Appalachians as passive, helpless victims. Readers seeking additional examples of rebellion wil benefit from the bibliography as well. Included in this volume are accounts of grassroots organizations such as Save Our Cumberland Mountains, Kentuckians for the Commonwealth, and the Community Farm Alliance. Collective resistance over single issues is addressed, including job classifications for women and black lung advocacy.
There is a particularly moving account of the Moss 3 plant occupation during the Pittston coal strike, as well as a discussion of the broader significance of miners' strikes and their relation to the local community. In the latter essay, Richard Couto finds that even if neither strikes nor social movements produce visible fundamental change, they do constitute valuable "moments when democratic imaginations are stirred," and people break out of fragmented apathy to act as collective groups.
An article by John M. Glen on the evolving role of the Highlander Research and Education Center concludes with the observation that the Appalachian movement, unlike the civil rights and labor movements, is not led by a single charismatic individual or embodied in a centralized organization. The reader is left with the impression that this characterization is not necessarily a liability.
The final section in Fighting Back in Appalachia explores the theoretical dimensions of regional popular resistance with some discussion of culture, class, and gender. Among the articles is an impressive collaborative treatment of the history of Appalachian studies, which concludes with a suggestive appeal for the relevance of postmodern theory.
Less satisfying is the concluding article by the editor. Fisher sets up an opposition between two theoretical perspectives: New Populism, with emphasis on community, decentralization, and participatory democracy, and Marxism, with its critique of political economy and emphasis on class analysis and struggle. Fisher argues that New Populism is naive regarding capitalism and theoretically vague in its advocacy of democracy and community. Such criticism is not in and of itself misplaced. More disturbing, however, is Fisher's subsequent defense of state bureaucracy, concluding New Populist mistrust of state power misses the point: "The issue is not just more government or less government, but for whom the government works. . . ." Ultimately, Fisher's conclusion confuses rather than clarifies the theoretical possibilities available to Appalachian studies.
Nearly twenty years ago, in an article in Peoples Appalachia (vol. 3, no. II), Bill Taft proposed a left libertarian model for the Appalachian movement, one that combined both a critique of political economy and an emphasis on participatory democracy. With its clear attention to both class and community, it would have made a more fitting conclusion to this otherwise superb collection.
Gordon Simmons
Trans Allegheny Books
THE AIRWAVES OF ZION: RADIO AND RELIGION IN APPALACHIA. By Howard Dorgan (Knoxville: Univ. of Tennessee Press, 1993. Pp. xv, 226. $18.95.)
Howard Dorgan is a professor of communications at Appalachian State University. He has written two previous works on Appalachian religion, Giving Glory to God in Appalachia and The Old Regular Baptists of Central Appalachia. Dorgan has filled an embarrassing void in Appalachian scholarship and mountain church tradition in The Airwaves of Zion, an ethnographic study of AM radio evangelism. The Airwaves of Zion is an important first step in broadening our understanding of a major religious element in the area. On Sunday mornings and weekdays it is impossible to scan the radio dial without finding fundamentalist "Come to Jesus" evangelical preaching. Dorgan provides a well-illustrated exposition of these radio stations and introduces the reader to the mechanics behind the scene. He has taken part in many hours of participant observation and spent the time necessary to examine in great detail the cultural heritage behind the messages that are preached.
The preachers are usually not products of mainline denominations, such as the Southern Baptists, but independent nondenominational Holiness-Pentecostals, who are highly indvidualistic or autonomous in practice. They have not received formal training in broadcasting or theology and rely on divine inspiration in delivering highly emotional, "stylized sermonic techniques that in many cases are distinctly Appalachian." In oral tradition, their skills have often been learned by serving a kind of informal apprenticeship, hearing, and watching others.
Dorgan uses four case studies (Brother Johnny Ward of WMCT, Mountain City, Tennessee; Rex and Eleanor Parker, WAEY, Mercer County, West Virginia; Dean Field, WNKY, Letcher County, Kentucky; and Brenda Blankenship, WELC, McDowell County, West Virginia) as the basis of his work. Nearly parallel to Holiness-Pentecostal church services, the radio programs are generally unstructured. In respect to their Wesleyan heritage, the preachers attack alcohol sales, lottery tickets, and roadhouses and combat every other kind of "sin" imaginable from their broadcast booths. Sometime during the program, long lists of people to be remembered in prayer are given. Dorgan debunks the myth that radio preachers plead for contributions from listeners. Broadcast time is funded by freewill offerings, since radio stations do not provide free time. It is rare for one of these preachers to ask for money in the style of televangelists.
In comparison to other traditional religious practices of Appalachia, the airwaves of Zion appear to be benign or in decline. During the 1970s, a shift in listening audiences occurred when AM stations lost 75 percent of their audience to FM stations. The remaining listeners are older and "less affluent," which is less attractive to advertisers. Changes in radio format and "culture-based" innovations brought to Appalachia by "sojourners," tourism, and second-home real estate markets have also undermined radio evangelism.
Dorgan makes several general statements that are not uniform in Appalachia. He holds the assertion that "Holiness-Pentecostal traditions allow women the full range of religious expression and practice, including preaching, administering sacraments, and the pastoring of fellowship."(55) This practice depends on local belief. Many Holiness-Pentecostal churches do not allow "woman preachers" in their pulpits and expect them to be subservient to men. Dorgan also states that "the circumscription of snake handling as worship is due, in part, to state prohibitions against the practice, with West Virginia being the only exception to that rule."(51) Snake-handling in religious services continues throughout Appalachia. There are also snake-handling churches in Fort Wayne, Indiana; Detroit, Michigan; and other northern industrial centers. In many cases, legal harassment has increased snake-handling activity, especially in Kentucky and Virginia. The 1950s editions of The Louisville Courier-Journal gives numerous accounts of escalated snake-handling after police harassment. If snake-handling has been "circumscribed" at all, it is simply due to members becoming "worldly" and looking for entertainment in places other than church.
In his interview with Brother Johnny Ward, Dorgan states that his criticism of Pentecostals "was that their passions for religious expressions were strong but that their involvements with individual churches were weak, all emotion and no hard work to build the church as an institution."(69) Dorgan does not qualify his meaning of Pentecostals, and leaves the reader with the impression that Pentecostal churches are unorganized. There are many branches of Pentecostal churches in the United States, the largest being the Assemblies of God. In 1990, the Assemblies of God membership numbered nearly 1,630,000 with over 9,000 local autonomous churches. They have a general council and general presbytery that formulates and administers church policies. The Assemblies of God maintains missions in ninety countries and has a world population that totals over 6 million. As with the various sects of Baptist congregations in Appalachia, some free Pentecostal groups exist. They reject governing bodies from other areas of the country that are insensitive to their needs and threaten their sovereignty.
In describing Rex Parker's home, Dorgan states that "the outside of this home fits well those junkyard aesthetcs that characterize some areas of central Appalachia, particularly the coalfield regions of eastern Kentucky and southern West Virginia."(73) It is apparent that the author has not travelled to Indianapolis, Chicago, Detroit, or New York lately. However, these small defects do not hurt the overall effect of the book and its contributions to our knowledge far outweigh the flaws. The Airwaves of Zion is a widely useful work that gets to the core of Appalachian religion. It deserves a wide reading that should be of great interest to Appalachian scholars.
David L. Kimbrough
Stanford, Indiana
LYNCHING IN THE NEW SOUTH: GEORGIA AND VIRGINIA, 1880-1930. By W. Fitzhugh Brundage (Champaign: Univ. of Illinois Press, 1993. Pp. xii, 375. $14.95.)
The racial violence that convulsed the South in the late nineteenth and early twentieth centuries has been the subject of a number of historical works in the last fifteen years. Case studies of individual lynchings have comprised much of this scholarship. Despite the contributions made by the authors of these highly detailed accounts, historians have failed to explain why some regions of the South witnessed so many more lynchings than others.
W. Fitzhugh Brundage, a Virginia native who is an assistant professor of history at Queens University, Kingston, Ontario, has ventured into this breach. Lynching in the New South: Georgia and Virginia, 1880-1930 is the most in-depth treatment of lynching as a distinct form of violence since Arthur F. Raper's 1932 classic, The Tragedy of Lynching. Brundage wrote his doctoral thesis at Harvard in 1988 on lynching and since then has published several articles on the subject. Lynching in the New South, his first book, will shape the historiography of Southern mob violence for years to come.
Eschewing the case study approach adopted by many scholars, Brundage comprehensively compares lynching in Georgia and Virginia. Georgia was representative of the violence-prone Deep South, and Virginia was selected as a typical border state. Drawing upon news clippings and the treasure chest of data on lynchings painstakingly compiled by organizations such as the Tuskegee Institute and the National Association for the Advancement of Colored People, Brundage devotes the first five of his eight chapters to a comparative analysis of the two states' experiences with vigilantism. In the balance of the book, Brundage contrasts anti-lynching efforts in Georgia with those in Virginia and examines the multiple forces that contributed to the decline of mob violence in both states by the 1930s.
Brundage makes a compelling case that lynchings were complex, varied phenomena that cannot be understood simply as expressions of whites' collective obsession with reaffirming their hegemony over blacks. While some lynchings were carried out by huge, celebratory throngs and heavily laden with ritual, others were furtive executions accomplished by small groups.
Brundage explores why lynchings were so much more frequent in the Deep South than in border states. He argues convincingly that Virginians were no less committed to white supremacy than Georgians. Moreover, whites in both states vigorously defended segregation for decades after lynching had disappeared as a tool of oppression. Despite similar levels of racial animosity between 1880 and 1930, Georgia's 458 lynchings compared with only 86 in Virginia.
Brundage plots the geographical distribution of lynchings within both states through maps and tables. Virginia's southwestern counties' twenty-eight lynchings, more than any other region of the state, primarily occurred in the 1890s outburst of violence in the rapidly modernizing Appalachian region. The majority of these lynchings took place near "centers of change" such as Roanoke, Bluefield, and Richlands, communities which attracted black laborers as a result of a brief boom in mining and railroad building.
For Brundage, the social strains of industrialization and economic depression account only for brief spasms of lynching, such as occurred in many states during the early 1890s. Brundage's novel thesis is that lynchings resulted lss from the trauma of industrialization than from the form of labor relations prevalent in the region. Lynching was most frequent and persistent in the plantation South, where "sharecropping, monoculture agriculture, and a stark line separating white landowners and black tenants existed." Brundage argues that the likelihood of lynchings decreased "in rough proportion to the degree that a particular region diverged from the plantation South." In Brundage's view Virginia had relatively few lynchings because the Old Dominion was distinguished by diversified agriculture and ad hoc day labor. Largely absent from Virginia were the coercive and inherently violent labor practices that typified staple-crop agriculture throughout much of Georgia and other Deep South states. Virginia planters learned in the late nineteenth century that the "lash of wages was at least as effective as time-honored methods of coercive labor."
While Brundage demonstrates that the demise of lynching had a host of causes in both states, he suggests the proximate factor in Georgia's case was the introduction of New Deal programs into the southern cotton fields, where lynching had been endemic. Modern agricultural techniques and capitalist labor relations altered irrevocably the Deep South's plantation-based economy. The disappearance of lynching was also attributable to the proselytizing of humanitarian reformers and the gradual formation of a consensus among conservative elites that mob violence was an indefensible assault on law and order.
Brundage's argument that differing levels of mob violence in Virginia and Georgia represent patterns that prevailed throughout the South is both insightful and open to question. For example, Kentucky, another border state with a small plantation sector, has a significantly more horrific history of racial violence than does Virginia. George C. Wright has documented 353 lynchings in Kentucky between 1865 and 1940, one of the worst records in the South. Much of this violence occurred in central Kentucky where tenant plantations were uncommon.
Brundage's book also suffers from a distracting collection of minor errors. The number of lynchings exhibited on his map of Virginia does not match the number found in his text. Some of the footnotes would have benefitted from closer attention. The author, for instance, misstates the publication dates of three anti-lynching editorials written in 1925 by P. B. Young, the illustrious black editor of the Norfolk Journal and Guide.
The prospects certainly are strong that Brundage will receive a chance to correct these defects in a second edition. Lynching in the New South is a great leap forward in the rapidly evolving study of American vigilantism and catapults this young scholar to the forefront of historians struggling to understand the racial violence in our past.
Paul G. Beers, Esq.
Glenn, Flippin, Feldmann & Darby
Roanoke, Virginia
ROBERT E. LEE AND THE 35TH STAR. By Tim McKinney (Charleston: Pictorial Histories Publishing, 1993. Pp. viii, 144. $11.95.)
In slightly more than one hundred pages, including a profusion of maps and photographs, this book takes the reader on a fast-paced retelling of primarily military events in Civil War western Virginia during the campaigns of 1861. "For decades prior to the advent of the American Civil War there existed differences between eastern and western Virginia that would ultimately contribute to the addition of West Virginia as the 35th star on our nations flag," the reader is informed on the first page. Although a good portion of his narrative is devoted to Robert E. Lee's abortive attempts to hold the area for the Confederacy at Cheat Mountain and along the roadways connecting the Kanawha Valley and eastern Virginia, Tim McKinney deals with other aspects of the war in present West Virginia. Commendably, the author has sorted through numerous regimental histories, memoirs, and archival collections to uncover new insights about the men in both armies that fought and died during the western Virginia campaigns.
By the time Lee arrived in August 1861, most of the region had been overrun by Federal troops, and the "Reorganized Government" of Virginia under Governor Francis H. Pierpont had been ensconced at Wheeling with the help of Union bayonets. On the military front, former governor Henry A. Wise and the Wise Legion had been driven from the Kanawha Valley following the indecisive fight at Scary Creek. Robert W. Garnett, an early Confederate commander, had been killed near present Elkins. Wheeling and much of the Baltimore and Ohio Railroad had been abandoned, and George Porterfield had been hurled out of Grafton and Philippi. Abraham Lincoln's generals in western Virginia, led by George B. McClellan and with superior numbers, quickly bested the lackluster Confederates. The early strategy of Jefferson Davis and Lee, his military advisor in transmontane Virginia, McKinney correctly observes, was "flawed."
In fairness, the Confederates faced nearly insurmountable obstacles in what became West Virginia after much of the area was occupied by forces under McClellan during the first months of war. Wise probably captured it best when he wrote to his Richmond superiors: "The Kanawha Valley is wholly disaffected and traitorous. It was gone from Charleston to Point Pleasant before I got there. . . . You cannot persuade these people that Virginia can or ever will reconquer the northwest, and they are submitting, subdued, and debased." Lee not only encountered hostile terrain with insufficient troops to defend it but also a population more likely to help the enemy than himself.
Victory against the Federals who had advanced eastward from Ohio persistently eluded this youngest son of Light-Horse Harry Lee of Revolutionary War renown. Besides a dearth of manpower, Lee was thwarted at every juncture by disease and foul weather that left his troops ravaged and cold. "The season was a most unfavorable one: for weeks it rained daily and in torrents; the conditions of the roads were frightful; they were barely passable," stated his aide Colonel Walter H. Taylor. The rainy, disagreeable weather coupled with primitive sanitation in the camps contributed to an outbreak of measles and related disorders. Although McKinney indicates that "adequate records of the extent to which disease played in the Confederacys defeat in West Virginia does [sic] not exist," sickness took an awesome toll upon Lee's troops. Their Yankee counterparts also suffered the various plagues, and at one time during late 1861, Union commanders reported "1,101 cases of measles, 2,089 cases of typhoid fever, 2,565 cases of malaria, 2,026 cases of other types of fever, 1,656 cases of rheumatism, and numerous other ailments and injuries which the available records do not reflect."
Finally, Lee devised a scheme to drive the Federals from their fortified positions atop Cheat Mountain Summit that ended in utter failure. Instead of surveying the laurel-covered precipice himself he relied upon others, including a former Arkansas congressman named Albert Rust, for his intelligence. When his troops became hopelessly bogged down and were forced to withdraw, Lee incurred the wrath of Southern newspapers as well as Confederate politicos. "In short," McKinney quotes Lee's biographer Douglas Southall Freeman, "the plan of action suggested that [he] was disposed to be overelaborate in his strategy to attempt too much with the tools he had."
Before his return to Richmond at the behest of Jefferson Davis, Lee traveled southward to the Sewell Mountain region of Greenbrier County to sort out a nasty dispute between Confederate commanders John B. Floyd and Henry A. Wise, both former governors of the Old Dominion. Animosities between the two had reached the breaking point following Floyd's withdrawal from the Carnifex Ferry battleground and the retreat of Wise from the Kanawha Valley. When Lee arrived, they were not only encamped within a short distance of each other but also engaged in a heated argument over who was in command. Although Davis ordered Wise to another theater, Lee, despite his later successes, was never able to exercise much control over the disparate Southern forces throughout western Virginia.
Following an impasse between Federal commander William S. Rosecrans and himself, Lee and Davis decided to abandon the region, eventhough Floyd had advanced to Cotton Hill overlooking Gauley Bridge. "There can be no doubt that General Lee and others in roles of leadership for the Confederacy, seriously, fatally, miscalculated both the Federal Government's resolve to hold West Virginia, and the strong division among its populace, McKinney reasons. Lesser-known Confederates remained, but Lee's departure for the South Carolina coast in October 1861 and the military collapse that followed pointed the way to West Virginia statehood without challenge. Yet the author finds merit in the efforts of Lee and his compeers: "They were able to prevent the Federal forces from advancing west of the Blue Ridge Mountains, or south of Lewisburg. Had the northern army done either in force, it would have spelled disaster for the Confederacy early in the conflict."
Paul D. Casdorph
West Virginia State College
HANGING ROCK REBEL: LT. JOHN BLUE'S WAR IN WEST VIRGINIA AND THE SHENANDOAH VALLEY. Edited by Dan Oates (Shippensburg, PA: Burd Street Press, 1994. Pp. 324. $24.95.)
Between 1898 and 1901, the Hampshire Review published the memoirs of Lieutenant John Blue (1834-1903), Company D, 11th Virginia Cavalry, C. S. A. With Hanging Rock Rebel editor Dan Oates brings this fascinating account of the Civil War back into the public eye in book form. Hampshire County and most of northeastern West Virginia was a hotbed of military activity between 1861 and 1865, with the town of Romney changing hands between blue and gray no less than fifty-six times, a distinction matched only by Winchester in Virginias Shenandoah Valley. The tide of war in and about Hampshire County was relentless and unpredictable. Its populace, as was the case in most of present-day West Virginia, had divided loyalties. Lieutenant Blue illustrates this point very early in his memoirs, explaining that word of the first Yankee occupation of Romney was given them by a man who was "about half Union anyway."
Blue enlisted early in 1861 and served throughout the war. The transition from civilian to military life was not an easy one for Blue and his comrades. Very early in the conflict, acquiring adequate food, shelter, and weapons was as much a priority as defeating the enemy. The author's company, also known as the "Huckleberry Rangers," were initially armed with flintlock muskets that apparently had seen service in the Revolution. Adding insult to injury, the men were quickly reduced to foraging for food. When a honey-laden bee tree was found the Huckleberry Rangers sprang into action: "We charged and repulsed several times before capturing the fortress."
Usually outnumbered and lacking accurate information as to the movements of their adversaries, the Rangers frequently undertook their scouting at night. This was no easy task in mountainous terrain, even for those who were familiar with the area. In December 1861, General Stonewall Jackson planned an advance on Romney, and Lieutenant Blue and a friend were sent out at night to reconnoiter the Federal positions. They accomplished their mission by leaving the road near Moorefield and following the ridge tops toward Romney: "The snow was 18 to 24 inches deep with no road or path to follow. We had to pick our way as best we could over and around fallen timber and ledges or rocks. Our progress was necessarily very slow. The night was bitter cold."
Arduous service in cold, wet weather caught up with Blue in March 1862 when he contracted measles which removed him from active duty for two weeks. The military doctors gave him up for dead as he explained: "Four doctors stood around my bed but failed to kill me. They gave up the job . . . an old woman came bringing roots . . . I soon got better."
Upon returning to duty the author narrowly escaped the advancing enemy at Romney and later barely avoided capture during another late-night scouting mission. Acting as a courier on August 9, 1862, Blue witnessed the bloody battle at Cedar Mountain, Virginia, his first major battle, while sitting beside Stonewall Jackson. His eyewitness description of the fighting is quite good. Shortly thereafter he was involved in the battles of Brandy Station and Seond Manassas, Virginia. In 1863, Blue participated in the famous Jones-Imboden raid through West Virginia, and that summer he witnessed the awful carnage of Pickett's Charge at Gettysburg. Captured four times during the war, the last being on October 12, 1863, the author was incarcerated at four separate Confederate prisons. We gain insight from Blue's account of day-to-day prison life, and his chance encounters with such fellow prisoners as Belle Boyd add a unique quality to this already valuable memoir.
The book has some shortcomings which, if addressed, would greatly enhance it. Editorial notes to add information about and identification of people and events under discussion are absent. Additionally, there are but three footnotes in a work which exceeds three hundred pages, and there is a serious need for maps to accompany the text. Maps of the campaigns and geography are readily available from such common sources as the Official Records Atlas. Famous Confederate cavalry commander General J. E. B. Stuart is mentioned frequently, though his name is misspelled "Stewart" or "Steward" all but a few times, a mistake maintained into the index.
Hanging Rock Rebel is enjoyable, educational reading. It is full of harrowing tales of intrepid exploits which hold the readers attention from start to finish. Its minor production problems do not detract from the significance of this work, which should be of interest to students of the Civil War.
Tim McKinney
Fayetteville
THE FIRST DAY AT GETTYSBURG: ESSAYS ON CONFEDERATE AND UNION LEADERSHIP. Edited by Gary W. Gallagher (Kent, OH: Kent State Univ. Press, 1992. Pp. x, 173. $24.00.)
THE SECOND DAY AT GETTYSBURG: ESSAYS ON CONFEDERATE AND UNION LEADERSHIP. Edited by Gary W. Gallagher (idem., 1993. Pp. xi, 209. $24.00.)
In this cynical age, another study of Gettysburg might elicit yawns from Civil War scholars. After all, nearly as much ink as blood has been spilled over that Pennsylvania field. But in the case of these two essay collections, the cynics would be wrong. The focus of these nine exhaustively documented articles is the existential role of those who make choices in battle. Less the captives of events than of their own decisions, the officers studied here were uniquely responsible for how the fight began, how it evolved, and for the determination of who lived and died. It is a timeless theme worthy of close scholarly attention, and it is particularly relevant to Gettysburg. Volume editor Gary W. Gallagher writes in The First Day that this engagement's outcome "depended to a significant degree"(viii) on the exercise of command decisions, that is, on leadership.
In The First Day, drawn from papers presented at the 1990 Conference on the Civil War at Pennsylvania State University-Mont Alto, Gallagher himself best demonstrates how the seemingly chance encounter of minor forces which grew into a bloodbath can be traced to a commanders conscious choice. Evaluating Robert E. Lee's decisions within the immediate context of his actions, Gallagher identifies the choice by "Marse" Robert which set the battle in motion. Before the first shot was fired, he allowed considerable discretion to his subordinate commanders. By the afternoon of July 1, Lee was present on the battlefield and assumed ultimate responsibility for the handling of what was by then only a meeting engagement. He, not his subordinates, permitted a full-scale battle to develop. He, not his subordinates, chose not to push for the capture of strategic Cemetery Hill, which became the foundation of the Union's defensive line. In contrast to Lost Cause traditionalists, Gallagher concludes that Lee, not chance or underlings, controlled the first day's events.
A far less convincing analysis of Lee's role is Alan T. Nolan's essay. Here, the lawyer-author trots out the arguments given fuller explication in his Lee Considered (1991). Nolan faults Lee for undertaking the camaign at all; the Pennsylvania expedition cost Lee's army casualties it could not replace. Far preferable would have been raids against Northern logistical centers by small, mobile forces. Confederate supply problems thus could have been erased without major losses. Moreover, "General" Nolan would have the Confederacy follow an overall defensive strategy with occasional sharp, offensive thrusts to unbalance the enemy. This armchair strategy has a logical tidiness, but it wrenches Lee out of historical context. The author misrepresents the Confederacy's lack of a coherent military policy. He also fails to acknowledge the relatively free rein enjoyed by charismatic commanders like Lee. More seriously, he seems oblivious to the South's fatal need for such romantic military adventures as Lee's aggressive campaigns. Indeed, Lee's defensive campaigns of 1864-65, which lasted eleven months and not the duration which Nolan prescribes, garnered only deteriorating public enthusiasm and a worsening tactical position. Nolan would fight the war with a Confederacy which is not historically accurate.
A less ambitious, but more successful, revision of Gettysburg interpretations comes from A. Wilson Greene. According to the author, Union General O. O. Howard and his Eleventh Corps do not deserve their traditional blame for the Northern debacle on July 1. Greene admits Howard's poor tactical choices cost many Federal lives and captured in the retreat through Gettysburg. But he credits Howard with initially selecting Cemetery Hill as a defensive site, which later became the linchpin of Union defenses on Cemetery Ridge. Command failure and limited success are the basis for Robert K. Krick's study of Confederate disasters northwest of Gettysburg on Oak Ridge. There, rebel corps, division, and brigade commanders did not adequately supervise assaults. The day's mistakes and its unnecessarily numerous Confederate dead underscore the military truism that "leaders must lead"(138), not simply unleash, their troops. Krick's meticulous reconstruction shows how a supposedly inconsequential firefight was in reality a profligate waste of lives through sloppy management.
Despite such command weaknesses, the Rebel army nearly won the battle on the following day. The Second Day, papers from the 1991 Pennsylvania State University-Mont Alto Conference on the Civil War, reexamines controversial issues from those fateful hours. The most significant topics include Lee's resumption of the tactical offensive, Federal General Daniel Sickles's questionable occupation of an exposed salient in the Cemetery Ridge defenses, and General James Longstreet's attack on the Union flank. For Lee's second day decision, Gallagher again presents a persuasive argument. He finds that sufficient forage existed in the region for Lee to have assumed a tactical defensive and awaited the inevitable Union attack. The temporary advantage rifled muskets gave 1860s defenders would have favored the Confederates. Gallagher contends Lee's choice to attack was an error, but it was not unreasonable in context. Lee hoped to capitalize on the momentum and morale the first days victories had gained.
Debatable choices also concern other essayists. William Glenn Robertson's account of the seizure of an unprotected point by Sickles's Third Corps is a model case study on the interplay of command factionalism, personality and policy, and military necessity. The author gives Sickles's self-inflicted disaster the credit of breaking the coordination of Longstreet's nearly successful attack. The Second Day's remaining essay of significance also comes from the pen of Robert K. Krick, who finds that Longstreet, Lee's tarnished lieutenant, did in fact merit his postwar reputation for untrustworthiness and intentional sloth. He executed the important march to the temporarily vulnerable Union left with little concern for haste, security, or surprise. Instead, he chose to sulk over a strategic disagreement with his commander and embarrassed Lee by the failure of the attack.
Hindsight by historians writing in libraries is a notoriously poor tool for evaluating a commander"s battlefield decisions. But Gettysburg has been studied so thoroughly for so long that it is possible to determine what a commander knw, when he knew it, and whether his choices were justified. Most of these essays provide useful insight into the hellish art of command. Not the least of the relevant themes is the implicit reminder that, whatever the century, the most influential and deadly weapon on the battlefield is the human mind.
James Russell Harris
Kentucky Historical Society
"NO SORROW LIKE OUR SORROW": NORTHERN PROTESTANT MINISTERS AND THE ASSASSINATION OF LINCOLN. By David B. Chesebrough (Kent, OH: Kent State Univ. Press, 1994. Pp. ix, 200. $24.00.)
The assassination of John F. Kennedy had an indelible impact on Americans at the time and continues to do so. Many remember where they were, what they were doing, and how they felt. The same feelings of frustration, anger, despair, concern, and the eternal question -- why -- must have been present in the minds and hearts of Americans after the assassination of Abraham Lincoln. A recent publication, "No Sorrow Like Our Sorrow" by David B. Chesebrough, eloquently resurrects the passions and concerns that faced the nation following Lincoln's assassination through an examination of the sermons of Northern protestant ministers.
For the most part, historians have ignored sermons as historical documents. As Chesebrough points out, the sermons of these Northern ministers mirrored and shaped public opinion. On the one hand, the more popular the preacher, the greater the likelihood that his words reflected the views of his congregation. On the other hand, ministers were traditionally held in high esteem and their words and actions had immense power to frame public opinion. A quick review of texts about the mid-1800s reveals that ministers were prominent "movers and shakers" on both sides of the national fence, whether in the cause of abolitionism or Southern nationalism.
Chesebrough's monograph describes how Northern protestant ministers reacted to Lincoln's assassination during roughly a four-week period beginning on Easter Sunday, April 16, 1865. Each chapter deals with some common outlook that reveals popular reaction to the incident -- the predominant theme of grief, the worthy content of Lincoln's character, the responsibility for the assassination, the demand for justice, and the assassination as an act of providence. The conclusion places these sermons in their nineteenth-century context, a fascinating and insightful look at how the sermons were influenced by years of moral indignation over such issues as the Fugitive Slave Law and the Dred Scott decision, as well as how Northern ministers influenced public opinion about the future course of Reconstruction.
More than any other theme, grief dominated the sermons following the assassination. In many ways, the grief was compounded by the overwhelming rush of emotion flowing from the euphoria over successes of the Union Army and General Robert E. Lee's surrender at Appomattox Court House. In fact, on the day of the assassination, April 14, the American flag was raised over Fort Sumter in a special ceremony. Roughly four-and-one-half years of struggle had come to an end, but the celebration was cut short after the news of Lincoln's murder became known. Most ministers noted the contrast and their sermons revealed that Americans were experiencing something very personal, a reaction akin to losing a beloved family member. Chesebrough points out, however, that Northern ministers had not been so unanimous in their support of Lincoln prior to the assassination. In fact, Lincoln had been castigated for not dealing with slavery in a timely fashion. The nine months preceding the assassination were some of Lincoln's darker days as far as Northern support was concerned, and the president questioned whether he would be re-elected. Although martyrdom secured Lincoln's place in the hearts of most Northerners, it also elicited intense anger against the South.
John Wilkes Booth merely pulled the trigger, according to most Northern ministers. The responsibility for Lincolns assassination rested heavily on the shoulders of the Confederacy, the South, and slavery. According to one minister, "Southern `chivalry' has earned for itself the title of barbarism; Soutern civilization -- the boasted paragon of perfection -- has shown itself to be a whited sepulchre of full corruption within." Most Northern ministers placed the blame on the leadership of the South; a few believed the South as a whole was the instigator. Thus, leniency and mercy were not realistic, reasonable, or acceptable when dealing with the South. Prior to the assassination, Northern ministers were not of one mind as to how the South should be treated after the war. The assassination seemed to bring about a unity of purpose and conviction that demanded "swift, harsh and certain justice." Chesebrough claims that Northern ministers were instrumental in "promoting bitter differences" between the North and South immediately after the war, even going so far as to exceed the acrimonious speeches of the "Radicals" in Congress.
Chesebrough has masterfully woven together the articulate responses of Northern ministers to the assassination of Lincoln and considered how they reflected and shaped public opinion, at the same time revealing the social and political conditions that provoked their responses. The ministers' eloquence and passion are central to this work. The author deserves praise for permitting the sermons to take center stage, allowing the words and ideas expressed by the ministers to plead their case. The inclusion of two sermons in the appendix is an added bonus. Books like this will interest nineteenth-century historians, but it deserves a wider audience.
John D. Hicks
West Virginia Humanities Council
Southern West Virginia Community College
NEITHER BALLOTS NOR BULLETS: WOMEN ABOLITIONISTS AND THE CIVIL WAR. By Wendy Hamand Venet (Charlottesville: Univ. Press of Virginia, 1991. Pp. 210. $25.00.)
During the Civil War, the National Women's Loyal League began its activities under the guidance of Elizabeth Cady Stanton. Through her influence, the newly formed organization collected over one hundred thousand signatures in favor of abolishing slavery through a constitutional amendment. Women of this era often resorted to the right to petition in the absence of voting privileges. This is a major contribution of Wendy Hamand Venet's book which presents the early history and development of the women's abolitionist movement whose goal became influencing congressional voting behavior.
Neither Ballots Nor Bullets contributes to the growing literature on women abolitionists. The causes women worked for gained momentum during the war and eventually changed the ways women affected government. Venet states in her preface that politically active women worked for abolition by trying to sway public opinion during the major conflict. Within this time frame, women worked together to win public support for the abolition of slavery through constitutional emancipation. Their collective efforts laid the foundation for feminist efforts later in the century. These pioneers attained confidence and public acclaim for their work. Their antislavery activities, according to Venet, gave "first wave" feminists their beginnings.
William Lloyd Garrison was one of the first abolitionists to respect women's involvement in changing laws and gave attention to their cause in the "Ladies Department" of The Liberator. He was instrumental in gaining national attention for these women who strongly believed in ending slavery and also led a broader reform movement. A theme of this period, states Venet, was the millennial notion of the perfectibility of humankind which removed all barriers to human improvement.
During the 1830s, women carved out an important role within the abolitionist goals they espoused. Through individual and group efforts, women founded antislavery societies in New Hampshire, Maine, Rhode Island, Connecticut, New York, Pennsylvania, and Michigan. Their early work before the Civil War was successful until a major conflict in 1840 disrupted the abolitionist movement. The denial of full participation in the World Anti-Slavery Convention in London altered the focus of the women abolitionists to include feminism. As the Civil War loomed, women abandoned purely supportive roles at meetings and developed a philosophy hat presented their gender-viewpoints. It was thought that political gains might enhance the cause for women abolitionists.
A strength of Venet's book is her presentation of Anna Dickinson's role in the women's movement. Although her contribution to feminism has not been thoroughly explored, the author successfully brings her life into focus with the abolitionist cause. Venet's study of the creation and sanction of the National Women's Loyal League provides an excellent analysis of this venue used by women to battle politicians on their own ground. The league became the principle instrument through which Elizabeth Cady Stanton and Susan B. Anthony demonstrated their leadership. It might be seen as a landmark in aiding the next generation of feminists.
Venet's underlying theme is the Civil War around which she centers the increasing role of women in the politics of the abolitionist movement. Their efforts to interact weaves an intriguing story of the period and provides the basis for studying the later nineteenth-century feminists.
Monty R. Baker
West Virginia Library Commission
THE ORIGINS AND EVOLUTION OF THE FIELD OF INDUSTRIAL RELATIONS IN THE UNITED STATES. By Bruce E. Kaufman (Ithaca: ILR Press, 1993. Pp. xv, 286. $19.95.)
What is industrial relations? How has the academic field developed? Does it have a future? These are the questions posed by Bruce Kaufman in his study of the institutional and organizational development of industrial relations. Kaufman traces the origins of the field to the early twentieth century when both academics and employers began searching for solutions to what was euphemistically called the "labor problem." The labor problem included labor-management conflict, high employee turnover, waste and inefficiency, unemployment, unsafe working conditions, inadequate pay, and child labor. As originally conceived, industrial relations was a multidisciplinary field of study that sought "to achieve more scientific, equitable, and humane employment practices through both progressive labor legislation and improved methods of employment management in industry."(13)
Almost immediately the field divided into two factions that Kaufman labels the PM school and the ILE school. The personnel management school argued that workers and employers shared mutual interests, and the cause of labor problems was faulty organizational and administrative managerial practices. The solution was the adoption of scientific methods of personnel administration, including aptitude testing and incentive pay systems, the development of human relations employment practices, and the establishment of some form of non-union employee representation. In sharp contrast, the institutional labor economics school traced labor conflict to crucial defects in the nature of the capitalist system itself. An imperfect labor market and the autocratic nature of the master-servant relationship left workers at a competitive disadvantage and open to exploitation. The ILE school would establish a level "plane of competition" through the adoption of social insurance programs, protective labor legislation, full employment monetary policies, and the promotion of independent trade unionism.
Despite internal conflict, the field of industrial relations grew rapidly through the 1940s and 1950s. Multidisciplinary industrial relations programs were established in universities across the nation, and scholars from diverse fields produced an outpouring of research on workplace issues. Kaufman rightly suggests that the rapid spread and increasing power of organized labor after World War II sparked the "golden age of industrial relations."(191) It was, however, a short-lived golden age. The 1960s and 1970s witnessed that "hollowing out" of industrial relations as the field was redefined from one studying all aspects of the workplace to one devoted solely to the study of organized labor and collective bargaining. At the same time, the ILE school became dominated by neoclassical labor economists who focused on data-driven minutiae and rarely asked big questions. As the field began to narrow, personnel management scholars fled to emerging human resourcesprograms in business schools. Kaufman makes it clear that in identifying with unions the field had linked up with a falling star. In the late 1970s and 1980s, the field of industrial relations suffered the same fate as organized labor. As the union sector of the economy declined in the anti-labor environment of the 1980s, industrial relations gained a negative stigma and IR programs had difficulty attracting students. This led some universities to disband programs or merge them into business departments.
If the field of industrial relations continues to be identified with the study of organized labor, Kaufman predicts a gloomy future. He offers, however, ideas for revitalizing industrial relations, beginning with discarding the old stigmatized name and replacing it with employment relations. This redesigned field would use the employment relationship as its organizing concept, hopefully reuniting the PM and ILE perspectives. While the study of collective bargaining would not be totally abandoned, Kaufman urges that unions be viewed as only one of many potential systems of workplace governance.
Kaufman has done a fine job in untangling the history of industrial relations. Supporters of organized labor, however, will have difficulty with his contention that collective bargaining has lost its effectiveness and his willingness to relegate unions to a minor role in the workplace.
Elizabeth Fones-Wolf
West Virginia University
DEAD LAWS FOR DEAD MEN: THE POLITICS OF FEDERAL COAL MINE HEALTH AND SAFETY LEGISLATION. By Daniel J. Curran (Pittsburgh: Univ. of Pittsburgh Press, 1993, Pp. xii, 208. $39.95.)
As stated by the author in the preface, this interesting but short book ". . . will focus on federal efforts to ensure worker health and safety in the coal mining industry . . ."(x), specifically on why health and safety laws were enacted when they were. Curran asks if these laws have succeeded in improving conditions and immediately answers that they have not. He then proceeds to discuss the ". . . disjunction between legislative intent and [the] application . . ." of coal mine safety laws. Curran only partially succeeds in this rather ambitious undertaking. As a current chronicle of the Reagan/Bush efforts to thwart mine safety efforts, however, the book is a necessary addition to the libraries of all coal mining and labor historians, mine safety advocates (both industry and worker), and industrial safety specialists.
Chapter 1 is largely an academic justification of why this book should be considered a scholarly work. For the non-specialist, this chapter can be passed over. However, it does contain some interesting assertions, such as ". . . miners protests over disasters become significant only during periods of industrial prosperity . . ."(9) or ". . . constraints created by the United Mine Workers of America [UMWA] leadership . . . have . . . tended to slow the movement toward improved health and safety for miners."(15-16) These assertions are argued, unconvincingly, later in the book.
Chapter 2 presents a brief history of coal mining and the rise of coal mining unions. There is a long discussion of the founding of the UMWA and the strikes of the late nineteenth century. Causes for the unrest are discussed, but almost omitted is any discussion of safety issues, one of the earliest reasons for strikes and efforts towards unionization by coal miners. Also missing is the crucial role of foreign-born, non-English speaking coal miners in breaking strikes and, not incidentally, in mine accidents and fatalities. Absent too is a discussion of federal and state responses to mine disasters which occurred in the period prior to 1900. Many of the important safety laws, such as multiple openings to underground mines and "fire boss" checks of mine workings before entering the workplace, originated before 1900. Chapter 3 inadequately covers some early coal mining history, including four pages on England and one on the U. S. There is no discussion of the effects of coal strikes and the resultant congressional inquiries, many of which focused on safety. Curran fails to explore the "progressive" safety-based reforms of te early 1900s, which were the result of muckraking and national recognition that reforms were needed.
The book really begins on page 57 with "Factors Leading to the First Legislation," shifting its focus to the federal government's efforts to address mine safety issues. Continuing into Chapter 4, Curran traces the history of the Bureau of Mines, the first federal agency with a mandate for coal mine safety. Interspersed is the history of the rise of the UMWA. This material is loosely tied to safety and only occasionally touches on the government role in the union-operator struggles. Curran discusses the important role of the National Industrial Recovery Act in allowing unionization of the coal industry and probably opening the southern West Virginia coalfields. Throughout the chapter and the rest of the book, Curran records the yearly totals of injuries and deaths of miners and uses these data to show the effects of legislation on reducing both rates. He also discusses each major coal mining disaster in the U. S. and briefly touches on news media, congressional, and public reactions to the disasters and resulting federal legislation. This is the strength of the book and should be substantially expanded in the next edition.
Chapter 5 starts with the Farmington disaster and the federal Coal Mine Health and Safety Act of 1969, much of which was authored by West Virginia Senator Jennings Randolph and Representative Ken Hechler. The removal of regulatory authority from the Bureau of Mines is recorded, but the continuing residual role of the bureau in coal mining research, much of it safety related, is not discussed. Suddenly appearing throughout the rest of the book are annoying, multi-page discussions of UMWA history, Jock Yablonski, Arnold Miller, the Bituminous Coal Operators Association, contract negotiations, etc. These are only remotely tied to the topic of federal laws on mining safety, and students of labor history will be unsatisfied with this superficial treatment.
Chapter 6 discusses the Mine Safety and Health Act amendments of 1977 which transferred safety regulation to the Department of Labor and established the Mine Safety and Health Administration (MSHA). The chapter portrays MSHA through the Reagan years, ending about 1988. Curran clearly shows the effects of the Reagan administration's efforts to emasculate MSHA, and this basic history is another strength of the book which should be expanded. The addition of information on the leadership of MSHA and its policies, lobbying groups and their players, and the roles of congressional committees, especially those with mine safety responsibilities, would be helpful. The fact that coal mining deaths have continued to drop over time should be addressed as well.
Even with these weaknesses, however, the book is current and, as such, is a prelude to the promised/hoped for reformation under the Clinton administration, and specifically Davitt McAteer, West Virginian and recently confirmed head of MSHA.
Jack Holbrook
Cross Lanes
WOBBLIES, PILE BUTTS, AND OTHER HEROES: LABORLORE EXPLORATIONS. By Archie Green (Urbana: Univ. of Illinois Press, 1993. Pp. xii, 523. $39.95.)
Archie Green invented the word laborlore, and in this capstone to his life's work, he reveals his compassionate philosophy and his depth of understanding of workers' cultures. For over fifty years, Green has been involved with workers and their cultures from the time he was a "Pile butt," a worker on a piledriving crew, through his many scholarly explorations into the life of the worker.
Most noted perhaps for his celebrated work Only a Miner (1972), Green here explores the multidimensional character of occupational expression. Songs, stories, customs, beliefs, and artifacts, both on and off the job, come alive in meaning and symbol. Precisely detailed descriptions of elements in worker culture are combined with analytical comment from Green's knowledge of folklore, history, literary criticism, and linguistics. This wide reach of knowledge is flavored and directed by Green's underlying philosophy of pluralism, one that argues for the diversityof work cultures. Green rejects monism in its various forms as he speaks to the worker and the intellectual.
In a brief introductory section entitled "Keywords" that prompts scholars to review Raymond Williams's learned 1976 etymological study of the same name, Green questions the division between toilers and thinkers. Just as those who study culture do, workers delight in using nicknames and newly coined words to convey complex meanings. These acts permit dignity and play in the workplace and are built upon the real skills and knowledge of the worker.
The heart of this work is in the ten chapters comprising in Green's words "a pair of heroes, two words, two tales, two ballads, a ritual grabbag, and an obscure trade."(4) John Henry, a mythical person, and Joe Hill, a person turned mythical, are the two heroes. Wobbly and fink, the two words, are traced from their origins to the controversies over their meanings. Tales of Marcus Daly and Matty Kiely, "copper bards," pose problems in interpreting labor's views of management, while tales of bosses cuckolding workers, the role of women in these stories, and the workman's reactions highlight a humor of powerlessness. Green's study of strike songs about the infamous 1892 Homestead strike offers a contrast and complement to the detailed history of a southern cotton mill rhyme originating in the Gastonia, North Carolina, conflict in 1929. A "ritual grabbag" analyzes ceremonial acts and ritualistic language used on the job or in the union hall, ranging from "rough music" to shivarees and from "shortened shovel" sabotage stories to Labor Day.
Green concludes the case study chapters with an examination of the lore of the pile butt, a job Green held in 1941 which led to his interest in occupational lore. Youthfully inspired by that direct experience to believe shipwrights had the talents of magicians, Green uses the trade's techniques, work rules, and craft rhetoric to sustain his argument that workers develop "enclaved communities" on the job which tend to an exclusivity based on experience and knowledge. Thus a cultural pluralism arises from the very necessity of work; workers simultaneously change and maintain traditions. This aspect of work culture is crucial to our understanding of culture and society. Green refuses to turn the worker into a statistic or an inanimate object moving in an abstract stream toward some higher goal. From our understanding of discrete items of job wisdom, Green believes we may understand the unique pluralism of work cultures and thereby affirm ourselves and what we do. In a brief "Afterword" Green tells us about "Spokane Tom" who deeply influenced his life.
It is impossible in a brief review to do justice to all the ideas in this study. Green uses connectedness of person, act, song, and story to reveal the import of work in the process of developing identity. He avoids, but does not reject as an analytical tool, the use of radical polarization of dialectical opposites. Rather, Green sees the act of a worker completing a job with great skill, exemplified by the perfect alignment of screws by a ship's carpenter, as a connected act of artful accomplishment reflecting pride. Such acts are examples of the "Tiffany touch," an expression of self-worth among workers.
Green delights us in his examination of the "visual" John Henry with an analysis of song, story, pictorials, and monuments. John Henry personifies work experience in his dual roles of humble worker and mysterious hero. A tragic failure in his attempt to master the machine, he is a towering figure in laborlore. Green traces John Henry as artists and songsters portray him. In a fascinating piece of art history, John Henry appears as he was shaped in the woodcarving of Shields Landon Jones, a retired Chesapeake and Ohio railroad workman (Goldenseal, vol. 8), and as sculpted in the John Henry memorial in Summers County, standing four hundred feet above the old Big Bend tunnel.
In contrast to the visual artifacts, humor and sexual imagery dominate the eleven "Home-Front Harassment" stories. Told by men for men on the job, these stories recount feelings of sexual impotency and powerlessness. The stories all assume that listeners know something about the time and place o the work narrative. They reveal the economic dependency and helplessness of the cuckolded worker. The two oldest are stories in which the worker returns home early from work to discover his wife in bed with another man. The worker cannot confront the man since he is a "perfect stranger." The next eight stories are variations on the theme of the worker who slips away from work early only to find his wife in bed with his boss. Here the worker invariably races back to work to avoid being caught, thereby endangering his job. The final, modern version of the same story results in the worker beating up the boss, tossing him out of his house, and then engaging in a successful drive to unionize the workplace. Green also examines the role of the women in these stories: two defended their actions, while the others appear as inanimate objects. Green hints at the possibility that the demands of modern work now threaten to emasculate the worker more than the power of the boss, and he expects that as the work force becomes more sexually integrated, the sexual imagery of occupational lore will be modified drastically.
Throughout this work Green meshes his personal experience with wide-ranging scholarship. We learn what shaped his thought by reading the vignettes of his life while working as a pile butt, envisioning the cotton mill as a youthful student, or reading "proletarian" literature. He reminds us that we are all outsiders when facing the detailed work processes and work cultures of others. We too often turn the workplace metaphor into language for our own purposes without trying to penetrate its meaning to understand those who create the words in the context of daily experience. The language of the workplace promotes self-identification and uniqueness, sometimes to the detriment of others. A "pile butt," with the words hurtful imagery, can be a term of pride just as "grease monkey" can capture feelings of an engine mechanic. Both words are from the language of the workplace where Green believes the worker frames his own humanity.
Lou Athey
Franklin and Marshall College
AN EVENING WHEN ALONE: FOUR JOURNALS OF SINGLE WOMEN IN THE SOUTH, 1827-1867. Edited by Michael OBrien (Charlottesville: Univ. Press of Virginia. 1993. Pp. 460. $35.00.)
This collection of the diaries of four nineteenth-century southern women is the first published product of the Southern Texts Society, an organization of scholars formed in 1988 to further the cultural and intellectual history of the South. Each of the manuscripts is located in a major depository of southern history -- the University of North Carolina at Chapel Hill, Louisiana State University, and the Mississippi Department of Archives and History. The diaries vary greatly in length and content, although they share some common themes. Each of the writers has much to say about family, friends, social visits, God, health, and sickness, but little in the way of observation of the world outside the perimeters of family and home. This should come as no surprise. Nineteenth-century white women of the social class of these diarists lived in a world largely defined by domesticity. Even when worldly affairs inevitably impinged on the private lives of these women, such as the Civil War years as revealed in the last of the four diaries, such affairs seemed significant only to the extent that they touched on family and friends. Readers will not find perceptive political commentary in these diaries or accounts of the major events. What the diaries reveal, however, is an important perspective on the nineteenth-century South which helps shed light on that era.
The oldest of the diaries is that of Elizabeth Ruffin, member of a large and distinguished southern family, who wrote in 1827 while living on a Virginia plantation and also while making an extended northern trip. Ruffin was a young woman at the time. Her insights into northern society are probably more valuable to readers today than her observaions on the South, since much of what she had to say about home is focused exclusively on her family. The second diarist is not positively identified by the editor but believed to be Margaret Wilson, governess and schoolteacher, who lived on a plantation in Selma, Mississippi, and wrote between 1835 and 1837. This particular writer offers the occasional commentary on men, although somewhat tongue-in-cheek. She suggests that women's fashion "has exhausted its genius," and that perhaps the time had come for men and women to exchange their styles of clothing and bring "some originality in the execution of the plan."(125) The Selma Plantation diary is followed by the journal of Jane North, a South Carolina "belle," who recorded daily experiences between 1851 and 1852. As did Elizabeth Ruffin, North also took an extended trip to New York and Canada at this time, and much of her diary concerns her travels. Of the four diaries, Norths offers the clearest details about the customs associated with the lives of young single southerners of prominent families seeking marriage partners. At home, North is busily in attendance at dinners, social visits, and dances where young eligible men are present. Much of what she writes is an expression, at times humorous, of her opinions of these men.
By far the most interesting of the four diaries is the last, that of Ann Lewis Hardeman, who lived near Jackson, Mississippi. Hardeman's diary is important because it covers a much longer period than the previous three, 1850 to 1867, and therefore reveals continuity and change over time. Hardeman had the unbelievable responsibility of raising the six young children of her dead sister, a task she took on with no apparent regrets. Much of her diary, as is true for all, but more so in her case, concerns itself with the health of the children, other family members, and friends. Hardeman was a deeply religious woman and the death of four-year-old Sarah Jane clearly tested her faith. Each year her diary notes the anniversary of the child's death with obvious pain. Hardeman serves as an example of a selfless individual who, as a single middle-aged woman, assumed a monumental job, but one which still left her utterly financially dependent on members of her family.
In conclusion, this collection of four women's diaries suggests an auspicious beginning for the Southern Texts Society. It is refreshing to see in published form the manuscripts of nineteenth-century women, well edited and nicely illustrated with family portraits. O'Brien's lengthy introduction enhances the value of this work by placing the diaries in proper historical context.
Donna Spindel
Marshall University
UNHEARD VOICES: THE FIRST HISTORIANS OF SOUTHERN WOMEN. Edited by Anne Firor Scott (Charlottesville: Univ. Press of Virginia, 1992. Pp. ix, 197. $29.95.)
In Unheard Voices: The First Historians of Southern Women, Anne Firor Scott has begun the important work of uncovering formerly unknown and unrecognized women who studied and wrote about topics in women's history during the first decades of the twentieth century. Unheard Voices, although limited to five academics who studied southern women, serves as a call to scholars everywhere to seek out women whose intellectual and academic endeavors have been previously ignored. Scott begins her work by introducing the lives and careers of the five women, then allows them to speak for themselves through their various works.
As their writings indicate, the historians Scott features were clearly innovators in the profession. Essays such as "Conjugal Felicity and Domestic Discord," by Julia Cherry Spruill, and "The Political and Civil Status of Women in Georgia, 1783-1860," written by Eleanor Miot Boatwright, introduce contemporary readers to the ingenious perspectives and methodologies these authors brought to their work. Challenging traditional historical paradigms by directing their research toward previously ignored issues relating to southern women, they made imaginative use of primary documents and articulated an interest in social history.
In spite of the promise exhibited by each of these women, all were ultimately styied when they sought positions within academia. The degree of their frustration varied significantly, however. Virginia Gearhart Gray, while never able to secure a tenured teaching position, became a well-respected archivist at Duke University. Spruill and Guion Griffis Johnson, both married to male academics who became important administrators, directed their energies toward family life, part-time teaching, and extensive volunteer work. Although she held a doctorate from the University of North Carolina at Chapel Hill, Marjorie Mendenhall Applewhite could not acquire a permanent teaching position and was forced into a series of temporary positions. This circumstance contributed to a severe depression, and Applewhite died from the side effects of an experimental antidepressant medication. Boatwright's response to her situation was more dramatic. Although her faculty advisor at Duke assured her of the quality of her thesis, Boatwright was unable to publish her manuscript. Frustrated by this and other personal defeats, she committed suicide.
The responses of these women to the failure of their academic careers reflects an issue which, unfortunately, Scott does not address in Unheard Voices. For Gray, Spruill, and Johnson, the historical profession, while a sincere interest, was only one aspect of their lives. As the wives of tenured male professors, they enjoyed social and financial security. Boatwright, who never married, and Applewright, who was briefly married later in life, did not know the same economic stability. For them, the inability to practice their chosen profession represented a tragic failure. Had Scott considered the class and economic fissures which existed among her subjects, her introductory essay might have offered a more realistic depiction of the various costs which these women historians paid.
Scott's book also suffers from being geographically limited to the University of North Carolina and Duke, where all these women either trained or worked. While such a large contingent of female scholars in one location is significant, the reader wonders if other southern schools also produced students interested in studying the heritage of the region's women.
In spite of its narrow focus, Unheard Voices is still an important book. By reviving the works of these essentially forgotten authors, Scott introduces readers to important historical writings. The quality and innovation of these selections survives as a standard against which the rest of us must measure our own work. Contemporary historians can learn much from the academic writings of these women, as well as from their strength and tenacity in the struggles against professional discrimination.
Sandra Barney
West Virginia University
RECLAIMING THE PAST: LANDMARKS OF WOMEN'S HISTORY. Edited by Page Putnam Miller (Bloomington: Indiana Univ. Press, 1992. Pp. 256. $35.00.)
In recent decades, the field of women's history has broadened society's understanding of the past with numerous important contributions by scholars in a number of diverse topics relating to women's history. One area still in need of research is architectural history. Historic preservation societies have worked diligently to save important structures, but until recently, little attention has been paid to women and historic buildings.
In Reclaiming the Past: Landmarks of Women's History, Page Putnam Miller has compiled a collection of essays describing the contributions of women to preserving historic buildings that are open to the public. These essays also point to the often overlooked fact that much can be gleaned about women's history from evaluating historic buildings. Miller argues that "if Americans had to rely on existing historic sites for their understanding of womens history, a very limited and distorted picture would emerge." Currently, there are approximately fifty historic sites which have as their primary goals the development of interpretive programs about women. Most of these are house museums which focus on specific women.
Topics included in Reclaiming the Past are architecture, the arts, community, education, politics, religion, and work. The articles attempt to combine recent scholarship on women's experiences and contributions. The purpose of each essay is to provide a "synthetic overview" of each subtopic using historic structures to glean insights into women's history.
In the first essay, Barbara Howe studies three aspects of women and architecture: women as leaders and participants in historic preservation, women as promoters of better domestic architecture through theory and design, and women as architects of public and private buildings. Howe points out that few historic buildings shedding light on these topics are actually open to the public. Where they exist, most of the interpretive programs concentrate on events in the buildings rather than on womens preservation efforts. She argues that women were designers who used architects' journals and popular magazines like Ladies' Home Journal. Women, like Catherine Beecher, published essays on the domestic economy, and others, like Louise Blanchard Bethune, were architects. Howe maintains that more attention needs to be given to the individuals, usually women, who worked to preserve historic buildings.
Barbara Melosh's essay surveys some of the major issues which deal with the reinterpretation of women in the arts and suggests how those revisions guide the National Park Service as it chooses historic landmarks. Melosh focuses on literary criticism and art history as reflections of feminist scholarship. The homes of Emily Dickinson and Georgia O'Keefe are just two examples she cites to illustrate that society can learn much from the contents of a home.
The remaining essays deal directly or indirectly with community. Gail Lee Dubrow's article specifically examines women and community by looking at the homes of women like Francis Willard, who participated in social reform. She includes information on the women's club movement, Hull House, and local YWCA buildings. Helen Lefkowitz Horowitz discusses education, Joan Hoff deals with politics, Jean Soderlund with religion, and Lynn Weiner describes women and work.
As the essays in Reclaiming the Past prove, part of women's past is being retrieved by scholars who continue to find more and more sources of women's history. The authors use excellent secondary sources on their respective topics to supplement the primary materials, including photographs of different homes. Reclaiming the Past is long overdue and a welcome addition to women's history. It will help fill a void in the field and be useful in womens history courses as well as architectural history courses.
Jerra Jenrette
Edinboro University of Pennsylvania
BOOKER T. WASHINGTON AND THE ADULT EDUCATION MOVEMENT. By Virginia Lantz Denton (Gainesville: Univ. Press of Florida, 1993. Pp. 278. $34.95.)
In recent years there has been a renewed interest in Booker T. Washington. The controversy surrounding his life has led historians and educators alike to give a very broad interpretation to his place in history. Virginia Lantz Denton, in Booker T. Washington and the Adult Education Movement, attempts to address all facets of this fascinating life. She begins by describing the efforts to keep an entire race illiterate, fostered by the South's fear of slave rebellions. In chapters entitled "Prologue to Freedom" and "Freedom," Denton defines the repression of the desire for education by one race over another. Denton places the accomplishments of Washington within the context of the efforts of groups such as the military, the Quakers, the Freedmen's Bureau, and perhaps most influential, the American Missionary Association. Each group, however, had its own agenda in addition to educating blacks.
When the author turns to "A whole race trying to go to school," the account is both amazing and inspiring. The pictures and images of children and aging adults meeting together in open fields and barns to learn to read and write should touch every reader. Adults working all day in the fields and then giving up their nights for study shows how important was their belief in education.
Denton identifies many influences from Washington's early childhood. Unlike on the larger lantations, his childhood was spent working and playing with the owner's children and his family stayed together. The living conditions for owner and slave did not vary much but became worse with freedom. When Washington's family relocated to Malden, it was, unlike today, a bustling business center. Here the author makes an often repeated error, referring to Washington's work in the salt "mines." Salt production in the Kanawha Valley came from wells drilled to bring the brine to the surface. Denton gives a very even-handed account of these early influences on Washington's development and later philosophy.
A greater influence on Washington's methods was his experience at Hampton Institute under General Samuel Chapman Armstrong. This education reinforced previous influences and the theory "head, hand and heart" carried him into his position at Tuskegee Institute and international prominence. The author asserts that Washington never chose a leadership role in politics. However, his success at Tuskegee would not allow him to stay in the classroom.
Washington's prominence, the author points out, also made him a target. Because he spoke with presidents, many blamed Washington when the presidents ignored his counsel. Although accused of compromise, Denton points out that Washington often used his own resources in fighting the injustices vented on his race. The author speaks to the confrontations between Washington's methods and those of W. E. B. DuBois and the National Association for the Advancement of Colored People. Readers are referred to the personal papers of Washington for additional insight into his beliefs, although the controversy over his beliefs continues and includes the editor of these papers.
Denton concludes by painting Washington as a realist. "Washington," she writes, "believed in priorities: First get the training, the job and the house, and then study Latin and Greek. . . ." The book is a valuable study of the much misunderstood Washington for both historians and educators.
J. D. Waggoner
West Virginia Library Commission
CARTER G. WOODSON: A LIFE IN BLACK HISTORY. By Jacqueline Goggin (Baton Rouge: Louisiana State Univ. Press, 1993. Pp. 288, $24.95.)
Considered by many the father of African-American history, Carter G. Woodson devoted his life to recovering the facts of a past buried by historians dedicated to the idea that America was a purely European-descended creation, mitigated by a Turnerian frontier influence. Woodson, born in Virginia of former slaves, immigrated to West Virginia at a young age and graduated from Douglass High School in Huntington. After an early stint mining coal in Fayette County, Woodson went to Berea College in Kentucky and eventually to Harvard for a doctorate in history.
Although Woodson taught school for several years in the Philippines and Washington, DC, in addition to serving as Dean of the College Department at West Virginia Collegiate Institute (now West Virginia State College) from 1920 to 1922, his primary occupation was with the Association for the Study of Negro Life and History. Founded in 1914 by Woodson and several colleagues, the association was a vehicle during the rest of his life for researching, writing, and teaching the history of Americans of African descent, their antecedents in Africa, and the concurrent experiences of counterparts in the Caribbean and Latin America. Woodson continued to promote the history and culture of African America while retaining sympathy for Appalachian Americans, regardless of race, with whom he associated in his coal mining and undergraduate college days.
Throughout much of his career after the founding of the association, Woodson was concerned with accuracy and objectivity in presenting African-American history while striving to free it from reliance on the financial support of white colleagues and foundations. In fact, Woodson felt that white Americans did "not appreciate the feeling, thought, and aspirations of the Negro and therefore cannot think black."(131) By such action Woodson hoped to limit white participation in African-American history, and in light of the racist focus and ethnic arrogance of mos white historians of the day, such an attitude was probably very appropriate. On the unbalanced playing field in which the historical profession found itself in the first half of the twentieth century, his actions were necessary if a serious study of African-American history was not to be compromised.
The inability to achieve this objectivity prompted a stern response from Woodson. Goggin argues that "Woodson's refusal to compromise and his desire always to control any project with which he was associated might be considered weaknesses, [but] they were also his greatest strengths, for he would not allow himself to be drawn into black political power struggles and organizational disputes, nor would he allow his freedom of action to be undermined."(139) This is certainly a valid point for maintaining one's independence, but it should not deny that other scholars working equally independently can also make positive contributions.
The real question then becomes one of independent response to those who control the financial resources. Objectivity in history must be independent of economic or political control, and Woodson is illustrative of what can happen on a wider sphere when such independence is asserted. In his case, independence led to a great deal of personal hardship and lack of adequate funding for otherwise viable projects, but as he pulled ahead of this adversity, the value of his contribution to history and historical methodology was greatly magnified. The result was the uncovering of a new phenomena in the nation's past and the initiation of the serious study of a very important segment in the formation of America.
Since Woodson's time, we have only scratched the surface of African cultural contributions and their impact on a predominantly European-influenced America. With Woodsons work and that of other outstanding African-American historians, such as John Hope Franklin who have continued his contributions, the next step is to go beyond the history of the development of a uniquely African-American people to the formation of an American people whose heritage includes rich contributions from Africa.
Jacqueline Goggin has done a superb job of researching this biography. It draws on extensive source materials including the papers of numerous individuals who played a part in Woodsons personal and professional life. In addition, she cites an array of secondary sources by or about Woodson and his life, research, and writing. Woodsons family, which Goggin briefly describes, would make a fascinating study in itself, especially its role in West Virginias African-American history. It is unfortunate that a complete bibliography is not appended at the end of the book, because the incessant stumbling back and forth between the short form notes is a physical distraction to an otherwise outstanding study.
I. D. Talbott
Glenville State College
THE AGRARIAN ORIGINS OF AMERICAN CAPITALISM. By Allan Kulikoff (Charlottesville: Univ. Press of Virginia, 1992. Pp. xiv, 341. $17.50.)
In The Agrarian Origins of American Capitalism, Allan Kulikoff has written a book that will stimulate scholarly debate for some time to come. Kulikoff, noted for his book Tobacco and Slaves: The Development of Southern Cultures in the Chesapeake, 1680-1800, has jumped into the current debate among early American historians regarding the origins of capitalism. Kulikoff presaged this work with his article in the William and Mary Quarterly 46(1989), and most of the essays in this current book have had some exposure elsewhere. He "seeks to explain this new debate over the transition to rural capitalism, assess its achievements and evaluate its deficiencies." One of the major deficiencies of current study, he argues, is the omission of household and gender factors. Historians have ignored "the exchange within the household of goods individually produced by husband or wife, petty commodities later traded in the local community." They also have ignored the fact that "husband and wife had to resolve conflicts by `negotiations' over the division of labor or resources and cooperate in daily labor." Adding these dimensions allos Kulikoff to develop a fuller description of the long evolution of rural capitalism, but the jury is still out on whether this is the last word.
This book is actually a series of eight essays, the first three treating "Perspectives on Rural Capitalism," the next three dealing with "Capitalism and the American Revolution," and the final two on "Rural Migration and Capitalist Transformation." Following the first chapter on the transition to capitalism, Kulikoff traces in broad sweeps the "Rise and Demise of the American Yeoman Class" from its English roots to the twentieth century. He also adds a chapter on the "Languages of Class in Rural America," arguing that the particular use of words did "indicate status, and symbolize class relations." Anti-Federalist and Jacksonian examples abound in the discussion.
Kulikoff strongly argues that the Revolution was the "`bourgeois revolution' that set into motion capitalist development and conflicts over capitalist transformation." He reviews the ideology of the Revolution and argues in Chapter 5 that the rural yeoman played a significant role in democratizing institutions in the Revolutionary and Constitutional eras. In a chapter on the "Political Economy of Military Service in Revolutionary Virginia," Kulikoff traces the attempts to give militia service the appearance of equity and volunteerism, but he finds that as the war carried on year after year, common soldiers "came to believe that further service was unfair." Several tables support this discussion, including Table 6 which shows that the average term of service for each of several types of enlistees became significantly shorter as the war continued.
Perhaps the most interesting part of the book for the general reader are the last two chapters. One covers in broad strokes the immigration of Europeans to America from 1600 to 1860. Here Kulikoff not only looks at the immigration patterns of various ethnic groups, he also follows internal migration patterns as well. The final chapter adds significantly to our understanding of slavery and how the ebb and flow of slave migration both from Africa and within the American states had dramatic impact on slave families. Particularly revealing is the extent to which slaves were imported from Africa after the ratification of the Constitution, and then the very disruptive impact that ending the slave trade in 1808 had in reducing "dramatically the familial and personal security of African-American slaves living in the upper South."
Allan Kulikoff has written a provocative book, one more for the specialist than for the average reader. If one can wade through the economic and Marxist jargon in the early chapters, however, the average reader as well as the specialist will benefit by Kulikoff's knowledgeable discussions of the formation of the yeoman class, the patterns of immigration, and the impact of migration on slave families. This book rests on exhaustive scholarship; the bibliography exceeds fifty pages and most paragraphs have six to eight citations. Kulikoff's perspectives, therefore, are formed from a very extensive reading of the literature and must be taken seriously by any student of early American social and economic development.
R. Eugene Harper
University of Charleston
THE ERA OF GOOD STEALINGS. By Mark Wahlgren Summers (New York: Oxford Univ. Press, 1993. Pp. xiv, 390. $49.95.)
Mention the years of the Ulysses S Grant administration to most reasonably knowledgeable students of American history and one is likely to hear, "ah, yes, the beginning of the Great Barbeque, the Age of Excess." At first glance the title, The Era of Good Stealings, for his study of those years would seem to suggest that Mark Summers agrees with that assessment. However, Summers, the author of two other important studies of the Middle Period, has intentionally chosen an ironic title. Although he acknowledges serious corruption occurred in the Grant years, Summers argues both that corruption was hardly unheard of before or after Grant and, perhaps more importantly, that "corruption had less imortant consequences than the corruption issue." Corruption was significant but, Summers asserts, it did not have much impact on policy. "The corruption issue, by contrast, did change policy. It helped destroy a national commitment to the blacks of the South and the Republican governments that they put in power. It hastened the retreat from government activism; . . . it transformed the popular meaning of `reform'; . . . it discredited the values of democracy. . . ."
In presenting his case, Summers repeatedly follows a set pattern. He raises an issue, such as the Credit Mobilier, the Tweed Ring, the Whiskey Ring, or southern Reconstruction government; admits that significant lying, cheating and/or stealing occurred; then places the episode in a broader context, concluding it really was not as bad as journalists then or historians since have argued. The real problem, Summers insists, is that self-styled reformers of both political parties, many of them members of the press, used the corruption issue for their own purposes. Politicians used the issue not primarily to solve the evil against which they railed, but to batter their political opponents. The result was the exposure and overdramatization of an important issue for partisan reasons that rarely led to meaningful improvements or solutions. This in turn caused the American voter to become cynical and often convinced that, because government could not or would not solve problems, government should be reduced in size and function. Smaller, weaker government frequently meant retreat from earlier commitments, especially to southern blacks.
Much of Summers's analysis is convincing. Readers might quibble with some definitions that allow corrupt activities almost to become the American way, but it is more difficult to dismiss his basic point that the corruption issue destroyed Americans' trust in government's ability to be a positive force. Summers's research is solid, his organization is clear, and perhaps best of all, his writing is a joy to read. How rare it is to find a well-argued monograph that can actually make the reader smile or even laugh aloud on occasion. This study deserves high praise and a wide audience.
Robert Sawrey
Marshall University
AFTER WILSON: THE STRUGGLE FOR THE DEMOCRATIC PARTY, 1920-1934. By Douglas B. Craig (Chapel Hill: Univ. of North Carolina Press, 1992. Pp. viii, 405. $45.00.)
In After Wilson, Douglas B. Craig calls attention to the neglected ideological aspect of the Democratic party's internal debates in the New Era and the opening years of the New Deal. Most histories of the Democratic party in the period focus on the divisiveness of ethnic and cultural issues such as the Ku Klux Klan, prohibition, and religion. David Burner's classic Politics of Provincialism set forth what has become the orthodox view. While Republicans controlled the White House and the nation's political agenda, the Democratic party became all too representative of the cultural and ethnic divisions in American society. Internal struggles over these matters kept the Democrats divided and unable to mount a successful challenge to the ruling Republicans.
Although Craig agrees that the party had its ethnocultural divisions among wets and drys, urbanites and rural dwellers, Catholics and Protestants, and immigrants and natives, he argues that the ethnocultural focus has obscured another more basic division -- between liberals and conservatives. While the party was engaged in bitter disputes over the ethnocultural issues of the day, Craig maintains, "it was also torn apart by a fierce struggle between conservatives and liberals for control of the partys economic and social policies."(2) In addition to the ethnocultural issues, Democrats fought among themselves over states' rights, federal activism, the relationship between business and government, and tariff policy. One of the cultural issues, prohibition, was also ideological, with party conservatives opposing the Eighteenth Amendment as a dangerous move toward intrusive government.
Historians have long focused on the ideological dimensions of Democratic party debates before and after the 1920s, and Craig demonstrates that, although largely ignored in historical accounts, such divisions did not disappear between 1920 and 1932. Conservatives like James Cox, John W. Davis, Al Smith, and John Raskob dominated the party during the 1920s, and rather than trying to educate the public in the desirability of further Wilsonian-type reforms, they sought to emulate Republican antistatist and corporatist policies. Another group of Democrats wanted to keep the party committed to the idea of using the federal government to regulate business and to address social problems. First William Gibbs McAdoo and then Franklin D. Roosevelt, both former associates of Wilson, led the reformers.
Craig examines the major events and campaigns of the period from the perspective of ideological differences within the party, giving more attention than previous scholars to the conservatives who dominated the party until 1932. Their ideology embraced states' rights and economic non-intervention, emphasizing the freedom of citizens to make their own economic choices without the intrusion of a paternalistic government. With the exception that they also advocated the protective tariff, these views were not unlike those of Grover Cleveland, the last Democratic president before Wilson.
Some of the chapters are biographical studies of the conservative leaders and their opponents. The author also gives close attention to conservative organizations that were largely inspired by Democratic conservatives such as the Association Against the Prohibition Amendment and the American Liberty League.
The conservative leadership failed to unite the party in the 1920s, Craig maintains, because their ideology offended the old Wilsonian progressives, ignored western agrarians, and failed to inspire southerners with economic prescriptions which favored northern industrial interests at the expense of southern economic aspirations. Democrats who wanted a genuine alternative to Republican policies accused their leaders of "me-tooism." Because they could not unite their party or attract voters, the conservatives oversaw three successive presidential landslide defeats. When they lost control of the party in 1932, many of the conservatives refused to support Franklin D. Roosevelt and the New Deal.
Well-organized, thoroughly researched, brightly written, and persuasively argued, After Wilson is a useful addition to the literature on American politics between Wilson and Roosevelt. It revises our understanding of the Democratic conservatives and of the obstacles Roosevelt and his supporters faced within the party.
Jerry B. Thomas
Shepherd College
PATRIARCH: GEORGE WASHINGTON AND THE NEW AMERICAN NATION. By Richard Norton Smith (New York: Houghton Mifflin, 1993.)
This is a very readable, if understated, account of George Washington and the 1790s, an attempt to humanize a great national hero and to portray as eminently coherent and sensible the presidents efforts to remain above partisanship during the tumultuous first decade of the American republic. Richard Norton Smith has written the book for a popular readership and is more attentive to anecdotal evidence than to the promotion of a particular argument. The author consulted an impressive range of material in preparation of the book, but his narrative glosses over some of the more demanding moments in Washingtons' two terms.
The title Patriarch seems unmerited, or at least weakened by inconsistencies in the text. Despite all his dignity, Washington appears too shadowy to command in politics. For example, Smith writes, "the President's relations with his cabinet associates were a bit like God's with the archangels"(53) -- charming rhetoric but without much substance. Indeed, other than the restraint which Washington brought to his relationships, the "patriarch's" qualities are more often enumerated than evidenced. Though the author dismisses Thoms Jefferson's characterization of Washington as an uninventive, calculating man, this is the Washington of Smith's book.
In purporting to do more than previous biographers, Smith shows that his subject recognized much of his strength was symbolic. The president was obliged to submit to formal audiences, which in his time demanded a certain stiffness and austerity; in performing these hated tasks he became, in the words of his adopted granddaughter Nelly Custis, "imprisoned by his own celebrity."(25)
Consulting the works of Washington's contemporaries, the author succeeds notably in recreating the atmosphere of New York, Philadelphia, and Mount Vernon. However, Smith's narrative is driven by his focus on the mundane, such as what Washington fed his slaves or that he preferred vibrant to muted colors. Martha Washington is an attentive, multi-dimensional first lady whose well-ordered private world is effectively distinguished from the turbulent political one. Other prominent characters are portrayed carelessly. Abigail Adams, quoted at length, is called "saucy" and is not assessed as a credible observer. John Adams is quoted out of context, somehow resorting to invectives on the subject of Alexander Hamilton years before their actual falling out. Of even greater concern is the unsatisfactory treatment of Washington's relationship with Hamilton, in which, without having built his case, Smith asserts Washington saw Hamilton as a younger version of himself.
An overall problem is the book's vagueness, poor choice of words, and an abundance of trite homilies: "Interest and honor were Washington's alpha and omega."(54) A description of the short-sighted historian who gives Hamilton all the credit for the administration's finance plan and "minimizes Washington's adroitness in dealing with Congress" is followed by: "Actually, the president paid little attention to the bank bill that winter."(79)
Rescuing the text are some truly probing sections. Smith presents the newspaper war of 1792 in concise terms, shows Washington's practical approach to the Hamilton-Jefferson controversy, and delivers a compelling, sobering analysis of Secretary of State Edmund Randolph's falling out with the president. The author develops the theme throughout that Washington decisively shaped the executive as the moving force behind foreign policy.
Appearing at the same time as Smith's Patriarch is Stanley Elkins's and Eric McKitrick's massive and superbly documented The Age of Federalism. There is clearly no comparison. Smith's book can hardly tempt the serious scholar, yet it offers a pleasing glimpse of the times for one who prefers rich images to cumbersome analysis.
Andrew Burstein
University of Virginia
THE PAPERS OF GEORGE WASHINGTON. COLONIAL SERIES. VOL. 8: JUNE 1767-DECEMBER 1771. Edited by W. W. Abbot and Dorothy Twohig (Charlottesville: Univ. Press of Virginia, 1993. Pp. xxi, 654. $47.50.)
Between 1767 and Christmas 1771, the period spanned by this volume of The Papers of George Washington, the attention of the master of Mount Vernon was engrossed by myriad business and speculative endeavors. His years of commanding the Virginia Regiment in the French and Indian War were a remote memory. Armed conflict with Great Britain, much less American independence and a Washington presidency, lay in the distant future. The correspondence, invoices, cash accounts, memoranda, legal agreements, and parish vestry records within this volume, therefore, open a window onto a part of Washington's world that is not often remembered. For many, the image of Washington that first springs to mind is as a soldier or statesman, the public man as portrayed in numerous Charles Willson Peale or Gilbert Stuart paintings. But for nearly twenty-three years of his adult life, roughly 50 percent of his majority, Washington dwelled at Mount Vernon, from which he simultaneously managed a vast farming empire and multiple commercial enterprises. By 1771, he was not yet well known outside Virginia. Whereas many colonists -- John and Abigail Adams, Benjamin Franklin, and Thomas Hutchinson, to name but a few -- could proudly display a portrait of themselve, Washington by the end of 1771, when he was nearly forty years old, had yet to sit for an artist.
The breadth of Washington's business affairs appears to be limitless. The reader will observe Washington hiring day laborers, interacting with indentured servants, purchasing slaves, and conversing with the resident manager of the Dismal Swamp Company, in which he had made a considerable investment. Nothing at Mount Vernon escaped his attention. A micromanager, Washington superintended the work of his weavers and spinners and the purchase and utilization of his tools, equipment, and building supplies. He scrutinized the success of his hired managers and overseers, the operation of the mill, and the sowing of grass seed. He knew how many casks had been filled with apple cider, how many barrels of shad and herring his fishing enterprise had netted, how many bricks his mason had manufactured, and was especially observant of his staple crops.
Washington's slave laborers absorbed much of his attention. He used a slave as the manager of his Dogue Run Farm, fretted over a fever that incapacitated many of his workers, repeatedly paid physicians and midwives to attend his bondsmen, and sold some of his slaves, a practice that he abandoned following the War of Independence. Washington paid fees to those who apprehended his runaway slaves, not an uncommon occurrence; he also lamented the murder and kidnapping by Indians of some of his western slaves, as well as the stealing of his chattel by unscrupulous overseers. An inventory completed in 1771 showed that he owned 231 dower slaves in eastern Virginia. He possessed about 30 percent of that number at Mount Vernon. One can only wonder how safe Washington felt living in their midst, for the editors demonstrate that several slaves in his neighborhood were tried in 1767 for attempting to poison their masters.
The cash accounts and other documents reveal additional facets of Washington's activities. He made frequent charitable donations, including a financial gift to aid the education of a friend's son. He gambled in lotteries, raffles, and at cards. He often loaned small sums to neighbors and considerable amounts to relatives. He charged interest to his brother Samuel on a loan of 425 (the equivalent of four years' wages for most skilled artisans) and both gave and loaned money to his mother.
Revelations concerning Washington's amusements and his unbridled consumerism are among the most interesting matters exposed by these papers. Washington loved horses and enjoyed riding. He was fond of cards and various games of chance, attended plays, races, and dances, hunted, entertained at Mount Vernon, and delighted in a daily glass of good Madeira. Washington's acquisitiveness was legendary. He purchased books, a rifle and pistols, a sword, a "Chariot . . . in the newest taste, handsome, genteel, & light," boats, a cane "with a gold head . . . with my Arms engravd thereon"(92, 552), prodigious quantities of food and alcohol for the frequent visitors to Mount Vernon, and an endless array of clothing, home furnishings, tools, and farm implements.
Little in this volume concerns political matters. Nevertheless, the papers show that Washington, who had been inactive and apparently largely indifferent to Great Britain's earliest attempts to tax the colonists, played an active role in Virginia's protest against the Townshend Duties. In 1769 and 1770, Washington took a leading part in forming Virginia's nonimportation association. His remark to George Mason in 1769 that "our lordly Masters in Great Britain will be satisfied with nothing less than the deprivation of American freedom" illustrates Washington's growing radicalism.
W. W. Abbot and his staff have maintained the standard of excellence that has characterized every volume in the Colonial Series of Washington's papers. This volume offers a cornucopia of delights for all who seek to understand George Washington, the farmer-businessman, and his world at Mount Vernon, Williamsburg, and the seemingly distant western Virginia frontier.
John Ferling
West Georgia College
THE PAPERS OF GEORGE WASHINGTON. PRESIDENTIAL SERIES. VOL. 4: SEPTEMBER 1789-JANUARY 1790. Edited by Dorothy Twohig (Charlottesville: Univ. Press of Virginia, 1993. Pp. xxxiii, 636.)
This volume of The Papers of George Washington begins six months into the Washington presidency and spans the period into early 1790. Washington was still so uncertain of the nuts and bolts of his new job at this point that he anguished over the need to secure the consent of the Senate even before appointing ambassadors to foreign capitals. However, the reader of these papers will observe a chief executive who almost daily grew more comfortable with his office. He displayed an excellent understanding of the objectives of the major European powers, steadily fleshed out his administration with an incredible array of appointments, and basked in the accolades of his countrymen. This was a president who told himself that he served in this capacity solely for the most selfless of reasons: to launch the new government. He of course fervently believed that the United States would be best served by the success of a strong central government.
This early period of Washington's presidency had an air of tranquility about it. No public criticism of the president was heard. No one envisaged rival political parties. It was a time when Washington was far more likely to seek advice from James Madison than Alexander Hamilton, his Secretary of the Treasury. Hamilton, in fact, labored quietly and in private to complete the economic reports that would ultimately ignite the partisan firestorm of later years. Neither did anyone understand the meaning of the French Revolution, the first acts of which occurred during the very week of Washington's inauguration. Washington rejoiced in this "revolution . . . of so wonderful a nature"(177), but he also said that he did not believe the French had reached the end of their upheaval.
Aside from the daily grind of filling vacant offices, Washington devoted most of his time to Indian affairs and winning converts to the new national government. Learning from settlers in the Ohio country that "there is no Peace with the Savages; the Country bleeds in every Part"(568), Washington prepared for war. He dispatched an army under Josiah Harmer to the vicinity of present Cincinnati. Meanwhile, Washington was more confident that the Georgia backcountry might be opened peacefully. He sent envoys to Georgia to open talks with Native American leaders and soon learned that "the Creek Nation has given strong assurances that . . . no farther Hostilities or depredations shall be committed on the part of their Nation."(472-73)
To bind together the nation, Washington undertook his first presidential tour, an autumn trek through resplendent New England. He wrote ahead to John Hancock, the governor of Massachusetts, asking that no parades or ceremonies be staged in his honor, but he was feted in town after town from Connecticut to Maine. Villages that he had last visited during the dark early days of the War of Independence wished to express their gratitude for his earlier military leadership; others swooned over a visit by America's most famous citizen. Washington spoke with inventors, reviewed troops at the site of the Continental Army's encampment during the siege of Boston in 1775-76, dined at Faneiul Hall, met with local dignitaries everywhere, and sat for Christian Gllager, who produced a bust portrait of the president.
These papers also provide a glimpse of Washington's private life. He purchased horses, a globe, watch, wine coolers, and carpets. First Lady Martha Washington ordered fabric, prayer books, and twenty-five pounds of chocolate. Washington found time for business operations at Mount Vernon (the volume includes the farm reports of George Augustine Washington) and for giving advice. For instance, to a nephew who was considering hiring a plantation overseer, Washington remarked that only two types of managers could be found: those who were lazy or dishonest and produced no profits or those who were capable and efficient but whose salary devoured the profits. Do your own work, the president counseled.
At the beginning of 1790, Washington delivered his initial State of the Union message. He urged Congress to enact a national militia policy, improve the postoffice and postal roads, and create a national university. Congress turned a deaf ear to the president's entreaties. Washington also threatened war with western Indians, and possessed of the power to put his threats into action, he soon had his war.
Once again, Washington's papers have been skillfully edited and published in a handsome edition that includes the contemporary portraits of the president and a useful map of his New England tour. Unfortunately, the project is proceeding at a snail's pace. After six years, four volumes, and more than 2,500 pages, the Presidential Series has managed to span barely more than a year, from September 1788 to January 1790. At this pace, few current scholars will still be professionally active when the series reaches Washington's second term, and not even the youngest historian can expect to read the final volume, which will appear sometime past mid-twenty-first century. The problem arises from the sheer magnitude of Washington's correspondence. This volume contains approximately two hundred letters and memoranda written by Washington in less than four months; he received nearly three hundred communications during the same period. The editors must make a difficult choice, either to omit the least consequential papers in the interest of speed, or to include virtually everything that passed before Washington's eyes, even if that means an agonizingly lengthy endeavor.
John Ferling
West Georgia College
THE LONGRIFLES OF WESTERN PENNSYLVANIA: ALLEGHENY AND WESTMORELAND COUNTIES. By Richard F. Rosenberger and Charles Kaufmann (Pittsburgh: Univ. of Pittsburgh Press, 1993. Pp. xxxiv, 139. $60.00.)
Charles Kaufmann is currently president of the Kentucky Rifle Association and Richard Rosenberger was a member of its board of directors and sergeant-at-arms. Both are avid collectors of the home rifle made by cottage-industry craftsmen in the eighteenth and nineteenth centuries in the continental United States. The longrifle, a uniquely American product, derived from English fowling pieces (shotguns) and German jaeger (hunting) rifles. The principal American contributions were the brass, four-piece patchboxes, used to store spare flints and patches for the lead balls and long, slim lines, with barrels often measuring forty-six inches or greater. Unlike furniture and other folk artifacts, the "Kentucky" rifle showed amazing regional variation. Students of these arms can identify when and where high-art guns were made. Although most early rifles were made in Pennsylvania, the name Kentucky rifle has stuck because of the gun's close identification with militiamen at the Battle of New Orleans in 1815.
The book is adequately illustrated with black-and-white and color photographs. The "coffee table" format allows the guns to be shown across the width of the page, amplifying certain features. Full-length shots make full use of this format, but cropped images utilize only five-eighths of the page, obviating the value of using this layout.
In a very informative introduction, the authors show individual characteristics of western Pennsylvania rifles, displaying the craftsmanship within the study area. The authors studied sixteen Allegheny County and eight Westmoreland County gunsmiths, and illustrations are provided for all but one of these. Biographical sketches are thoroughly researched, offering what can be found on the subjects. The authors obtained some invaluable genealogical information which, among other things, shows that a number of the gunsmiths were related by marriage.
The book is dedicated to the late Robert McAfee, an extremely dedicated researcher whose lists of many different craftsmen, ranging from potters to clockmakers, is well known. McAfee never published anything but freely shared his lists with other interested researchers. However, the authors lead their readers to two incorrect conclusions: first, that little, if any, additional information was added to the McAfee list and second, that there was a lack of published material on the subject of western Pennsylvania gunsmiths. Much has been added in both depth and breadth since the McAfee list appeaed. The book contains no bibliography, a most curious omission for a university press book.
The subtitle Allegheny and Westmoreland Counties and the listing of all known gunsmiths in many western Pennsylvania counties suggests this volume might be the first in a series. The necessity of additional volumes to cover other important gunsmiths of the region and their schools is obvious. This is one of the few worthwhile books on the Pennsylvania-Kentucky rifle.
James Biser Whisker
West Virginia University
AN ILLUSTRATED GLOSSARY OF EARLY SOUTHERN ARCHITECTURE & LANDSCAPE. Edited by Carl R. Lounsbury (New York: Oxford Univ. Press, 1994. $75.00.)
Any attempt to define the language of architecture in a single volume must choose its limits. Using a regional approach and specific time frame are a common means of limiting the study of American history and culture. Carl Lounsbury applies this methodology in An Illustrated Glossary of Early Southern Architecture & Landscape, yet provides a work of welcome depth and completeness.
From early settlement until 1820, changes in the built environment occurred within a fairly narrow range compared to the changes triggered by the Industrial Revolution. After 1820, economic conditions brought rapid growth; advancing technology brought change in materials, techniques, and business organization; and improved communication and literacy eroded regional language distinctions.
In this case, the South is defined in its broadest terms as the area from Delaware to Georgia and from the coast to the western frontier of settlement. One might not expect a great deal of distinction in the language of building between North and South, given their common British heritage. Yet the variations in usage cited from area to area within the South itself are convincing evidence of the likely distinctions across broader regions.
Every entry includes citations from primary sources which, besides being a delight to read, provide reassurance of the accuracy of the entries themselves. Lounsbury has sought to represent a terms range of use both geographically and chronologically with the original citations. Entries also cite spelling variations that might be found in period sources, making it particularly helpful to anyone using original documents. Variations for some terms are considerable, such as joist, joice, joyce, jist, gist. Individual entries are not provided for these archaic variations, and the absence of crosslistings might leave the reader of a period document no clear route to the modern term. Lounsbury points out when period usage differs from the common modern meaning. For example, the term bow window is generally now applied to projecting windows that are curvilinear and bay window to ones that are polygonal, a convention that was not followed in the period before 1820.
The book's more than 300 drawings and photographs for the 1500 entries are useful aides in understanding the definitions. Illustrations are usually fully identified and taken from specific period and regional sources. In the choice of illustrations, a photograph of grain pattern might add more to the term chestnut than the plans of a South Carolina chapel do to the term chapel. Still the illustrations add enormously to the potential browsing pleasure of this book.
Unusual for an architectural reference work is the inclusion of vocabulary for landscape. The obvious connection between buildings and landscape in an agrarian culture makes this a logical combination. Moreover, landscape terms are far less well served by other reference works. Absent from this work are the sort of encyclopedic entries for specific people, places, and styles that usually consume most architectural dictionaries. While short listings might be useful to someone new to the subject, the typical multi-page entries found in other sources would be of little value to the person likely to use this reference.
Anyone with an interest in the built environment can readily enjoy the wealth of information presented in The Glossay of Early Southern Architecture & Landscape. It effectively answers questions about spelling, the finer distinctions of meaning between similar terms, and variations in usage with time and place. This book ultimately will be most useful as a reference for those with a basic understanding of the language of architecture, a particular interest in the evolution of language, and whose focus is the South.
John Sandor
West Virginia Historic Preservation Office
THE SHAPING OF AMERICA. VOLUME II: CONTINENTAL AMERICA, 1800-1867. By Donald W. Meinig (New Haven: Yale Univ. Press, 1993. Pp. xv, 636. $45.00.)
Savoring each passage of Meinig's Shaping of America, 1800-1867, one cannot help but think of the author as a marathoner, brilliantly conditioned and striding with confidence. This second volume of Meinig's planned four-volume series on five hundred years of American development is a masterful interpretation of the trials and triumphs of an emerging nation. Meinig addresses a myriad of interrelated issues such as territorial expansion, conflicts with Indians (Meinig's term of choice), agriculture, urbanization, the Industrial Revolution, and the Civil War. His fresh approach and engaging prose carries the reader through this lengthy, but rarely overwhelming text.
It would be a daunting experience for any author to attempt a comprehensive historical geography of the United States from 1800 to 1867. Territorial acquisitions and conflicts along expanding national borders are handled especially well by Meinig. There were so many actors -- the British, French, Spanish, and scores of Indian groups -- each with conflicting agendas. For example, the Louisiana Purchase in 1803 added not only vast land resources but created great geopolitical strife. The Spanish were alarmed since they regarded Louisiana as a "buffer against British and American encroachment."(60) If the Spanish were alarmed, Indians experienced total shock at their displacement and subjugation at the hands of the U. S. government. Removal was only one part of the territorial expansion equation. Management of land and Indians precipitated a huge bureaucracy, military involvement, and construction of forts and transportation corridors.
The public's perception of land use west of the Appalachians in the first half of the nineteenth century was as varied as the landscape itself and often as inaccurate as some early maps. Meinig is ever mindful of the role of cartography and landscape interpretation. His discussion of railroad development takes a close look at the influence of maps, as exemplified by General Edmund Pendleton Gaines, a Tennessean who had military experience in overland and river transportation. In the 1830s, he envisioned a rail system centered in Tennessee and Kentucky, radiating outward to all frontiers. Gaines's "center-periphery" design may have had geographic logic but showed "little relation to realities of terrains, canals, railroads, or even major cities."(345) According to Meinig, "Gaines' plan appears to be a geographical design so warped by regional and hometown obsessions and fanatical personal promotion as not to have merited serious national debate."(345)
The shaping of America was not simply about territorial expansion; it was accomplished by settlement through relocation, diffusion, and immigration. Meinig relies on his early research roots in cultural geography for handling material and non-material cultural baggage carried by settlers to western lands. From the westward diffusion of Mormonism from upstate New York and American Methodism from the Delaware Valley to the Tidewater connections of the "Kentucky Colonels" of the Lexington Bluegrass, Meinig successfully creates a nineteenth-century American cultural mosaic. His discussions of New England, Virginia, the Ohio Valley, and the Cotton South echo the works of other cultural and historical geographers including Wilbur Zelinsky, Fred Kniffen, John Jakle, and Paul Henlein.
Meinig's cause and effect discussion of the Civil War may not be as comprehensive as some readers may wish; however, his interpretations of the disintegratin of the union provide an interesting foil to the earlier chapters which focus on the assemblage of American territories. He carefully constructs the geopolitical forces which fostered sectional tensions between North and South, especially the effects of antebellum state formation. Meinig notes that "perhaps the best indication of the breadth of the tear in the body politic were the thousands of young men who crossed the Ohio River or left other Northern-held lands and headed south to join the Confederate army and the thousands who fled north from the seceding states to join the Union. . . ."(487)
The treatment of West Virginia (or western Virginia) in The Shaping of America, volume II, is minimal, with the bulk of discussion dealing with the separation from Virginia at the outset of the Civil War. Meinig provides the reader with scant insight as to the life experiences of Virginians west of the Allegheny Front and provides only brief comments on life in the Mid-Ohio Valley. The author spends equal if not more time on geopolitical divisions in Tennessee as he does in Virginia. He does pay some attention to the role of Wheeling as a transportation node and as a political center but without the detail afforded other areas.
From a technical standpoint, Meinig's complex cartographic style is similar to that of the first volume of this series. The symbolization and text on some graphics may be confusing to some readers, such as the Figure 4, "Southern Borderlands"(25) and Figure 65, "The U. S. Army Logistics"(404), which may have been better served with less detail. In all fairness, the author attempts to illustrate some very complicated geographical situations; however, for the purposes of clarity, less is more. Figures 32 and 33, where Meinig compares and contrasts his own temporal and spatial representations of frontier landscape development with that of Frederick Jackson Turner, are clearer. Meinig does not use citations in the text, but quotation sources by page number and an extensive multidisciplinary bibliography are extremely helpful.
In the preface, Meinig admits that Continental America "covers only half of the span originally announced for Volume II," creating a need for an additional volume. His original plans were for The Shaping of America to be a three-volume set. Thus, the forthcoming Volume III will include the years 1850-1915 and have some overlap with the current edition. This was probably a wise choice by Meinig, as nineteenth-century America had many geographic and historical layers demanding equal attention, especially the development of regional specialization in industry and agriculture, transportation innovation, and the impact of immigration. This reviewer is certain Meinig will be able to deliver and recommends making room on your bookshelf.
Margaret M. Gripshover
Marshall University
THE BRIDGE AT REMAGEN. Revised edition, by Ken Hechler (Charleston: Pictorial Histories Publishing, 1993. Pp. 232. $12.95.)
When West Virginia Secretary of State Ken Hechler's well-regarded World War II history, The Bridge at Remagen, was first published in 1957, it sold six hundred thousand copies. A dozen years later, the book became a popular movie starring E. G. Marshall, George Segal, Ben Gazzara, and others. Even so, The Bridge at Remagen -- actually, the Ludendorff Bridge across the Rhine River near the town of Remagen -- probably remains less well known, as either book or movie, than The Bridge Over the River Kwai or what has been called A Bridge Too Far, a bridge over the Rhine in Holland that a daring attack by British paratroopers failed to hold.
Hechler's book deserves much better. Where both of the other "bridge" books and movies record Allied military failures, the stunning and swift capture, almost intact, of the 1,069-foot railroad bridge at Remagen was an unqualified, even typically American victory. Its capture exemplified the American G. I.'s penchant for independent action, exercising the initiative, often at great risk to himself, to gain a military advantage. Many believe this quality set th American soldier apart from his enemies.
Now that Hechler's book has been reissued as a quality paperback with a 1993 author's postscript, many new readers can learn about the Americans who seized the first crossing of the Rhine on March 7, 1945. Hechler, who earned his Ph.D. in political science at Columbia University in 1940, commanded a four-man team of combat historians who interviewed the first officers and men across the river.
After chasing the Germans across France in the summer and autumn of 1944, American and British forces stalled near the German border, lacking fuel for their armored vehicles. The Wehrmacht's last-ditch offensive in the Battle of the Bulge, bad weather, and above all, the formidable barrier posed by the Rhine River suggested the European war would last until mid-summer. No enemy had crossed the Rhine into Germany since Julius Caesar's day, and there was little doubt that the Germans had foolproof plans to destroy any bridge spanning the river before it could be captured. Indeed, the German High Command had ordered that the local commander who let a bridge fall into enemy hands be summarily shot.
Thus, when the first units of the Twenty-Seventh Armored Infantry Battalion of the Ninth Armored Division reached the heights overlooking the Rhine and the town of Remagen, they could hardly believe their eyes: an unblown bridge. Thinking it would be destroyed before they reached it, they nevertheless took the town and virtually without pause dashed across the bridge. Second Lieutenant Karl H. Timmerman of West Point, Nebraska, took the lead. The Americans faced machine gun and rifle fire from the east bank and the chance that explosives would demolish the span beneath their feet.
Indeed, the charges were exploded, but the bridge held for ten days, allowing more than twenty thousand Americans, tanks, and artillery to cross. Many Americans were killed in taking and then holding the bridge against fierce German counterattacks, and many more were seriously injured or killed when it collapsed. Most artillery analysts contend this heroism shortened the war and saved ten thousand American lives. At the time, this reviewer's rear-echelon unit was about two hundred miles away in northern France and remembers the elation felt by all upon learning in the Stars and Stripes that our men were across the Rhine. It had the stunning suddenness that made us cheer spontaneously: "Wow! The war's almost over now!"
Ken Hechler tells a great story. The Bridge at Remagen is no "blood and guts" exploitation of war but, rather, a well-documented and suspenseful history. Interviews with German and American survivors and townspeople, and descriptions of the town and the bridge, all bring the reader a real appreciation of this pivotal victory. The book is interestingly written and well illustrated and deserves serious attention and study.
Louis Keefer
Reston, Virginia
A HISTORY OF THE MT. UNION UNITED METHODIST CHURCH, 1851-1993. Compiled and edited by Noel Tenney (Buckhannon: by the church, Rt. 2, Buckhannon, WV 26201; printed by Mountain State Print, Inc. 1993. Pp. 45)
This history traces the Mt. Union church from its founding as Haney's class to the log church probably constructed the next year to the present frame building completed in 1893. The history of the church is placed in context with state Methodist history and local history. It is liberally illustrated with photographs of members, buildings, and events associated with Mt. Union over the past century and one-half. Those in search of family names will find many references to the names of members and a complete listing of burials in the cemetery, though no arrangement for the listing can be determined. The compiler cites many publications which would benefit those interested in researching the church or its congregation further.
HISTORY OF THE OLD KANAWHA BAPTIST CHURCH OF PRATT, WEST VIRGINIA. By David Clark Baughan (Kings Mountain, NC: The Printin' Press, 1993. Pp. 178, followed by unnumbered pages of photographs)
This history of the Old Kanawha Baptist Church was compiled by the Reverend Baughan as part of the bicentennial observance of the churchs founding in July 1793. Some fifty pages of history are followed by membership rolls from 1797 to 1993 and a listing of meeting places from 1797 to 1845. These sections are followed by several pages of historic and more recent photographs of the church and its members. The history is based on church minutes and arranged chronologically by pastor. Brief biographical sketches of the men who founded the church, John Alderson and James Johnston, and served as pastors are provided. Descriptions of the various meeting places and church buildings are also prominent subjects. Genealogists looking for family names will have to scan the membership list which is presented chronologically.
TRIBUTE TO THE POLICE OFFICER, VOLUME ONE. By Pauline Haga (Crab Orchard: by the author, Box 1061, Crab Orchard, WV 25827. Pp. 54.)
The author uses a combination of photographs, newspaper articles, and other research to document a number of law enforcement officers in Raleigh County from the 1920s to 1975. State, county, and city officers are included. There is a predominance of articles relating to the elimination of illegal alcohol and officers who lost their lives in the line of duty. Photographs document officials and the seizure and destruction of stills. Some accounts are directly copied from newspapers and others are compiled from the authors research.
FAMILIES OF WYOMING COUNTY, WV. Edited by Sally Williams, P. O. Box 1035, No. Highlands, CA 95660.
This quarterly publication is devoted to researching genealogy in Wyoming County. Included are ancestor and pedigree charts, record abstracts, queries, and a name index. Subscriptions and requests for previous issues should be addressed to the editor. New subscribers are encouraged to provide family group sheets with their subscription.
MINERS AND MEDICINE: WEST VIRGINIA MEMORIES. By Claude A. Frazier, M.D., with F. K. Brown (Norman: Univ. of Oklahoma Press, 1992. Pp. xi, 131. $19.95.)
Claude A. Frazier introduces the reader to life in the West Virginia coal camps and the work of the company doctor. The son of a company doctor who grew up in one such camp, Frazier uses his own personal recollections and those of other former coal camp residents to convey the importance of the care dispensed by company doctors to these isolated communities.
Frazier discusses the injuries and ailments a doctor typically contended with, the establishment of the miners' hospitals at Welch, McKendree, and Fairmont, and the role of women nurses. He also addresses traditional Appalachian remedies and their gradual, although not complete, displacement by professionally trained medical practitioners.
SOUTHERN APPALACHIA, 1885-1915: ORAL HISTRIES FROM RESIDENTS OF THE STATE CORNER AREA OF NORTH CAROLINA, TENNESSEE AND VIRGINIA. Compiled by Roy Edwin Thomas (Jefferson, NC: McFarland & Co., 1991. Pp. x, 275. $29.50.)
Roy Edwin Thomas has assembled a number of personal recollections of mountain life in the State Corner, where the borders of North Carolina, Tennessee, and Virginia meet. From August 1974 to April 1977, Thomas interviewed forty-four residents of the area, all born between 1871 and 1905, to record the dialect, folklore, and culture of the Southern Appalachians. Thomas also includes a brief history of the settlement of the area and identifies most of the pioneers as English in origin, followed by the Scots, Scots-Irish, and Welsh. The large concentration of immigrants from the British Isles in the region leads to an interesting comparison of the Appalachian dialect with "Old English," that of the King James Bible and Shakespeare.
The focus of the book, however, is the interviews themselves. Remembrances of farming, cooking, hunting, fishing, recreation, religion, medicine, mining, timbering, and more are transcribed in dialect. The stories reveal much about Appalachian life before the economic and social impact of World War I.
HOWARD KESTER AND THE STRUGGLE FOR SOCIAL JUSTICE IN THE SOUTH, 1904-77. By Robert F. Martin (Charlottesville: Univ. Press of Virginia, 1991. Pp. xv, 200. $27.50.)
This volume chronicles the life and work of one man dedicated to the realization of social and economic justice through Christian principles. Born in Martinsville, Virginia, Kester spent most of his life in the South, striving to eradicate poverty and racism from the region he loved. Kester never truly reconciled his radical secular politics with his religion, a source of increasing frustration in his later years. His beliefs were influenced by the years he spent growing up in Beckley where he was confronted by the poverty of the Raleigh County mining camps and the resurgence of the Ku Klux Klan in the World War I era.
Kester is probably best remembered for his association with the Committee on Economic and Racial Justice and the Southern Tenant Farmers Union. The dedication of Kester and his peers to fighting injustice and want played a role in the sweeping changes that came to the South in the 1950s and 1960s.
THE PRIVATE CIVIL WAR JOURNAL OF DANIEL S. JUDSON, CO. C, 7TH REGT., OHIO. Researched and transcribed by Clare Ann Hatten (Grand Blanc, MI: The Grand Blanc Heritage Association, 203 E. Grand Blanc Road, Grand Blanc, MI 48439. Pp. xv, 61. $13.00.)
This small volume consists of journal entries covering mid-August 1861 to mid-February 1862 and four 1861 letters, two by Daniel S. Judson and two relating to his mortal wound in late spring 1862. The compiler has included several newspaper clippings describing Company C, Seventh Regiment activities during this period, hand-drawn maps, family photographs relating to the sites and individuals mentioned in the text, and a brief introduction on Judson, family members, and the unit. Judson, an Oberlin College student, joined the Monroe Rifles with classmates in 1861 and witnessed much of the first year of the war in West Virginia. Hatten provides a bibliography and index to the text. Judsons journal and letter entries provide descriptions of camp life, food, weather, and the hardships of soldiering. There are vivid descriptions of people and the landscape and revealing insight into the thoughts of the young Judson.
UNRECONSTRUCTED REBEL: THE LIFE OF GENERAL JOHN McCAUSLAND,
C. S. A. By Michael J. Pauley (Charleston: Pictorial Histories Publishing, 1992. Pp. vi, 106. $9.95.)
General John McCausland has always been a symbol of the unrepentant Confederate. In this well-documented biography, Michael Pauley explains why. McCausland had a long and colorful life of action and controversy. Born in St. Louis, he was orphaned at a young age and sent to what was then western Virginia to live with relatives. Graduating at the top of his class at Virginia Military Institute (VMI), he went on to study law in Charlottesville. Returning to VMI, he became an assistant math professor under Thomas Jackson.
At the beginning of the Civil War he was sent to the Kanawha Valley to organize the 36th Virginia Infantry. He led this unit in many battles, including a breakout of the doomed Fort Donelson. He was placed in command of various brigades of both cavalry and infantry, establishing a reputation as an aggressive fighter. McCausland's spirited defense of Lynchburg earned the undying gratitude of the citizenry. His cavalry was at the forefront in Jubal Early's raid on Washington, despite the troubles he often had with this difficult commander.
It was Early who ordered McCausland to occupy Chambersburg, Pennsylvania, and demand a ransom in retaliation for Union depredations in the South. When the city leaders stalled, he ordered the town burned, thus becoming a pariah in the North for the rest of his life. Pauley uses some of the latest photos released from the Library of Congress to show the 1864 damage to the town. Immediately after the war, McCausland traveled to France and Mexico, seeking service in various armies much like other exiled Confederate officers. After the blanket pardon of 1868, McCausland settled back into the life of a gentleman farmer in Mason County. He grew quite wealthy by the time of his death in 1927. He was one of the last Confederate general officers to die.
This book is filled with drawings, maps, letters, and photographs both old and new. Especially interesting are the photos of "Grape Hill," McCausland's home along the Kanawha River. Michael Pauley was a respected author, poet, and historian in West Virginia, and his untimely death just before the publication of this book left a legacy of admired work.
REBEL BRASS: THE CONFEDERATE COMMAND SYSTEM. By Frank E. Vandiver (Baton Rouge: Louisiana State Univ. Press, 1993. Pp. xvii, 143. $9.95.)
This recent reprint of the 1965 study by Frank Vandiver is an excellent reintroduction to some of the longstanding questions about the fall of the Confederacy. Going over a wide range of topics, this short work is a concise analysis of the problems that confronted the Confederate government and high command. The dual nature of the Confederacy, socially conservative versus politically revolutionary, often prevented the centralization necessary to harness the South for the total war that was forced upon it.
Vandiver discusses the special strategic challenges and the effectiveness of the responses by the Confederacy's political and military leadership. He includes telling portraits of Jefferson Davis, George Randolph, James Seddon, Stephen Mallory, and others in the civilian administration. The most insurmountable problems these men faced were logistics and a difficult Confederate congress. Despite the general confusion and failures of this system, Vandiver concludes that reforms improved its efficiency by the end of the war, but it was too late for the Southern cause. This is an excellent study and should be read by both students of the Confederacy and anyone interested in the problems of command structure in a nation facing a total war.
THE COMPLETE GUIDE TO TRADITIONAL NATIVE AMERICAN BEADWORK: A DEFINITIVE STUDY OF AUTHENTIC TOOLS, MATERIALS, TECHNIQUES, AND STYLES. By Joel Monture (New York: Collier Books, 1993. Pp. ix, 113. $14.00.)
Joel Monture, a professor of Native American arts at the Institute of Native American Arts in Santa Fe, provides this guide to beadwork. Beginning with an overview of Native American decorative art, Monture then gives detailed, illustrated instructions on various stitches, designs, and patterns used in traditional beadwork with examples from the Blackfoot, Crow, Hopi, Mohawk, and Nez Perc among others. Included is a color photo spread of authentic beadwork, largely representing nineteenth-century Plains tribes. Monture also provides a list of sources from which to obtain beads, needles, and hides, as well as step-by-step directions for tanning a hide using traditional methods.
"LET US BEGIN ANEW": AN ORAL HISTORY OF THE KENNEDY PRESIDENCY. By Gerald S. and Deborah H. Strober (New York: Harper Collins, 1993. Pp. xiii, 540. $25.00.)
Thirty years after his assassination, John F. Kennedy remains an almost mythical figure in the history of the United States presidency -- a man cut down in hi prime, taking with him the hopes and dreams of an entire nation. Sensational accounts of Kennedy's personal life and violent death tend to overshadow an examination of the actual strengths and weaknesses of his administration.
In an effort to provide a more balanced perspective on Kennedy and his presidency, Gerald S. and Deborah H. Strober interviewed over one hundred people in some way connected with the administration, including cabinet members, civil rights activists, journalists, members of Congress, and other national and international figures. Using only these interviews, "Let Us Begin Anew" reviews the standard topics: Kennedy's personal appeal, the influence of the family, dynasty making, the assassination, and "what if" history. Additional insight is given on the president's foreign policy, and Kennedy's meeting with Nikita Khrushchev in Vienna, the Berlin crisis, Cuba, and Vietnam are all discussed. The administration's response to the civil rights movement is the primary domestic issue covered. The final chapter on "The Kennedy Legacy" offers a range of responses on the overall effectiveness of the administration and speculation as to how history will ultimately record the Kennedy years.
OTHER PUBLICATIONS RECEIVED
ALL ABOUT UPSHUR COUNTY: A BIBLIOGRAPHY AND RESOURCE GUIDE TO THE PUBLISHED AND UNPUBLISHED MATERIALS ABOUT UPSHUR COUNTY, WEST VIRGINIA. Compiled and edited by Noel Tenney (Buckhannon: Upshur County Historical Society, 1993. Pp. 95.)
ANNALS OF THE GREAT KANAWHA. By William D. Wintz (Charleston: Pictorial Histories Publishing, 1993; published by the author. Pp. viii, 127.)
ELKEM METALS: 90 YEARS OF PROGRESS IN THE KANAWHA VALLEY. By Tim McKinney (Charleston: Pictorial Histories Publishing Co. for Elkem Metals Co., 1992. Pp. x, 148.)
KENTUCKY'S ROAD TO STATEHOOD. By Lowell H. Harrison (Lexington: Univ. Press of Kentucky, 1992. Pp. x, 204. $23.00.)
LEWIS COUNTY WEST VIRGINIA: A PICTORIAL HISTORY OF OLD LEWIS COUNTY, THE CROSSROADS OF CENTRAL WEST VIRGINIA. By Joy Gregoire and Charles H. Gilchrist (Virginia Beach: The Donning Co. for Hacker's Creek Pioneer Descendants, 1993. Pp. 224.)
LOGGING SOUTH CHEAT: THE HISTORY OF THE SNOWSHOE LANDS. Second edition, revised. By George H. Deike III (Cass: by the author, 1993. Pp. 40.)
LOOKING BACK: SHORT STORIES OF THE GREAT DEPRESSION. By V. P. Prescott (Portsmouth, NH: Peter E. Randall, 1993. Pp. 134. $21.00.)
MEMORIES AND PHOTOS OF "MULLINS," WEST VIRGINIA. VOLUME 1: 1894 TO 1925. By John W. "Jack" Feller (St. Albans: Harless Printing Co., 1993; available from the author, P. O. Box 295, Mullins, WV 25882. Pp. viii, 250. $16.00.)
PRESCOTT: A HISTORY OF THE McCAFFREE & PRESCOTT FAMILY IN THREE PARTS. By V. P. Prescott (Portsmouth, NH: Peter E. Randall, 1993. Pp. 891. $84.00.)
TRADITIONS: A JOURNAL OF WEST VIRGINIA FOLK CULTURE AND AWARENESS. Ed. by Judy B. Byers and Noel W. Tenney (Fairmont: Fairmont State College, 1993. Pp. 48. $12.00.)
WE WILL KNOW WHAT WAR IS: THE CIVIL WAR DIARY OF SIRENE BUNTEN. Ed. with introduction by Stephen Cresswell (Buckhannon: West Virginia Wesleyan College Press, 1993. Pp. 106. $9.00.)
WEST VIRGINIA AIR POWER: A PICTORIAL HISTORY OF THE 130TH & 167TH TACTICAL AIRLIFT GROUPS. By Jack H. Smith (Charleston: Pictorial Histories Publishing Co., 1992. Pp. vi, 74. $9.95.)
WEST VIRGINIA'S COVERED BRIDGES: A PICTORIAL HERITAGE. By Stan Cohen (Charleston: Pictorial Histories Publishing Co., 1992. Pp. 108. $14.95.)
APPALACHIAN JOURNAL (20:3, Spring 1993) "Interview With Meredith Sue Willis," by Thomas E. Douglas, conversation with popular West Virginia writer; "It Was the Economy Stupid: The 1992 Election in Appalachia," by David Sutton, discusses Appalachian politics in the recent presidential election.
(20:4, Summer 1993) "Interview With Denise Giardina," by Thomas E. Douglas, conversation about life in the mining areas and writers' responsibility to their cultural heritage; "Interview With Richard Curry" by Thomas E. Douglas, discusses his writing career and his connection with storytelling.
BERKELEY JOURNAL (17, 1993) "Swan Pond, a Brief History," by Don C. Wood, outlines the early ownership of properties in the area; "`Swan Pond Manor' or `Folkland'," by Don C. Wood, continues the history of the manor's ownership; "The George W. D. Folk House and Farm," by Don C. Wood, offers the origins of the farmhouse; "Folk Genealogy," by Don C. Wood, includes several generations; "Early Williams Log House," by Don C. Wood, traces its history through deed transactions; "Elizabeth Williams Stone House," by Don C. Wood, briefly describes the owners of another of the Swan Pond houses; "Williams Family Tree," by Anna Latimer Chapline Phillips, includes several family lines; "The Hollida Farms at the Swan Ponds," by Don C. Wood, follows the deeding of this property through various owners; "Will Hollida Farm," by Don C. Wood, further documents the history of this later Swan Pond house; "Robert Carter Willis House," by Don C. Wood, outlines the conveyances through the twentieth century; "Swan Pond, Turner Family and Land," by Don C. Wood, includes the progeny of Thomas Turner II; "James L. Lane House," by Don C. Wood, documents its various occupants; "Susan Turner Parrot House," by Don C. Wood, recounts the transfer of this house through the generations; "Jacob Small House," by Don C. Wood, provides a sketch of the ownership of the house and land; "Jacob Williamson House," by Don C. Wood, gives an account of the house and grounds; "David F. Hill House," by Don C. Wood, documents this 1885 frame house; "Liberty Grove School, Billmyer Mill and Church," by Don C. Wood, locates local landmarks; "Fairview, School and Houses," by Don C. Wood, is a summary of property ownership; "Clagett-Williamson Farm," by Don C. Wood, relates its deed history; "Stephen West Log House," by Don C. Wood, describes the log sharecropper's house; "The Williams Store at Swan Pond," by Margaret Lefreure, provides the names of owners of this house and store; "Swan Pond Colored School," by Don C. Wood, covers the twenty-year period of use; "Hudgel-Welsh Swan Pond Farm," by Don C. Wood, offers an extended history of the property and its owners; "The Welshes of Swan Pond," by Margaret R. "Peggy" Welsh, provides an interesting narrative concerning this Swan Pond family; "The Cassandra Butt Board and Batten House," by Don C. Wood, notes the little house and its owners; "The William Maxwell Plantation," by Don C. Wood, begins with the 1749 grant by Lord Fairfax; "The Miller-Malleory House," by Herbert York, traces ownership through deeds and chancery records; "The Malleory Family," by Don C. Wood, begins with Thomas T. Malleory, born 1790.
CIVIL WAR TIMES ILLUSTRATED (32:3, August 1993) "Fort Delaware On the Water," by James A. Cox, describes conditions in a Union prison where many West Virginia Confederates were confined.
(33:1, March 1994) "A Single Step," by Jeffry Wert, describes the first battle in Stonewall Jackson's famous Valley Campaign.
GOLDENSEAL (19:2, Summer 1993) "Thank You, Homer: Preserving A Basket Making Tradition," by Gerald Milnes, describes a basketmaker's art, photos included; "Bluefields Biggest: The Grand West Virginian Hotel," by Stuart McGehee, is the story of a fine hotel that opened in 1923, photos included; "Thomas Greco: Shinnston Shoemaker," by Norman Julian, recounts a Harrison County repair business and its proprietor, photos included; "Going Home Again: Once More to Ovapa," by Heln Carper, tells of a small Clay County community and its oilfield heritage, photos included; "Champions With Dirty Knuckles: Marbles in the Mountain State," by Richard Ramella, is the story of the Marble King manufacturing company and the contests it supported, photos included; "Remembering Jack: A Hampshire County Summer," by Ted Olson, recounts the life of a storyteller and musician, photos included; "The Finest in the State: Harry Shadle's Mount Vernon Farm," by Irene B. Brand, describes a businessman's Kanawha Valley farm and home, photos included; "The Farmer's Friend: The West Virginia Market Bulletin," by Peggy Ross, is the story of the West Virginia Department of Agriculture's newsletter and ad bulletin, photos included; "104 and Counting: Bill Lowther of Wildcat, West Virginia," by Joy Gregoire Gilchrist, records memories of an active Lewis County World War I veteran, photos included; "Logan Rambling," by Susan Craddock Partain, describes the walking trips the author took on weekends in Logan County, photos included; "Tools of Mountain Living: The Shaving Horse," by Richard S. Hartley, discusses the uses of this famous device.
(19:3, Fall 1993) "Salt-Rising Bread," by Margaret Barlow, discusses the pros and cons of this mountain specialty; "Preacher James and Sally Ann," by William D. Creasy, is the story of a Nicholas County Baptist circuit rider and Confederate veteran, photos included; "Not a Going Business: Ed Weaver's Service Station Museum," by Bill Moulden, is the story of a Mineral County car collector and his artifacts, photos included; "Getting Ready For Life: The Douglass High School Story," by Joseph Platania, discusses the history of the only black high school in Cabell County and the large alumni reunions, photos included; "Lefty the Barber: Still Clipping at Cass," by Louise Burner Flegel, is the story of the once-prosperous lumber town told by the local barber, photos included; "On Bower's Ridge: Family Life in Wyoming County," by Richard Ramella, remembers farm life in Itmann, photos included; "Ashford General Hospital: The Greenbrier Goes to War," by Louis E. Keefer, recounts the war years at the Greenbrier hospital and the many stories from patients and workers, photos included; "Migrating to the Mountain State: An Irishman Comes to the Greenbrier," by Francis J. Gallagher, describes the life of an immigrant waiter who brought his family to West Virginia, photos included; "Falling Where They May: West Virginia Walnuts," by Paul Fansler, discusses uses of this delicious nut, photos included; "Remembering the Maybeury Train Wreck," by Betty Johnson Fleming, firsthand account of the terrible train accident; "The Mountain Heritage Arts and Crafts Festival," by Malcolm W. Ater, Jr., explains this festival's highlights and crafts, photos included; "Mountain Music Roundup," by Danny Williams, notes the best of West Virginia's traditional musicians.
(19:4, Winter 1993) "Recalling the Great Depression: Hard Times on a Hillside Farm," by Cody A. Burdette, recounts the extreme difficulties of poor farmers in the 1930s; "Tools of Mountain Living: The Grain Cradle," by Elizabeth Williamson, explains the uses of this addition to the mowing scythe; "No Christmas at Monongah," by Eugene Wolfe, recalls the worst mine disaster in United States history, photos included; "Good Times Together: Lucille Hanna Looks Back," by Mary Cobb, records memories of a ninety-six-year-old Pratt native, photos included; "By God and Thomas Jefferson!: Mother Jones on the Creeks," is an excerpt from a play by Jean Battlo about the famous labor organizer, photos included; "Merchants of Thomas: Doing Business in Tucker County," by Carl E. Feather, discusses the lives of local storekeepers from the turn of the century to the present, photos included; "Dogs and Birds and Shooting: George and Kay Evans of Preston County," by Peggy Ross," is the story of a married couple who are famous for their writing and photography about hunting, photos included; "Hunting the Blackwater-Canaan," by George Bird Evans, excerpt from one of his books on bird hunting in West Virginia; "Huntington on Ice: The Short History of the Hornets," by Clark Haptonstall, discusses the professional hockey team that played in Huntington in 1956, photos included; "Jane George: Proud To Be a West Virginian," by Danny Williams, interview with a popular Vandalia Award winner from Roane County, photos included; "Poteen: The Idea Goes Back to Jane and Frank," by Danny Williams, discusses the evolution of an Irish dance band, photos included; "Home Delivery: Amy Sharpless, Mountaintop Midwife," by I. Lynn Beckman, recounts the early years of a rural midwife, photos included; "Sleeping Beneath the Sand: Songwriter John W. Unger of Morgan County," by John S. Newbraugh and John Douglas, is the story of a miner-songwriter from Berkeley Springs, photos included; "Old Soldiers," by Reva Reed, describes the Civil War experiences of Roane County natives.
(20:1, Spring 1994) "The Knot Maul," by Carl Dodrill, explains how to make and use this fence post driver; "Alive and Working: Folk Sculptor Connard Wolfe," by Danny Williams, describes the life and work of a local artist, photos included; "Death in Durbin: New Questions About an Old Case," by Elaine Prater Hodges, recounts the questionable outcome of a Pocahontas County murder investigation, photos included; "Barg Kass: Cheesemaking Among the West Virginia Swiss," by Bruce Betler, describes the recipes and procedures of the Helvetia cheesemakers, photos included; "Eleanor McElroy: An Influence For Good," by Raymond Alvarez, describes the active life of a Fairmont humanitarian, photos included; "On the Road, 1940: Job Hunting on Route 52," by Mel Fiske, recalls Depression-era memories of a McDowell County native, photos included; "Flying Post Offices: Airmail Comes to Rural West Virginia," by Louis E. Keefer, describes the early mail service set up in 1939, photos included; "Tales of the Rails: Workday Humor from the C&O Line," by Marshall D. Gwinn, is a Hinton man's recollections of colorful railroad stories, photos included; "Telegrapher at Thurmond: A Days Work on the C & O," by Roy C. Long, describes the job of a railroad telegraph operator; "Helping the Spirits Talk, reprints the winning stories from the West Virginia State Liars' Contest, photos included; "Recollections of Ashford," by Robell B. Clark, discusses wartime duties at the Greenbrier hospital.
HACKERS CREEK JOURNAL (11:2, April 1993) "Some Early Deaths In Indian Country," includes the names of traders killed during 1763 in the Ohio country as listed in the papers of Colonel Henry Bouquet; "Register of Confederate Dead at Camp Chase, Confederate Army Cemetery, Columbus, Ohio," as recorded by Mrs. Philip Peyton and copied by Chuck Gilchrist, provides four local names; "Stonewall Jackson's Last Order, offers a brief sketch of events leading to General Jackson's death; "A Patriarchal Gathering: Reunion of the Family of George Smith, Esq.," is a reprint from an 1877 edition of the Weston Democrat; "Some Notes on the South Branch," by Lena Byer, reviews the early settlement of that area; "Hacker's Creek in the Harrison County, W. Va. Court Minutes: 1784-1810," compiled by Hartzel G. Strader, to be continued in subsequent issues; "Disenfranchisement," by Richard E. McCauley, explains how some Lewis County residents were declared Southern sympathizers by an 1869 court, list of names included; "Military Prison Records -- Camp Chase, Columbus, Ohio: Some West Virginians Held There," copied by Joy Gilchrist, includes place of capture and date; "The Brake Massacre and the First Mrs. Brake," by David Armstrong, advances a thoughtful comparison of primary and secondary source materials to document the true identity of this early South Branch settler; "Where Was Jacob Brake in 1756? Who Were His Wives? Where Did He Die?," by Linda Meyers, offers further documentation of the Brake genealogy.
(11:3, July 1993) "West Virginia People in Ohio," by Joy Gilchrist, contains an annotated list of persons in the 1910 Ashtabula County, Ohio, census who were originally from central West Virginia; "Lest We Forget," by Nancy Jackson, combines a biographical sketch of Julia Ethel Swisher and her contributions to the family's oral tradition; "Revolution and War of 1812 Soldiers in Lewis County," provides information compiled in the 1940s; "Helvetia, A German Community," by Joy Gilchrist, outlines the founding of this Randolph County settlement by Swiss and German immigrants; "Harrison County, (W)V, Court Minutes," continued from a previous isse; "First Baptist Church History," compiled by Mrs. Janet Roby Cosgrove, includes a list of Baptist churches found in present-day West Virginia by 1790.
(11:4, October 1993) "Peter Hardman Family," by Joy Gilchrist, traces this German family in Hardy County and Ohio; "Lewis County in the Civil War," offers muster lists of Lewis County citizens in the Union Army; "McWhorter Clan Celebrates Cabin Bicentennial," by Neil Nicholas, describes the relocation of the McWhorter cabin at Jackson's Mill; "Fort Pleasant, Hardy County," by Donovan H. Bond, is a brief history of the fort built in the Indian Old Fields; "A Bush Family Find," by David Armstrong, is a transcription of Bush v. Smith in the Harrison County chancery records; "The Bonnets -- Early Settlers on Hacker's Creek," by Edward N. Casey, provides a history of this Huguenot family's migration.
(12: 1, January 1994) "Mrs. Virginia A. Washburn, Now Past 83, Vividly Holds Memories of Pioneer Events," by Wilbur C. Morrison, is an annotated reprint of a newspaper article which appeared in 1929; "Memories," by John A. Henderson, is the compilation of the author's serialized recollections of his ancestors and his youth; "Davis County, Iowa Bible and Cemetery Records," by Dorothy Gandy Gildizen and Glenna Gandy Carlson, offers information for some individuals born in Preston County; "Dr. J. M. McWhorter Passes Into the Great Beyond, One of Our Strong Men Gone," is the 1901 obituary for this leading figure in the history of central West Virginia; "The Peter Hardman Family," by Joy Gilchrist et al, documents the family's migration from Germany to the midwest.
JOURNAL OF THE KANAWHA VALLEY GENEALOGICAL SOCIETY (17:2, Summer 1993) "Turley-Pauley Cemetery," recorded by Vada Riffle Turley, lists names in this Kanawha County cemetery near Hilltop Baptist Church; "Christopher Columbus Turley Cemetery," recorded by Vada Riffle Turley, provides Turley family names and dates from this small plot off Corridor G; "1917 Survey Records Location of Graves in Ruffner Cemetery," extracted by Richard Andre, is a reprint of a Charleston Gazette article concerning the occupants of this East End Charleston site; "Old Kanawha Baptist Church Minutes," continued from a previous issue; "Births, Marriages and Deaths," compiled by Rose Peterson, lists events from a December 1893 Charleston Evening Mail; "Kanawha Rifleman Biographies," continued from a previous issue; "Acting Justices of the Peace for Kanawha Co. January 1842," provides names and places of residence; "Clay Co. Marriages," transcribed by Henry Young, continued from a previous issue.
(17:3, Fall 1993) "Greencastle Cemetery," by Helen Stinson, lists information from this Paint Creek gravesite; "Old Kanawha Baptist Church Minutes," continued from a previous issue; "Uncle Billy Armistead," by Charles F. Armistead, is a reprint of an obituary for this well-known nineteenth-century Kanawha Valley man of color.
"(17:4, Winter 1993) "Eighty Years Long and Useful Existence Ended -- Death of Samuel Carrick," reprints the 1899 obituary for a respected Kanawha Falls resident.
(18:1, Spring 1994) "KVGS Has New Headquarters," announces the new location at the former Nitro High School; "Obituaries," compiled by Gerald Ratliff, provide information concerning nineteenth-century Kanawha Valley residents; "Mountain View Cemetery," compiled by Rose Peterson, is an alphabetical list of names found in this cemetery located behind the Spring Hill Cemetery; "United States Pensioners in Kanawha County, WV, extracted by Gerald Ratliff, reprints an 1884 list from the State Tribune; "Barren Creek Cemetary"[sic], recorded by Robert F. Conley, inventories individuals buried here and includes additional research; "Old Kanawha Baptist Church Minutes," continued from a previous issue; "Acts Passed at a General Assembly of the Commonwealth of Virginia," extracted by Vicie Fowler, contains mention of early Kanawha Valley residents.
JOURNAL OF THE GREENBRIER HISTORICAL SOCIETY (6:2, 1993) "Unrecorded Marriages 1813-1814 Performed by Rev. John Pinnell," compiled by Frances A. Swope, is from a list provided to Greenbrier County Clerk Lewis Stuart; "Searching for the Historical Dick Pointer," by Ancella Radford Bickley presents the challenges of verifying the various accounts of Pointer's heroic action at Fort Donnally; "The `Dick Pointer' Gun," by Joan C. Browning, discusses the provenance of the guns at the North House Museum and the West Virginia State Museum; "Greenbrier County Records Deed Book VI 1814-1819," by Larry G. Shuck, has been transcribed in chronological order; "Greenbrier County Records -- Deed Book VI," by Joan C. Browning, indexes the Shuck article; "Public High Schools," by Joan C. Browning, is an overview of the Virginia system; "Reflections on our Former High Schools," by John Montgomery, comments on the role of these earlier schools in their communities; "Big Schools are Better, Right?," by David B. Shields, reflects on the function of the small school as community focal point; "You Can Go Home Again," by Rymal Wenger Kenton, relates her feelings when revisiting the site of her early school years; "Alderson High School," by Eileen Skaggs, reprinted from a 1965 article; "Boling High School," by Joan C. Browning, is a history of the organization of the county's only black high school; "Crichton High School," by Joan C. Browning, is a brief sketch of the last high school established in the county; "History of Frankford District High School, 1935," by Rachel McClintic, includes enrollment figures from the early years; "Greenbrier High School," by Virginia Humphries (Yates), lists many students; "Lewisburg High School," by Domenick Gaudino, names the first six men to serve as school principal; "Rainelle High School," by Virginia B. Meadows, begins with a brief history of Rainelle; "Renick High School," by Domenick Gaudino, discusses the establishment of this high school; "Rupert High School," by Domenick Gaudino, is an overview of
O. R. Kyle's study; "Smoot High School," by Domenick Gaudino, briefly outlines its authorization; "White Sulphur Springs High School," by Domenick Gaudino, identifies one of the few women high school principals in 1920s West Virginia; "Williamsburg High School," by Earle Bransford, discusses the high schools origins.
KYOWVA GENEALOGICAL NEWSLETTER (16:1, Spring 1993) "Cabell County (W)V Marriages 1840, 1841 and 1842," includes annotations.
(16:2, Summer 1993) "Central City, WV Directory 1899-1900" reprints this turn-of-the-century directory.
(16:3, Fall 1993) "A Civil War Story," is an oral history recorded in the 1930s of James C. Winebrenner's experiences at Cedar Creek and Gettysburg; "Living 1890 Civil War Vets & Widows From Wayne Co., WV," is an alphabetical list; "Cabell Co., WV 1861-62 Marriages," contains marriages not listed in the index of Book 1 but are recorded in the first volume of marriages at the courthouse; "Names Of Ex-Soldiers and Sailors From WV Residing in Wisconsin Jun[.] 20, 1895," includes regiment and rank; "Listings of the 5th WV Veterans Taken from Ironton Register Sep[.] 29, 1904," reprints an article concerning a reunion and campfire held by the veterans; "Listing of Cabell County and Wayne County Pensioners from the Roll of 1883," are divided by county; "Listing of Boyd and Greenup Co., KY Pensioners from the Roll of 1883," are also divided by county; "The Burning of Guyandotte," outlines the events of late 1861; "Obit Corner," contains information about two former Union veterans; "Names Of Ex-Soldiers, Sailors and Marines From WV Residing in Illinois," by Lowell M. Volkel, offers regiment and nature of illness.
(16:4 Winter 1993) "Families listed in 1870 Boyd Co., KY Census with White Creek, Wayne Co., WV address," to be continued in subsequent issues; "Four Pole Massacre," by Cal F. Young, reprints a 1930 article relating the deaths of Tackett family members; "The Cabell County Poor House or Infirmary," by Carrie Eldridge, includes census data from 1860 to 1920.
(17:1, Spring 1994) "Reger Funeral Home Records," submitted by Pat and Kathy Short, indexes the records of this Huntington mortuary; "Families listed in 1870 Boyd Co., KY Census with White Creek, Wayne Co., WV address," continued from the previous issue.
MAGAZINE OF THE JEFFERSON COUNTY HISTORICAL SOCIETY (58, December 1992) "Shepherdstown and The Morgan-Stephenson Companies, 1775-1988," by Joseph Whitehorne, outlines the history of two of the earliest companies to be musteed into the Continental Army; "Rion Hall and Daniel Bedinger Lucas," by Virginia Lucas, is a reminiscence of family members and their association with this Jefferson County home; "Grubb-Conway House, Circa 1762," by Mrs. Thomas C. G. Coyle and Patricia Perez, is a brief history of the house and its Quaker builders; "An English Reporter in the Valley, 1865," edited by Cecil D. Eby, is an account by a London Times correspondent who traveled in the Shenandoah Valley a few months after Appomattox.
(59, December 1993) "Recollections of Richard D. Rutherford," edited by Cecil D. Eby, reprints impressions formed as an adolescent in Charleston during the Civil War; "A Woman's Recollections of Antietam," by Mary Blunt and James T. Surcamp, reprints a personal account of events in September 1862.
NORTHWEST OHIO QUARTERLY (64:1, Winter 1992) "The Contest for the Old Northwest, 1790-1795: An Overview," by Wiley Sword, is the opening address for a symposium which focused on the pivotal border warfare period; "Beyond the Vortex of Violence: Indian-White Relations in the Ohio Country, 1783-1815," by Colin G. Calloway, discusses the racial interactions of the principalsbeyond the prevailing view of bipolar white-Indian confrontation.
(64:2, Spring 1992) "Anthony Wayne: The Man and the Myth," by Richard C. Knopf, is a biographical sketch of the commander of the battle which effectively ended the period of border raiding in western Virginia.
(64:3, Summer 1992) "The British Indian Department in the Ohio Country, 1784-1795," by Peter D. James, discusses the mission and management of this foreign service and its role in the alliance between the British and the Indians.
(65:1, Winter 1993) "William Henry Harrison, Apprentice in Arms," by Robert G. Gunderson, recounts the tutoring of this scion of an old Virginia family under the command of Anthony Wayne.
NOW AND THEN (10:1, Spring 1993) "Heritage Hour," by Kate Long, discusses how schools taught state history but left out the miners' struggle.
(10:2, Summer 1993) "South vs. South," by Peter Wallenstein, emphasizes black and upland resistance to the Confederacy; "Battlefield," by Michael J. Pauley, Civil War poem by West Virginia historian.
(10:3, Fall 1993) "The Utility of Folklore: An Interview with Judy P. Byers," by Stephen Warren, discussion with Fairmont State teacher about the work of folklorist Ruth Ann Musick.
VIRGINIA CAVALCADE (43:3, Winter 1994) "And Ye Shall Chase Your Enemies: Jed Hotchkiss, Stonewall Jackson, and the Valley Campaign," by William J. Miller, describes the relationship between Jackson and his talented mapmaker and scout.
WEST VIRGINIA HISTORICAL SOCIETY (8:2, September 1993) "Wheeling: A City Well Known for its Historical Celebrations," by Brian Casto, describes Wheeling's many pageants and community holidays.
---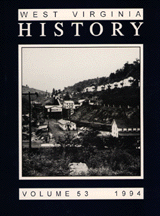 Volume 53