"Your Gateway
to the
History of the Mountain State,
1939-2006"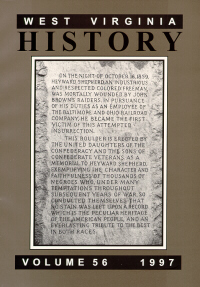 Volume 56 (1997)
COVER PHOTO: The Heyward Shepherd Memorial in Harpers Ferry, erected in 1931, pays tribute to a free black man killed in John Brown's raid. The memorial's sponsors originally identified Shepherd as a slave and intended to honor "faithful slaves," touching off a storm of controversy. [Boyd B. Stutler Collection, West Virginia State Archives, Charleston, WV]
"An "Ever Present Bone of Contention": The Heyward Shepherd Memorial"
By Mary Johnson
"Booster Ethos: Community, Image, and Profit in Early Clarksburg"
By L. Diane Barnes
"Hugh Paul Taylor, Historian and Mapmaker"
By David Scott Turk
"Persecution and Acceptance: The Strange History of Discrimination Against Married Women Teachers in West Virginia"
By Robert J. O'Brien
""Manufactured History": Re-Fighting the Battle of Point Pleasant"
"Deaths at the West Virginia Colored Tuberculosis Sanitarium at Denmar"
"An Appeal for Future Generations: West Virginia Historical Records Strategic Plan"
---