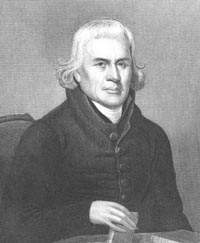 Francis Asbury
The following is a list of books and articles by and about Francis Asbury which can be found at the West Virginia State Archives Library.
---
BOOKS
Asbury, Francis. The Journal of Francis Asbury, Bishop of the Methodist Church, 1771- 1815, vol.1-3, New York, N. Bangs an T. Mason, 1821.
B A799
Strickland, William Peter. The Pioneer Bishop, or, the Life and Times of Francis Asbury , New York, Carlton and Porter, 1858.
B A799s.
---
VERTICAL NEWSPAPER CLIPPING FILE
"Bishop Asbury Brought Methodism Here in 1788," Herald Advertiser, 7-28-1929.
"Methodists to Hang Portrait of Bishop Asbury in Center Here," Herald Dispatch, 1-1- 1957.
"Statue of Bishop Asbury Erected in Washington," Pocahontas Times,4-30-1925.
---
Notable Individuals in West Virginia History