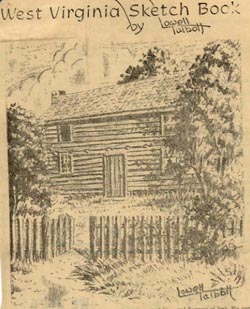 Jesse Hughes
The following is a list of books with information on Jesse Hughes, early pioneer, which can be found at the West Virginia State Archives Library.
---
BOOKS
Dehass, Willis. History of the Early Settlement and Indian Wars of Western Virginia. McClain Printing Company, 1995 reprint.
R 973.3 D322 .
Harley, Cecil B. Life and Adventures of Lewis Wetzel; the Virginia Ranger to Which Are Added Biographical Sketch...and Other Heroes of the West. Philadelphia, G.G. Evans, 1859.
B W544h.
Lambert, Oscar D. Pioneer Leaders of Western Virginia. H. Hoblitzell, 1851.
R 973.3 D322 1960.
McWhorter, Lucullus V. The Border Settlers of Northwestern Virginia from 1768-1795: Embracing the Life of Jesse Hughes and Other Noted Scouts of the Great Woods of the Trans- Allegheny. Republican Publishing Co., 1915.
975.402 M177.
Truman, Timothy. Straight Up to See the Sky, Forestville, CA: Eclipse Books, 1991.
977 T677s.
VERTICAL NEWSPAPER CLIPPING FILE
"Border Badman," Charleston Gazette, November 17, 1957.
"Hughes Family Descended From Revolutionary Patroit," Clarksburg Exponent, 8-13-1933.
"Hughes Family Traces Lineage to Revolutionary War Heroes," Clarksburg Exponent-Telegram, 7- 29-1934.
"Jesse Hughes' Dauntless Daughter," Charleston Gazette, 1-5-1957.
"Life and Exploits of Jesse Hughes: Part I-6," Beckley Post Herald, 1-12, 13, 14, 15, 16, 17- 1959.
"Roane Countians Revere Jesse Hughes, Pioneer Foe of West Virginia Indians, Charleston Gazette, 8-20-1950.
"Unfortunate Trip of Jesse Hughes is Described in 'American Pioneer'," Parkersburg News, 10-17- 1965.
"West Virginia Sketch Book-Drawing of Jesse Hughes' Cabin," Salem Herald, 1-27-1966.

---
Notable Individuals in West Virginia History