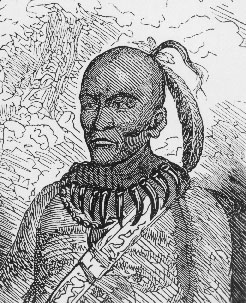 Chief Logan
The following is a list of books and articles about Chief Logan which can be found at the West Virginia State Archives Library.
---
BOOKS
Doddridge, Joseph. Logan the Last of the Race of Shikellemus, Chief Cayuga Nation , Parsons, WV, McClain Printing Co., 1971.
812.2 D641
Mayer, Brantz. Tah-gah-jute; of Loagn and Cresap, an Historical Essay , Albany J. Munsell. 1867. 973.27 M468.
Sawvel, Franklin B. Logan the Mingo , Boston, B.G. Badger, 1921.
B L831s.
Swain, George Thomas. Words That Rang Around the World , Charleston, WV, Ace Enterprises, 1962.
B L831 Pam.
Truman, Timothy. Straight Up to See the Sky , Forestville, California, Eclipse Books, 1991, pp.56-61.
977 T677s.
---
VERTICAL NEWSPAPER CLIPPING FILE
"Beacon Lights of WV History," Charleston Daily Mail , 1-23-1938.
"Bit of Elm Reminder of Chief Logan," Beckley Post Herald , 11-6-1967.
"Chief Logan Refused Peace Treaty Signing," Point Pleasant Register , 10-6-1971.
"Historic Logan Elm Named After Indian Chief," Ravenswood News , 6-6-1984.
"History and Tradition Covering the Lives of Cornstalk, Logan & Princess Aracoma, 1954.
"Logan, Chief of the Onondagas," by Phil Conley, 10-13-1962.
"Logan: a Dramatic Piece, by Joseph Doddridge," WV Hillbilly , vol 2. 43-46, 10/28- 11/18-1967.
"Logan, A Friend to the White Man," James L. Hupp, Archives & History, 12-15-1965.
"Logan, Chief Mingoes, One of Most Eloquent of Indians," Charleston Gazette , 6-5- 1927.
"Logan Swore Vengeance After Killings," Beckley Post Herald , 11-7-1967.
"Message of Logan Attested by Thomas Jefferson, Letter to Gov. Henry of MD," 12-31- 1797.
"Thomas Jefferson's Proof of the Logan Story," WV Hillbilly , 4/20 & 5/11- 1968.
"War Clouds of Revolution Gather Quicly After Issuance of Logan's Defi," n.p. n.d.
"When Logan Spoke Whole World Heard Him," Logan Banner , 12-31-1926.
"Who Mourns for Logan?," Times Record , 5-7-1970.

---
Notable Individuals in West Virginia History