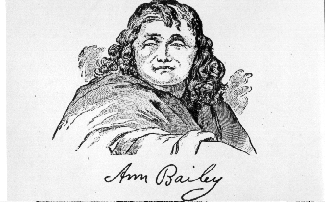 Anne Bailey
The following is a list of books and articles about Anne Bailey, early pioneer, which can be found at the West Virginia State Archives Library.
---
BOOKS
Case, Fred M. Anne Bailey, Charleston, WV, Telfords, 1944.
B B154c Pam.
Hall, Grace McCartney. "Anne Bailey in West Virginia Tradition," West Virginia History Quarterly Magazine, Volume 17, 1955-56, pp.22-85.
Arc 1. 4:17 1955-56.
Lewis, Virgil Anson. "Anne Bailey," The Magazine of History with Notes and Queries, Volume 2 Number 3, March 1910, Library of Congress, 1954.
Mi 49-5.
________________. Life and Times of Anne Bailey: the Pioneer Heroine of the Great Kanawha Valley, Charleston, WV, Butler Publishing Company, 1891.
B B154L.
Poffenbarger, Livia Simpson. Anne Bailey: Thrilling Adventures of the Heroine of the Kanawha Valley, Pt. Pleasant, L.S. Poffenbarger, 1907.
B B154P.
Royall, Anne. Sketches of History, Life, and Manners, in the United States, New Haven, Anne Royall, 1826. [Click here to read her observations on Anne Bailey]
Truman, Timothy. Straight Up to See the Sky, Forestville, CA: Eclipse Books, 1991, pp. 106-09.
977 T677s.
"Mad Anne, the Huntress," United States Magazine, Volume 3, Number 3, September 1856, pp.235-237, Library of Congress, 1954.
Mi 49-5.
---
VERTICAL NEWSPAPER CLIPPING FILE
"Anne Bailey's Ride," Mullens Advocate, 9-30-1971.
"Anne Bailey," by Adelaide Cole, Daughters of the American Revolution Magazine, 3- 1980.
"Anne Bailey," by Richard Montgomery, West Virginia Hillbilly, 4-20-1974.
"Anne Bailey Saved Town, She Brought Ammunition to Unprotected Fort in Year 1791," n.d.
"Anne Bailey Saved Old Fort Lee by Long Ride Through Wilderness," n.d.
Bailey, Anne, 1742-1825. Typescript biography by Ambler.
"Gauley Bridge a Focal Point of History," Beckley Post-Herald, 6-11-1969.
"Heroine of the Frontier," The Call, C&P Telephone, 2-1970.
"Know of Anne Bailey You Should for her Story is a Queer One," Herald Dispatch, 12- 6-1923.
"Looking Back, by McKinley, Mason Co., Historical Society," Point Pleasant Register, 4- 10-1970.
"Mad Anne Bailey is Needed by Charleston in Historical Pageant," Herald Advertiser, 9- 25-1927.
"Mad Anne Bailey Became Famous as Pioneer Scout," Charleston Gazette, 6-1939.
"Rare Courage of Anne Bailey Stamped Her as Unique Figure," Times Record, 10-2- 1930.
"The Kanawha Tradition," Princeton Times, 10-14-1971.
"The Dates in the Life of Anne Bailey," WV Heritage Foundation, 4-16-1966.
"They Called Her Mad Anne," Clarksburg Exponent, 3-14-1939.
"Two Hardy Pioneer Women Saved Many Lives," Times-West Virginian, 10-30-1963.
"White Squaw of the Kanawha," Point Pleasant Register, 5-22-1929.
---
Notable Individuals in West Virginia History