School Integration in West Virginia
Charleston Gazette
September 19, 1954
---
State Moves Toward Integration

25 Counties Have Already Taken Action

Greenbrier School Union Is Delayed By Public Protests

By Harry W. Ernest
(Staff Writer for The Gazette)
In 25 West Virginia counties this fall, Negro and white school children saluted their nation's flag together for the first time.
". . . One Nation, indivisible "With liberty and justice for all."
They sit side-by-side . . . study, laugh and play together - because on May 17, the U.S. Supreme Court ruled unanimously that:
"In the field of public education, the doctrine of 'separate but equal' has no place. Separate educational facilities are inherently unequal."
Awaiting a court decree, State School Supt. W. W. Trent left integration in the hands of West Virginia's 55 county boards of education.
So far 12 counties, many of them with sparse Negro populations, have completely integrated their white and Negro pupils. And 13 others with few Negro children have partially de- segregated.
Integration ranges from one Negro girl in Weston, Lewis County, to 775 Negro pupils in Monongalia County - which pioneered complete de-segregation in the state.
But while public school children in 25 counties stepped over West Virginia's 91-year-old color line, protests delayed integration in Greenbrier County.
At White Sulphur Springs High School, crudely-painted signs read:
"No Negroes Wanted in Our Schools."
Some 300 of 440 White Sulphur students truck on Monday. Negro children were threatened with bodily harm if they returned to "white" classrooms.
So Greenbrier's Board of Education called off partial integration and ordered all students back to the schools they attended last year.
Supt. Trent refused to interfere. ". . . At the present time boards of education are free to act," he said. "I shall take no action."
Mild voices have been raised against integration in Barbour, Boone, and Marion Counties. But objections were "talked out" in all three counties.
Negro students have been elected to class offices in two counties, including Wetzel where a Negro athlete was elected president of the freshman class.
Although many Negro teachers feared dismissal when schools were integrated, apparently no Negro teachers have lost their jobs in the 25 "test" counties.
About 6 per cent (25,646) of West Virginia's 451,991 school children are Negroes, lowest proportion of any Southern or border state affected by the court ruling.
More than three-fifths of the Negro school population is centered in six southern counties - McDowell (22.76 per cent), Raleigh (13.07), Kanawha (5.40), Fayette (13.37), Mercer (11.93), and Logan (8.47)
These and other counties with larger Negro enrollments have delayed integration until next year. Eleven counties have no Negro children.
---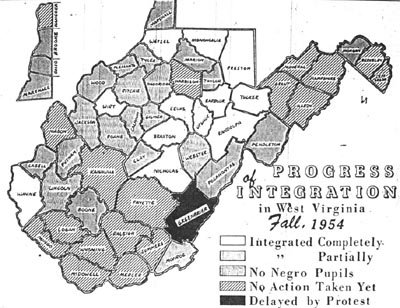 "Progress of Integration in West Virginia Fall, 1954"
Map drawn by Paul Crabtree of the Charleston Gazette
---
State Round-Up Shows 12 Counties Fully Integrated
Here's a county-by-county round-up of integration in West Virginia - the first complete state survey since schools opened this Fall.
So far 12 counties have completely integrated their white and Negro pupils, 13 have partially de- segregated, 18 are waiting, 11 have no Negro pupils, and protests delayed partial integration in Greenbrier County.
Of West Virginia's 55 counties, the 12 that immediately complied with the U.S. Supreme Court's May 17 decision are:
Barbour, Braxton, Lewis, Monongalia, Nicholas, Preston, Randolph, Tucker, Upshur, Wayne, Wetzel, and Wirt.
The 13 that partially integrated are Boone, Brooke, Cabell, Clay, Marion, Marshall, Monroe, Morgan, Ohio, Pendleton, Pocahontas, Taylor, and Wood.
There are no Negro pupils in Calhoun, Doddridge, Gilmer, Jackson, Lincoln, Pleasants, Putnam, Ritchie, Roane, Tyler, and Webster Counties.
Waiting are Berkeley, Fayette, Grant, Hampshire, Hancock, Hardy, Harrison, Jefferson, Kanawha (Charleston), Logan, Mason, Mercer, Mineral, Mingo, McDowell, Raleigh, Summers, and Wyoming.
A capsule county-by-county summary of integration follows with school population figures for 1953-54.
Barbour - Integration "has been very successful in this northern county where first land battle of Civil War was found in 1861.
Newspaper reports of a parental protest in mid-August "were grossly exaggerated," said Supt. of Schools Bretsel Harris.
"Everything has worked out well," he added.
About 8 per cent of school population (350 of 4,401 pupils) is colored. Here's the integration picture:
29 colored students at Philippi High School, with about 70 scattered in 16 different elementary schools in their districts.
"We have almost complete integration," said Harris, although the county's nine Negro teachers still "are at six predominantly colored schools."
Berkeley - Awaiting Supreme Court decrees on how best to carry out integration. One Negro school - Ramer Memorial at Martinsburg - serves entire county.
Only 3.36 per cent (196 of 5,837) of students are Negro, with 11 Negro teachers.
"This county is very much like Virginia," said Supt. of Schools James L. Creasy. "So we have much different problems than other parts of the state."
But Creasy said he believed there will be no trouble when Supreme Court orders May 17 decision put into effect.
Boone - Partial with 18 Negroes taking part-time work at Madison's Scott High and three full- time Negro students at Seth's Sherman High.
No integration on elementary level. Two county Negro schools in business, including Carver High in Madison.
The 18 Negroes are taking afternoon courses at Scott, courses they can't get at Carver, like driver education.
A small number of students and parents have protested, but others have praised the Board of Education's action. Only 1.44 per cent (132 of 9,174) are Negro.
Braxton - Complete, with less than 1 per cent (23 of 4,292) Negro. Three at Sutton High and four integrated in elementary school near Burnsville.
Only Negro children at Laurel Fork Elementary near Sutton, but only Negro families live in District, a school official said.
Brooke - Board of Education gave county's 106 Negro pupils an option. So 25 went to Wellsburg High, six still riding a bus to Wheeling's Lincoln Negro High.
About 30 Negroes attending former all-white elementary schools in their districts. Two segregated schools, one bus in business.
Complete breakdown: 5,189 pupils, including 106 Negro, or 2 per cent of school population.
Cabell - Modified integration. Negro children entering first and seventh grades given opportunity to attend white schools in their districts.
But only 14 enrolled - 12 in five different Huntington elementary schools and two in C. and O. city's Oley Junior High.
Otherwise, separate schools maintained for county's 823 Negro children, who make up almost 4 per cent of Cabell's total school population of 20,819.
Calhoun - Only four Negro children, who art [sic] attending a rural one-room school near Grantsville with two other white children.
Clay - Half-way, with 10 Negroes attending Widen High School. They were sent out of county to school last year.
Board of Education offered to integrate only segregated elementary school at Widen, but Negro leaders asked board to keep it open at least another year.
Less than 1 per cent of Clay's 4,125 pupils are Negroes.
Doddridge - No Negro children.
Fayette - Waiting. Target date: fall of '55. Committee, including both white and Negro leaders, will be appointed to study integration.
Slightly more than 13 per cent, or 2,710, of Fayette's 20,268 pupils are Negroes.
Gilmer - No Negro children.
Grant - Waiting for Supreme Court decrees, but will comply, said Supt. of Schools A. Neil Frye. "No sentiment to sidestep issue . . . don't anticipate any trouble," he added.
Board hasn't discussed "definite action" to integrate Grant's 47 Negro elementary and 17 out-of- county high school students, who are more than 2 per cent of 2,050 pupil total.
Greenbrier - Protests last week delayed integration of this county's 444 Negro pupils - 4.68 per cent of total school population of 9,489.
Only 23 Negroes enrolled at White Sulphur Sprinbgs [sic] High and about 14 at Rupert High after Board of Education gave Negro pupils option.
But parent-inspired student strikes led to reversal of "option clause," with few Negroes ordered back to own schools.
Hampshire - Waiting. Supt. of Schools A. Clinton Loy doesn't "anticipate any trouble" when Supreme Court orders integration of county's 19 Negro pupils (less than 1 per cent of 2,765 total).
Hancock - West Virginia's northern-most county hasn't taken any action. "We'll wait until next year to make any changes," a school official said.
There are 330 Negro pupils in Hancock - 4.72 per cent of 6,9_5 total.
Hardy - Only 5.32 per cent of county's 2,385 pupils are Negro (127), but Supt. of Schools R. S. Dispanet predicted there will be "considerable opposition to integration."
Board of Education waiting for Supreme Court decrees. Dispanet only state superintendent who said he anticipated trouble.
Harrison - Schools opened same as last year in this northern county. Board of Education hasn't formulated any policy, waiting for Supreme Court decrees.
Only 2.22 per cent of county's 16,902 students are Negroes (375). Clarksburg is county seat.
Jackson - No Negro children.
Jefferson - John Brown's Body was carried to its grave after his treason trial and execution at Charles Town, county seat named for George Washington's brother, Charles.
Jefferson has second highest proportion of Negro pupils in state - 17.23 per cent, or 688 of 3,994 total.
Awaiting directives from Supreme Court, "Integration will be studied wisely, planned carefully," said Supt of Schools T. A. Lowery.
Kanawha - Earlier plans, announced by Supt. of Schools Virgil L. Flinn, called for integration of two one-room Negro schools and bus system.
But Board of Education later sidestepped action on both steps and ordered county's 2,906 Negro pupils to return to their schools this Fall.
Delegation of 12 Charleston Negro leaders then protested what they called "qa complete reversal" of policy "announced by Supt. Flinn on July 9."
Dr. Herbert M. Beddow, board president, told 12-man delegation that integration would be carried out "as soon as feasibly possible."
Only 5.40 per cent of Kanawha's 54,934 pupils are Negroes.
Lewis - "We have complete integration," explained Supt. of Schools Robert Crawford. "It turned out we have only one Negro girl in elementary school."
Lincoln - No. Negro children.
Logan - Status quo. "We're not doing anything," said Supt. of Schools Paul C. Winter, "and our Negro people are satisfied."
Board of Education will wait for Supreme Court decrees before county's 1,591 Negroes (8.47 per cent) are integrated. Total school population - 18,788.
Marion - About 75 of county's 799 Negro pupils (5.71 per cent of 13,992 total) are enrolled in previously all-white elementary and high schools.
Board of Education adopted "option" policy, which led to organized protest in Four States, near Fairmont.
Mothers of some 60 pupils at Annabelle Grade School kept their children at home and picketed school to protest admission of 13 Negroes. School enrollment - about 170.
Bus later provided to transport 13 about five miles to nearest Negro elementary school at Monongah.
Marshall - Voluntary option plan again, with four Negro pupils enrolled at previously white Benwood elementary school.
Maintaining separate elementary school at Moundsville, with two Negro high school students attending Lincoln High in Wheeling.
Very small Negro population. Only .27 per cent (18) of total students (6,616).
Mason - Board of Education consulted Negro parents, who wanted separate system at least another year.
Bus system partially integrated and one Negro child attending formerly all-white elementary school is Pt. Pleasant. Six Negroes enrolled in Ohio high schools across river.
But actually waiting until Negro parents give board okay to integrate county's 13 colored children (.24 per cent of 5,482 total).
Mercer - Waiting. Six or seven Negro children applied for admission to two Bluefield Elementary schools, but were directed to enroll at Negro schools.
About 11 per cent (1,930) of county's 17,491 students are Negroes.
Mineral - "Board plans to integrate as soon as possible without overloading classrooms," said a school official. Two Negro schools in business this Fall.
Only 3.18 per cent (169) of county's 5,320 pupils were Negroes.
Mingo - Waiting. There are 854 [N]egroes, or 6.22 per cent of 13,736 total.
Monongalia - This county, home of West Virginia University at Morgantown, pioneered with complete integration this fall.
Its 275 Negro pupils were integrated in schools in their districts, along with nine Negro teachers and bus system.
"Integration's coming along very fine," a school official said. "But we're disturbed about the Greenbrier County incident."
Negro football players are on Morgantown, University, and St. Francis High School squads.
Only 2,41 per cent of county's 11,350 students are Negroes.
Monroe - Partial, with 14 Negroes attending three formerly white high schools. But separate elementary schools for Negro children.
"It's working out fine," said a school official, who pointed out that integration will save Monroe's school system between $6,000 and $7,000 a year - cost of sending Negro high school students out of county.
Only 3.6 per cent (108) of this southern county's 2,996 pupils are Negroes.
Morgan - Eight Negroes attending Paw Paw High School. Also partial, with separate one-room school for Negro elementary pupils.
"Worked out perfectly," said a school official. County will save about $2,400 a year. There are 20 Negro children (1.03 percent of 1,940 total) in Morgan.
McDowell - Waiting. Highest proportion of Negro pupils in state - 5,728 or 22.76 per cent of 25,164 total.
Nicholas - Completely integrated county's three Negro children. Two in elementary school, one at Richwood High School.
Ohio - Left choice up to students, and six Negroes showed up at three white high schools. "They showed up and we accepted them," said Supt. of Schools J. P. McHenry.
There are 443 Negro pupils - 4.88 per cent of 9,069 total in this far northern county.
Pendleton - Partial, with about six Negroes attending Franklin High School. Separate elementary schools at Entry Mountain and Moatstown, both predominantly Negro settlements, maintained.
Almost 2 per cent (42) of county's 2,124 students are Negroes.
Pleasants - No Negro children.
Pocahontas - Three high schools integrated, bus system almost completely de-segregated, and a few Negro children in formerly all-white elementary schools.
But county's five Negro elementary schools are in business this year.
Of 20 Negro high school students, six are on football squads at Greenbank, Marlinton, and Hillsboro.
"Working out fine," said a school official. Only 2.72 per cent (77) of county's 2,830 pupils are Negroes.
Preston - Following Monongalia's lead, this northern county completely integrated its Negro pupils.
About seven or eight are enrolled in Kingwood High and from 24 to 27 are attending elementary schools in their district.
The county's lone one-room Negro school was abolished, and its teacher had reached the retirement age.
Less than 1 per cent of Preston's students are Negro. Total school population: 7,503.
Putnam - Only one Negro student resides in this county - and he elected to finish his senior year at Institute.
Raleigh - Waiting. Comprehensive study under way. About 13 percent (3,190) of county's 24,402 students are Negroes.
Randolph - Complete integration, which "is proceeding beautifully," said Supt. of Schools Stark Wilmoth.
Lone 12-year Negro school abolished, with county's 61 Negro children attending schools in their districts. And only Negro teacher on Elkins High staff.
Less than 1 per cent of Randolph's 7,091 pupils are Negroes.
Ritchie - No Negro children.
Roane - No Negro children.
Summers - Waiting, alt[h]ough one Negro girl accepted at Hinton Junior High School. Of 4,068 pupils, only 181 - or 4.45 per cent - are Negroes.
Taylor - Partial, and "it has worked out beautifully," said Supt. of Schools R. Virgil Rohrbough.
About 40 Negro children integrated at eight schools, including 14 at Grafton High School. Two Negro teachers also integrated at Grafton High and Junior High.
One Negro elementary school closed, the other opened this Fall. Bus system also integrated.
About 1 per cent of Taylor's 3,572 pupils are Negroes.
Tucker - This county's five Negro students have been integrated - two in Thomas High School and three in a pair of elementary schools.
One-room Negro school at Coketon abolished. Only Negro teacher resigned before Supreme Court's May 17 decision.
Tyler - No Negro children.
Upshur - Completely integrated, including only Negro elementary teacher. Ten Negro students - eight in two elementary scho[o]ls - and two at Buckhannon-Upshur High School.
Only Negro school abolished, with new building attached to Buckhannon's Central Grade School. Less than 1 per cent of 4,291 students are Negroes.
Wayne - Four Negro children integrated into three elementary schools. No Negro high school students. Complete integration. Less than 1 per cent of 10,288 total.
Webster - No Negro children.
Wetzel - This northern county's eight Negro students were integrated last year before the historic Supreme Court decision.
Four attending Paden City High School, other four at Paden City Elementary.
Wirt - Complete, with three Negro students attending Wirt County High School and four enrolled at Elizabeth Grade School. "It has been fine," said a school official.
Wood - First and ninth grade Negro children were given choice. About 13 enrolled in previously all-white scho[o]ls throughout county.
Parkersburg's Sumner Negro School operating. Less than 1 per cent of county's 13,914 students are Negroes.
Wyoming - Waiting. Only 5.48 per cent (615) of county's 11,225 pupils are Negroes.
---
State-Supported Colleges All Effecting Integration

By Mary Chilton Chapman
(Staff Writer for The Gazette)
Full-scale integration got underway on the higher education level in West Virginia this week as white and Negro students began registering together in colleges all over the state.
Officials at each integrated college expressed their satisfaction with the progress of desegregation, although several reported that, in effect, integration had been brought about at their schools several years ago.
Segregation in state-supported colleges and West Virginia University was abolished last Spring, immediately after the controversial Supreme Court ruling was announced.
Although there is no space on the registration form for the student to indicate his race, there are about 35 or 40 Negro students enrolled at West Virginia University, David Jacobs, director of the bureau of information, said yesterday.
On the other side of the integration picture, white students are being enrolled at West Virginia State and Bluefield State Colleges.
At West Virginia State College, integration has been in progress for a number of years and students are no required to state their race. There are a number of white students attending the school.
Other state colleges reported integration progressing smoothly, with no incidents whatever. Tentative enrollment figures are:
Concord College at Athens, five Negro students out of a total enrollment of more the 800.
Fairmont State College, 16 Negro students out of more than 800.
Potomac State College at Keyser, four Negroes in an enrollment of 453.
Shepherd College at Shepherdstown, four Negroes in an enrollment of about 550.
West Virginia Tech at Montgomery, five Negroes in an enrollment of about 640.
West Liberty State College at Wheeling, at least six Negroes are among the 615 students enrolled on the campus; Negroes have been accepted at the downtown branch of the school for a number of years.
No figures were available at Marshall College in Huntington because registration was still in progress, but certain Negro students have been admitted there for several years.
---