West Virginia's
Sesquicentennial
Highway Historical Markers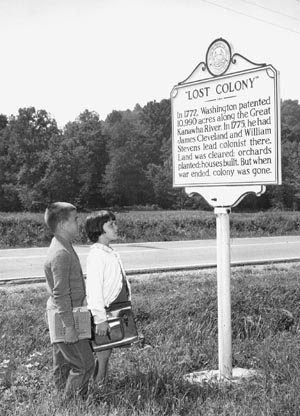 In 2011 and 2012, Archives and History received $256,000 in grants to create 160 new highway historical markers on the Civil War in West Virginia and the creation of the Mountain State. Funding was provided by the United States Department of Transportation, the West Virginia Division of Highways, and the West Virginia State Legislature. Each county will receive at least two markers. Staff members and interns have worked to determine topics, conduct research, and write the marker texts, calling upon historians and local historical societies for insight when needed. Local groups and regional DOH offices, particularly the district sign shops, have greatly aided Archives and History in placing the new markers in locations that are both appropriate and accessible.
As of October 2018, all 160 markers have been ordered. As new markers are installed, we will link the text and an image to the titles below. Check out this story map on the sesquicennial markers.
---
Barbour County
Benjamin F. Kelley
Hanger's Limb

Berkeley County
Battle of Hoke's Run
Belle Boyd
Charles Faulkner
Boone County
Burning of Boone Courthouse
Robert Hager
Braxton County
Burning of Sutton
Skirmish at Salt Lick Bridge
Brooke County
Campbell Tarr
Isaac H. Duvall
Cabell County
John Hunt Oley
John S. Witcher
Raid on Guyandotte/Burning of Guyandotte
Historic Carroll House
Granville Parker
Calhoun County
Moccasin Rangers
Perry Hays and George Silcott/Louisa Hays and Amie Silcott
Clay County
Benjamin L. Stephenson
Union Militias
Doddridge County
Chapman J. Stuart
West Union/Skirmish at West Union
Fayette County
Battle of Fayetteville (1862)/Battle of Fayetteville (1863)
Christopher Q. Tompkins/Gauley Mount
Sewell Mountain Campaign
Gilmer County
Raid on Troy
The Gilmer Rifles
Grant County
Fort Mulligan
Petersburg Presbyterian Church
Greenbrier County
Battle of Tuckwiller's Hill
Samuel Price
The Hanging of David Creigh
Confederate Disenfranchisement
Sinking Creek Raid
Hampshire County
Fort Mill Ridge Trenches
Lew Wallace's Raid on Romney
Hancock County
James J. Andrews
Morgan's Raid
Hardy County
Battle of Moorefield
Willow Wall
Harrison County
Clarksburg Convention
Granville Davisson Hall
John S. Carlile
Nathan Goff/Waldomore
Jackson County
Battle of Buffington Island
Daniel Frost
Raid on Ripley
Jefferson County
Battle of Boteler's Ford
John Yates Beall
Emancipation in Jefferson County
"Locust Hill"
Storer College
Kanawha County
45th US Colored Infantry
Battle of Charleston
Camp Piatt
Fort Scammon
Birkett Davenport Fry
George W. Summers
William Starke Rosecrans
Lewis Ruffner
Spicer Patrick
William H. Davis
Abraham Lincoln
Slavery in West Virginia
Lewis County
Pierson's Rangers
Seizure of Weston Bank Funds
Lincoln County
Skirmish at the Curry Farm
Whaley's Escape
Logan County
Battle of Kanawha Gap
Burning of Logan Courthouse
Marion County
Alpheus F. Haymond/Thomas S. Haymond
Battle of Fairmont
Francis H. Pierpont
Julia Robertson Pierpont
Marshall County
Sherrard Clemens
Thomas H. Trainer
Uriah Alley
Mason County
Daniel Haymond Polsley
John Hall
Kellian V. Whaley
William H. Powell
McDowell County
Bushwhackers in McDowell
McDowell in the Civil War
Mercer County
Napoleon Bonaparte French
Feeding the Confederacy
Mineral County
Fort Fuller/Capture of New Creek
Thomas R. Carskadon
Mingo County
Battle of Beech Creek
Divided Loyalties
Monongalia County
Joseph Snider
Willey Amendment/Willey House

Monroe County
Allen T. Caperton
Confederate Postal Service

Morgan County
Charles T. O'Farrell
Joseph S. Wheat
Nicholas County
Fight at Ramsey's Fort
Raid on Summersville
Ohio County
Archibald W. Campbell/Wheeling Intelligencer
First State Capitol
Gordon Battelle
Rebecca Harding Davis
Sara Lucy Bagby
Camp Carlile
The Athenaeum
Chester D. Hubbard
Civil War Nurses
Daniel Lamb
First State Constitution
First Wheeling Convention/Second Wheeling Convention
Joseph Thoburn
Restored Government of Virginia
Women's Aid Societies
Pendleton County
Camp Luther
Destruction of Saltpeter Works
William McCoy House
Pleasants County
James W. Williamson
Raid on St. Marys
Pocahontas
Battle at Mill Point
Raid on Huntersville
Camp Bartow
Preston County
Flag Raising
William G. Brown
Putnam County
Battle of Atkeson's Gate
Winfield/Battle of Winfield
Raleigh County
Alfred Beckley/Wildwood
William S. Dunbar
Randolph County
Laura Jackson Arnold
Mt. Iser Cemetery/Rosser's Raid
Ritchie County
Harrisville/Thomas Maley Harris
Romeo H. Freer
Roane County
Capture of Spencer
Thomas Asbury Roberts
Summers County
Mercer Salt Works
Pack's Ferry
Taylor County
Ann Reeves Jarvis
Grafton Military Hospital
B &amp O Railroad
Tucker County
Capture of St. George/Imboden's Expedition
Mary Jane Snyder
Tyler County
Daniel D. Johnson
Jacob Edgar Boyers
Upshur County
Battle of Middle Fork Bridge
D. D. T. Farnsworth
George R. Latham
David Pinnell
Wayne County
Milton J. Ferguson
Polley Freedom Case/William Ratliff (Ratcliff)
Camp Pierpont
Webster County
Moccasin Rangers
Guerrilla Warfare
Wetzel County
Leonard Stout Hall
James G. West
Wirt County
Destruction of Oil Works
Murder of William B. Dulin
Wood County
Jacob Beeson Blair
Peter G. Van Winkle
William L. "Mudwall" Jackson
Fort Boreman
John J. Jackson, Jr.
Wyoming County
William Walker
Richard M. Cook
---