Virginia Louise Link
Fort Knox, Kentucky

Remember...

Virginia Louise Link
1919-1943

"Conscientious, sincere and energetic would be her type of service, and the Great Physician, Himself, said that one cannot exemplify greater love than by laying down life for others."
| | |
| --- | --- |
| Virginia Louise Link, daughter of Philip W. and Virgie White Link, was born on December 2, 1919 in Richwood. Link excelled in academics at Richwood Junior and Senior High School and was also noted for other endeavors outside the classroom. Following her graduation in May 1937, she decided to enter the field of nursing. While waiting to begin nursing school, Link worked as a nurse's aide at the McClung Hospital in Richwood. During her employment, however, she suffered a fractured pelvis, which delayed her plans. She enrolled as a student nurse at the McMillan Hospital School of Nursing in Charleston in September of 1938. Link was an outstanding student and "her charm and sincer[i]ty of purpose endeared her to all of those with whom she worked, and to those whom she ministered. She graduated in April 1942 and had the honor of achieving the highest average in the state on her state board examinations. | |
| | |
| --- | --- |
| | Link worked at McMillan Hospital and a few months later was chosen to appear on the cover of a booklet entitled "Are You Interested In Nursing." She was anxious to become an instructor in a school of nursing, but "her patriotism surged forward." In July 1942 she joined the Army Nurse Corps and received her army training at Fort Knox. On December 28, 1942, she was assigned to active service as a second lieutenant. |
| | |
| --- | --- |
| Link volunteered for overseas duty and sailed with an evacuation unit on April 29, 1943. She arrived in North Africa on May 12. On September 3, Lieutenant Link was killed in an automobile accident. A full military funeral was held. | |
| | |
| --- | --- |
| | Link was originally buried in the American Cemetery in Sauk Ahras, Algeria, described as "a place of simple dignity, neat and well cared for." |
| | |
| --- | --- |
| On June 15, 1948, the body of 2nd Lieutenant Virginia Louise Link was shipped from Columbus, Ohio accompanied by military escort. The train arrived in Richwood on June 16. Four days later, military funeral services were held at the First Baptist Church and Link was laid to rest in the family plot in the Richwood Cemetery. On Hospital Day, May 12, 1949, a dedication ceremony honoring Lieutenant Link was held at McMillan Hospital in Charleston. A plaque which was installed that day is now hanging at the Charleston Area Medical Center. | |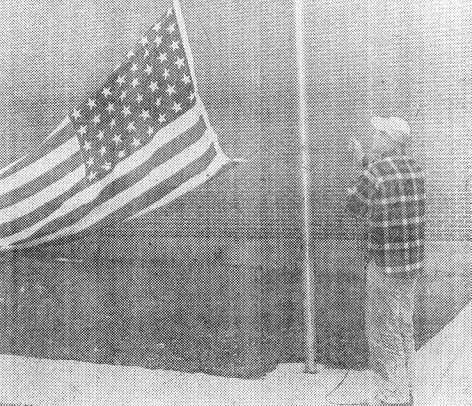 Stub Boso, brother-in-law of Virginia Louise Link, is pictured raising the flag that draped the coffin containing her body when it was returned to Richwood for burial.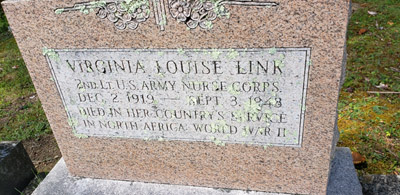 Revised August 2019
Honor...

West Virginia Archives and History welcomes any additional information that can be provided about these veterans, including photographs, family names, letters and other relevant personal history.
---
West Virginia Veterans Memorial