---
Tournament Rules
ATTENTION: Beginning in the 2018-2019 school year, History Bowl matches will begin with alternating team questions in the first half
and finish with tossup questions (i.e. the "buzzer round") in the second half.
Click on the video to learn more about preparing for History Bowl
In 2010, the West Virginia Division of Culture and History (WVDCH) began an exciting new challenge for eighth graders to test their West Virginia history - the West Virginia History Bowl Tournament. Teams of students from around the state face off in an academic bowl competition that focuses on West Virginia history, literature, arts, architecture, geography and culture.
The West Virginia History Bowl expanded in 2011 to include regional tournaments in all eight West Virginia Regional Service Education Agency (RESA) districts.

Eighth graders in public, private and home school education programs are eligible to compete on the four-person teams in double-elimination tournament play. The regional tournament winners and the runner-up team move forward to the state tournament held in late April at the Culture Center, State Capitol Complex, in Charleston.

The questions for the history bowl are largely drawn from questions found in the Archives and History Quick Quizzes and Daily Trivia.
For more information about the History Bowl, contact Royce Diehl at [email protected] or (304) 558-0230.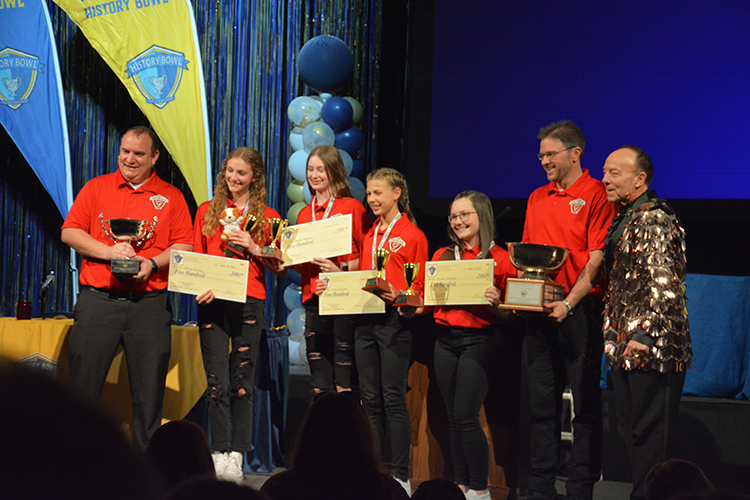 History Bowl 2023
History Bowl 2022
History Bowl 2021
History Bowl 2020
History Bowl 2019
History Bowl 2018
History Bowl 2017
History Bowl 2016
History Bowl 2015
History Bowl 2014
History Bowl 2013
History Bowl 2012
History Bowl 2011
History Bowl 2010
---